Portland's urban coyotes are here to stay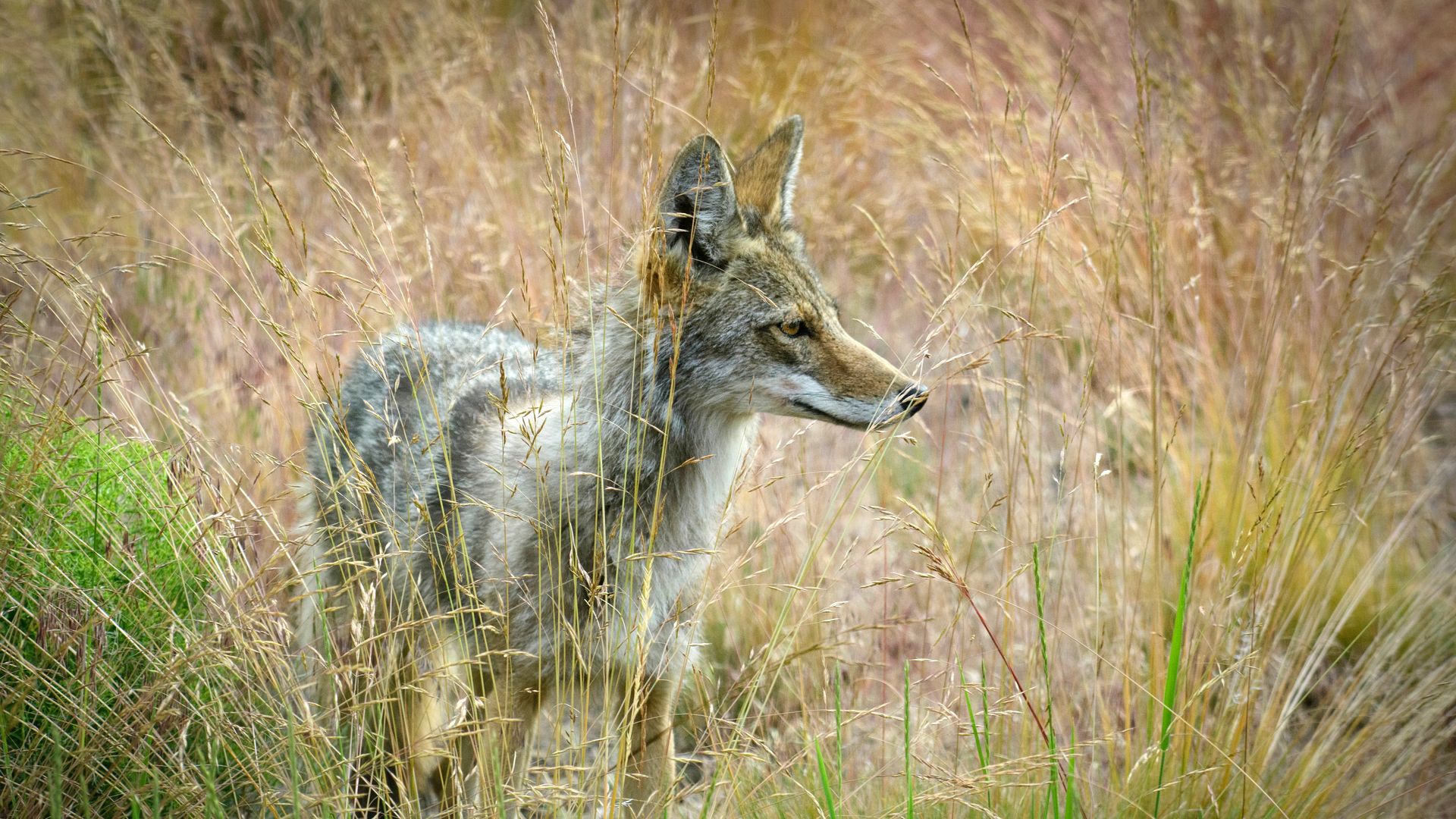 Coyotes have thrived in metropolitan areas for decades, and the Portland Urban Coyote Project (PUCP) — a volunteer-led project that tracks sightings — believes they're here to stay.
Driving the news: Sightings of coyotes are more common in warmer months, as moms venture out with their pups for the first time in search of food.
If you spot them in your neighborhood, don't fret: They're not interested in taking up shelter in your backyard.
That said, be mindful of small pets that may have access to the outdoors, as they could become an untimely snack.
What they're saying: "Coyotes tend to live in the kind of forgotten areas," Zuriel van Belle, director of the Portland Urban Coyote Project, tells Axios. Think overgrown lots next to highways, or brushy blackberry brambles where humans are infrequent.
Coyotes are omnivores, so while they enjoy feasting on rodents and fruit, they will also take advantage of any cat food left out on porches, van Belle said.
State of play: Through partnerships with Portland Audubon, Portland State University, and Willamette Riverkeeper, the team of five has mapped over 10,000 coyote sightings across Portland since 2010. Until recently, it's mostly been a passion project with "very little to no funding at times," van Belle said.
But with a new grant from Tualatin Soil and Water Conservation District and partnership with Oregon State University, the Portland Urban Coyote Project plans to bolster its educational materials, revamp its website and expand community outreach by doing presentations at local parks and teaming up with other wildlife organizations.
Zoom in: Van Belle and her team are interested in understanding where coyotes appear, what they're doing when they're seen and how the viewer feels about the interaction.
The group has published several research articles in recent years, and has found the majority of Portlanders enjoy the sightings and are less likely to be scared.
Worthy of your time: "If you see a coyote, it's nothing to worry about," van Belle said. "The best thing to do, if you like them, is to scare them away and keep them as wild as possible."
Editor's note: This story has been corrected to show Portland Urban Coyote Project received a grant from the Tualatin Soil and Water Conservation District (not from Oregon State University and Willamette Riverkeeper).
More Portland stories
No stories could be found
Get a free daily digest of the most important news in your backyard with Axios Portland.