Portland's largest outdoor homeless shelter to open this summer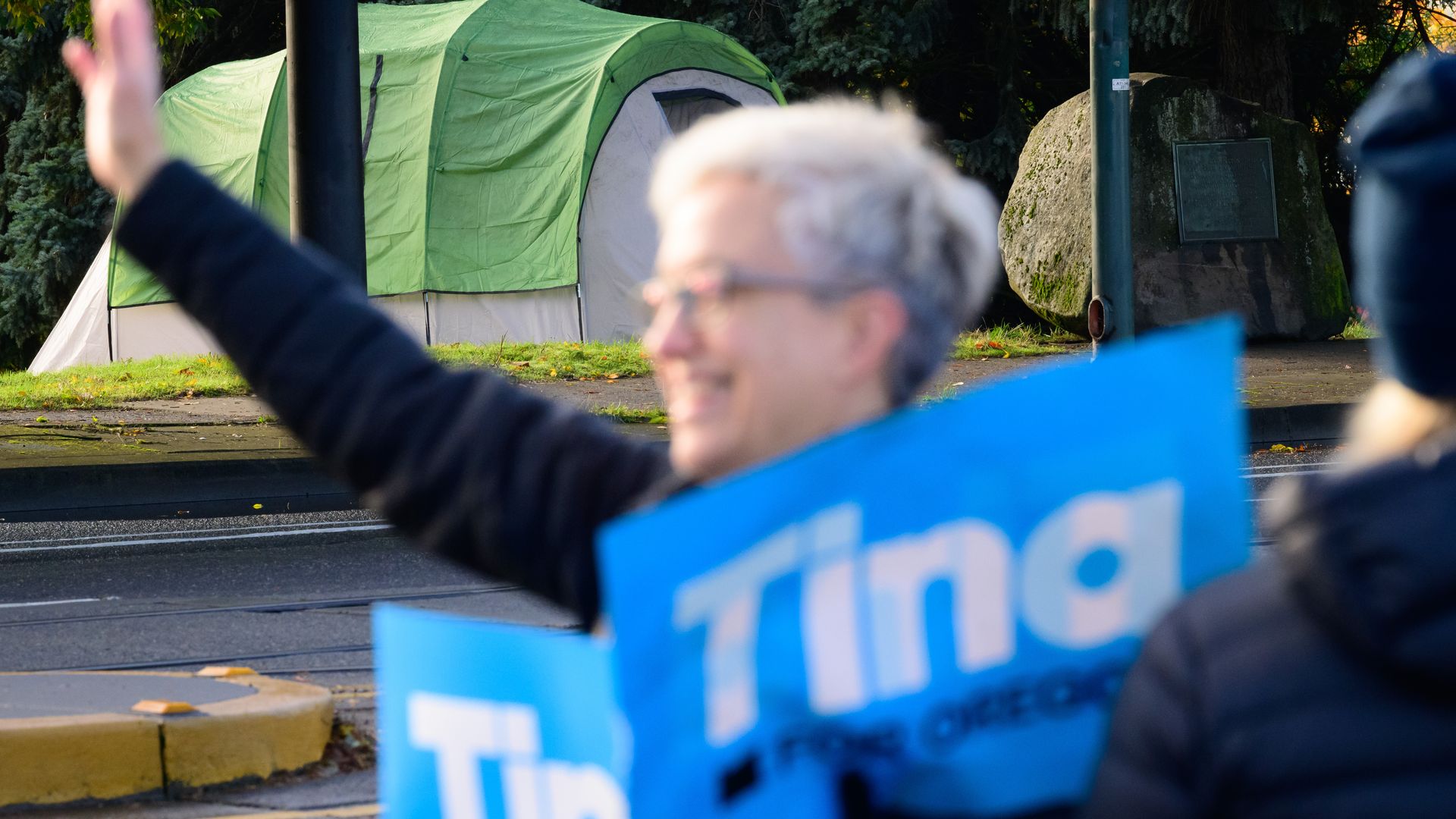 The mass shelter site on Portland's Central Eastside is set to open within the next few months, according to a spokesperson for Mayor Ted Wheeler.
Why it matters: Last month, Multnomah County received state funding to address the region's growing homelessness crisis, while the city solidified a $50 million contract with California-based Urban Alchemy to run the site, with the possibility of adding more sites in the future.
What's next: Over the next few weeks, Urban Alchemy is expected to begin preparing the site at 1490 SE Gideon. The location already had fencing and a flat surface; the city plans to install electricity, sewer lines and other utilities. It will be the largest outdoor alternative shelter site in the county.
Context: Wheeler announced plans to end unsanctioned outdoor camping last October by introducing "temporary alternative shelter sites" for homeless people to move to, as opposed to setting up tents on streets and sidewalks.
On the state side, Gov. Tina Kotek made good on her campaign promise to address homelessness by signing bills allocating $200 million in state funds to expand shelter capacity and provide rental assistance.
Of those funds, $18.2 million will go toward addressing emergency homelessness in Multnomah County.
Funds were disbursed to the county on April 28, of which $6.6 million will be dedicated to the Gideon site. The rest will go toward administrative costs, street outreach and housing placement, according to Denis Theriault, a spokesperson for Multnomah County.
The details: The Central Eastside site will include 140 new shelter pods, similar to those at Safe Rest Villages, and will provide a variety of services, including laundry, Wi-Fi and on-site caseworkers.
Of note: According to data compiled by The Oregonian, Multnomah County is expected to receive $3,481 per homeless person from the money approved by the Legislature for the region — significantly less than other counties, even with the state's largest homeless population.
As of 2022, Multnomah County's point-in-time homeless population count was 5,228. However, point-in-time estimates notoriously underestimate the number of people experiencing homelessness, but serve to provide a "snapshot" of the crisis on any given night.
The county's homeless population increased 30% from 2019 to 2022, according to point-in-time counts. From 2020 to 2022, the national homeless population increased less than 1%.
More Portland stories
No stories could be found
Get a free daily digest of the most important news in your backyard with Axios Portland.