Hobbs withdraws agency director nominees in move to sidestep Senate confirmation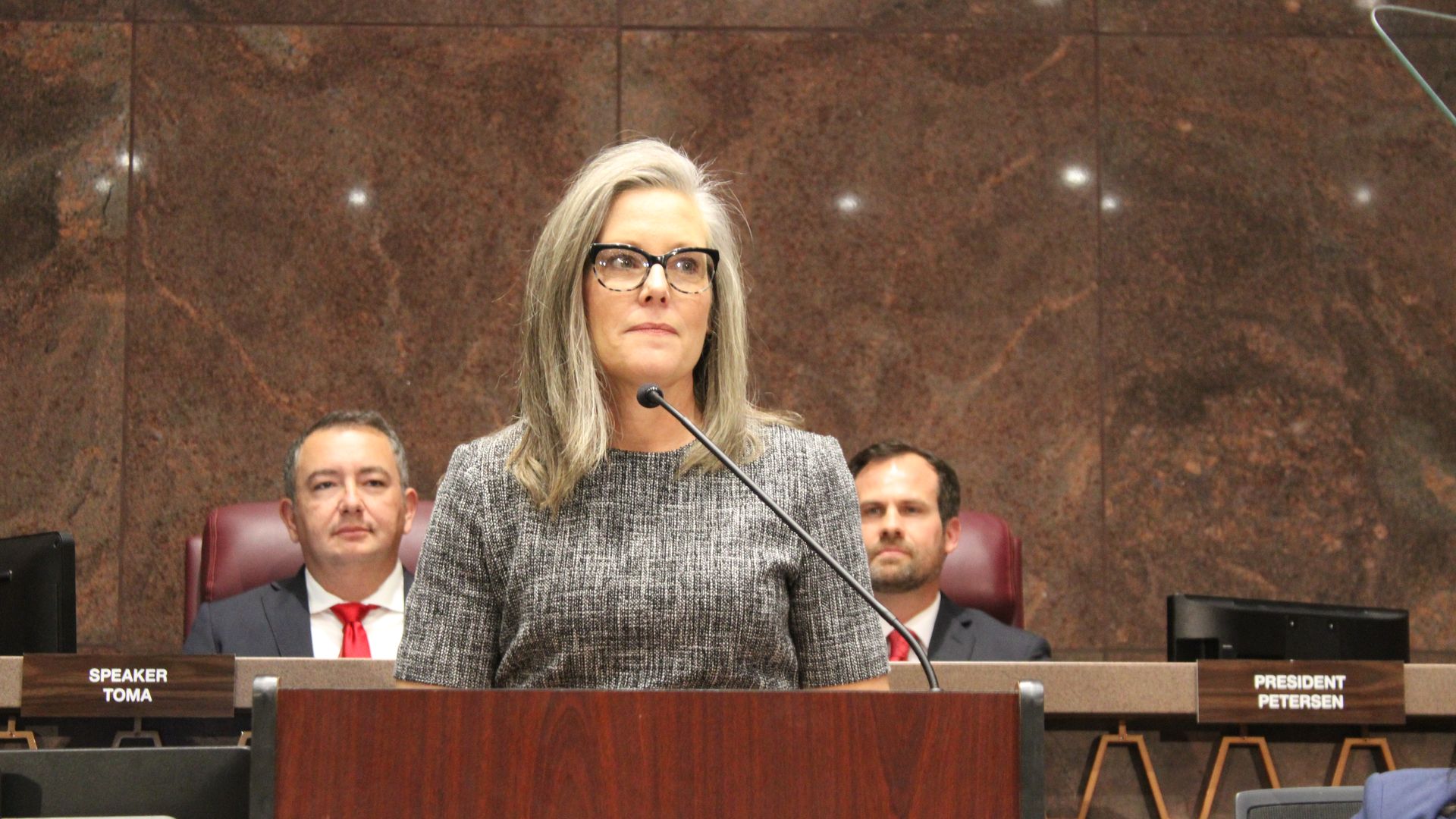 Gov. Katie Hobbs is withdrawing 13 unconfirmed cabinet nominees from Senate consideration while leaving them in place as "executive deputy directors" who will continue leading their agencies.
Why it matters: It's a response to what she called a "political circus" created by Senate President Warren Petersen and the committee he created to vet her nominees, which has dragged out the confirmation process and subjected some nominees to intense scrutiny.
Hobbs' move includes directors for major agencies like the Department of Administration and Department of Economic Security.
The governor "will pursue other lawful avenues of ensuring state government can continue to function for Arizonans," she wrote in a blistering letter to Petersen.
The intrigue: Agency directors can only serve for a year without Senate confirmation, but Hobbs believes they can serve longer as executive deputy directors, gubernatorial spokesperson Christian Slater told Axios Phoenix.
Catch up quick: Traditionally, agency director nominees go before relevant committees for approval before the full Senate votes on their confirmation.
But Petersen, a Gilbert Republican, bucked tradition and instead created the Committee on Director Nominations to vet appointees from Arizona's first Democratic governor in 14 years.
Chaired by Sen. Jake Hoffman, a Queen Creek Republican and a close ally of Petersen, the committee rejected several of Hobbs' nominees, leading her to withdraw them from consideration.
The process has taken an unusually long time. Some of the nominees still haven't had committee hearings and some who have been approved still haven't had confirmation votes, even though the legislative session ended nearly two months ago.
What she's saying: Hobbs accused Petersen of creating a process "designed to slow walk nominees and create a political circus that is beneath the dignity of the Arizona State Senate," and called it "an abuse of the confirmation process."
"Legal and traditional vetting processes don't function this way. Instead, it is clear that this Committee is being used as a weapon, wielded for the personal whim of a few legislators," she wrote.
Hobbs said she will resume sending nominees to the Senate for review if Petersen returns to the traditional confirmation process.
Between the lines: The governor also noted that Hoffman has tied some nominees' fates to issues that are unrelated to the confirmation process.
The other side: Petersen accused Hobbs of trying to circumvent the lawful confirmation process and said — regardless of what title the governor gives them — her agency leaders can only serve for a year without Senate confirmation.
"The law is very specific on who is to run our state agencies. Without directors fulfilling these obligations, the legality of every decision made by these state agencies is dubious, and litigation against the state would surely prevail," he said.
If the agency heads serve for more than a year without confirmation, "they will be removed," Petersen told us, though he didn't elaborate on whether that would happen through litigation or some other means.
Hoffman said in a press statement: "​​Hobbs is the only person to blame for her nominees struggling to succeed under actual due diligence."
Context: Hoffman's committee has been a regular source of political fireworks since the legislative session began, and caused Hobbs to withdraw several nominees.
More Phoenix stories
No stories could be found
Get a free daily digest of the most important news in your backyard with Axios Phoenix.