Arizona Gov. Hobbs strips counties of abortion prosecution authority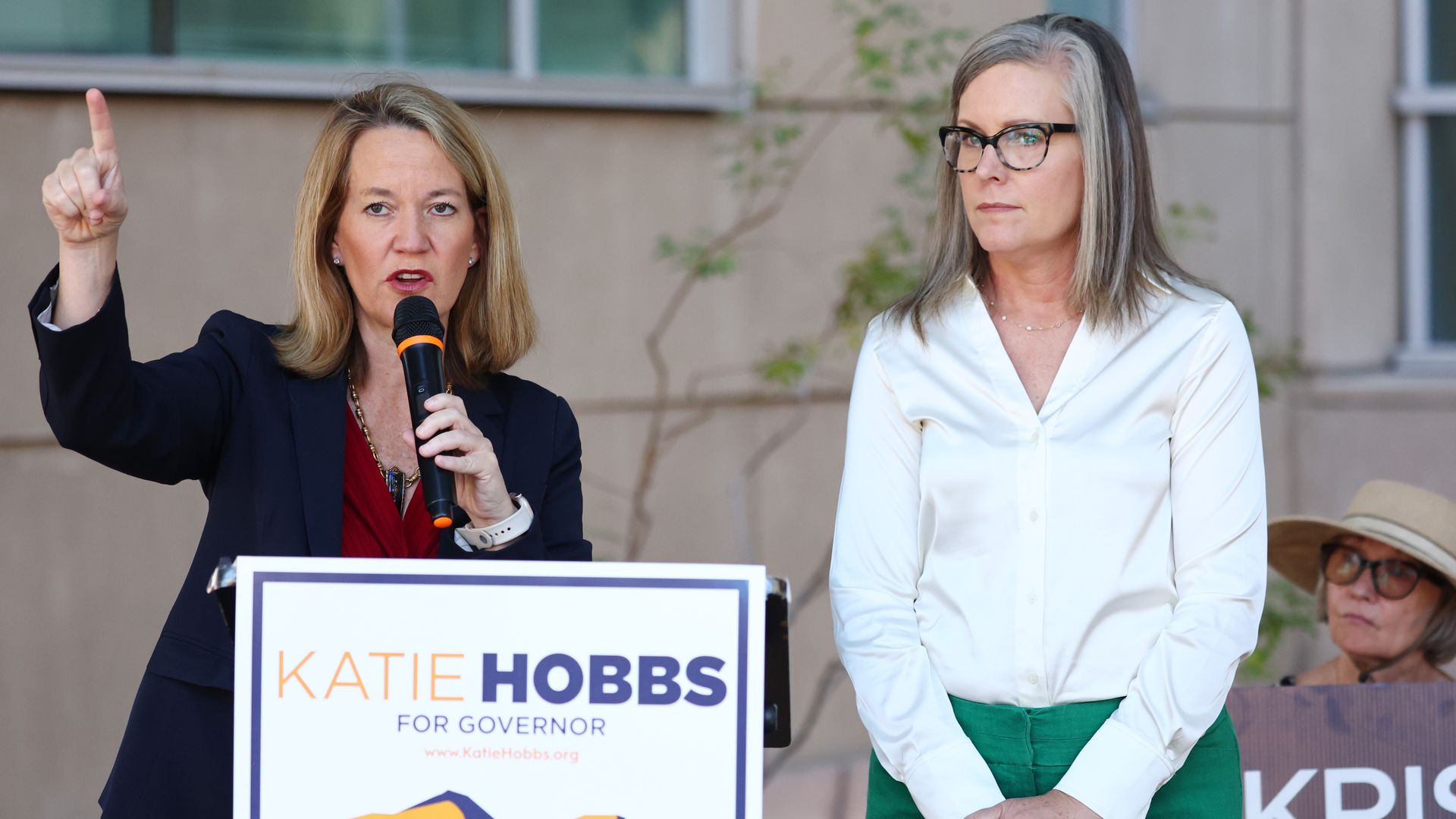 On the eve of the one-year anniversary of the U.S. Supreme Court's decision to overturn Roe v. Wade, Gov. Katie Hobbs is barring Arizona's 15 county attorneys from prosecuting abortion-related crimes and centralizing that authority under the attorney general's office.
Driving the news: Under the executive order Hobbs announced Friday, Attorney General Kris Mayes has exclusive authority over criminal prosecutions of medical providers, other entities or individuals for violations of Arizona's abortion statutes.
The order also:
Prohibits state agencies from assisting investigations by other states for violations of abortion laws if the alleged conduct isn't punishable under Arizona law;
Bars extraditions to other states for alleged violations of abortion laws that wouldn't be illegal in Arizona;
Establishes an Advisory Council on Protecting Reproductive Freedom whose members will be appointed by the governor.
State of play: The Arizona Court of Appeals ruled last December that a near-total ban on abortions that predates statehood can't be enforced against doctors, allowing a ban on abortions after 15 weeks of pregnancy that the Legislature passed in 2022 to become effective.
Between the lines: Hobbs and Mayes are both Democrats who campaigned on abortion rights last year, while seven of Arizona's county attorneys, including Maricopa County Attorney Rachel Mitchell, whose prosecutorial authority covers more than 60% of the state, are Republicans.
What she's saying: "I will not allow extreme and out of touch politicians to get in the way of the fundamental right Arizonans have to make decisions about their own bodies and futures. I will continue to fight to expand access to safe and legal abortion in any way that I can," Hobbs said in a press statement Friday.
Mayes said the order underscores her and Hobbs' shared commitment to proactively defend abortion rights and "fight like hell to protect the rights of Arizonans to make their own private medical decisions without interference from extremist politicians and anti-choice groups."
Pima County Attorney Laura Conover, a Democrat, praised the order and said it ensures "equal protection and access to critical health services" across Arizona.
The other side: "As county attorney, I have sworn to uphold the law," Mitchell said Friday afternoon. "The governor's attempt to undermine the 15 elected county attorneys' authority is outrageous.
"My office is reviewing the Executive Order and will take the appropriate next steps."
House Republicans are reviewing the legality of the executive order, Speaker Ben Toma, R-Peoria, said in a statement provided to Axios Phoenix.
"At a minimum, this order shows disrespect and contempt for the judiciary. Arizona's abortion laws are still in litigation in light of the Supreme Court's historic Dobbs ruling. The Governor cannot unilaterally divert statutory authority to prosecute criminal cases from Arizona's 15 county attorneys to the Attorney General," he said.
Cathi Herrod, president of the Center for Arizona Policy, a conservative organization that often lobbies for abortion restrictions, said Hobbs "exceeded her authority as governor."
More Phoenix stories
No stories could be found
Get a free daily digest of the most important news in your backyard with Axios Phoenix.