ASU's coach Kenny Dillingham on Big 12, bowl ban and Mike Norvell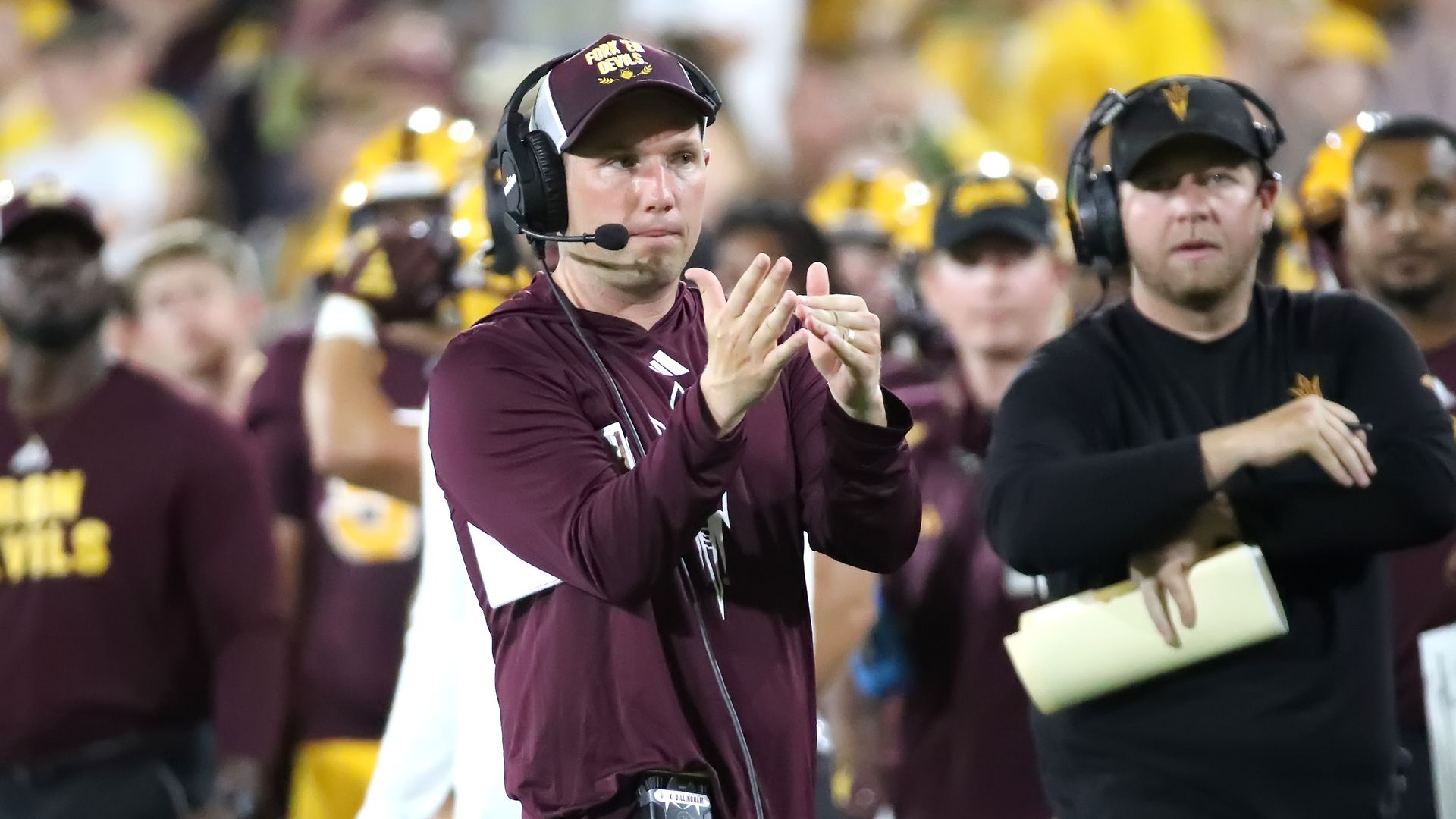 Arizona State University's Kenny Dillingham chose a helluva time to start his head coaching career.
The big picture: A 2021 court ruling allowing student athletes to monetize their name, image and likeness (NIL) and new rules that make it easier for players to transfer between schools have fundamentally changed college football recruitment.
Zoom in: ASU is at a strategic disadvantage, as it remains under NCAA investigation for allegedly violating recruiting rules in 2020.
Last month — four days before the start of the season — ASU announced it would self-impose a bowl ban for this year in an attempt to minimize the NCAA's eventual punishment.
Meanwhile, the recent Pac-12 collapse spurred a major conference realignment that's sending ASU to the Big 12 next year, where it will face teams with stronger football legacies.
Enter Dillingham, who is surprisingly zen about the program he's inheriting and the changing college football landscape — but somehow he comes across neither cocky nor naive.
Flashback: Dillingham, an ASU graduate, grew up in the Valley in the '90s — a time when Sun Devil football was everything.
But things are different today. The program hasn't seen major success in more than two decades. Fans are in a slumber. And shifting college football rules are creating an even wider gap between elite programs and merely decent ones.
The bottom line: If ASU wants to become a premier football school, it has a lot of work to do. Dillingham says he's up to the challenge, but the administration and fans must rise to the occasion, too.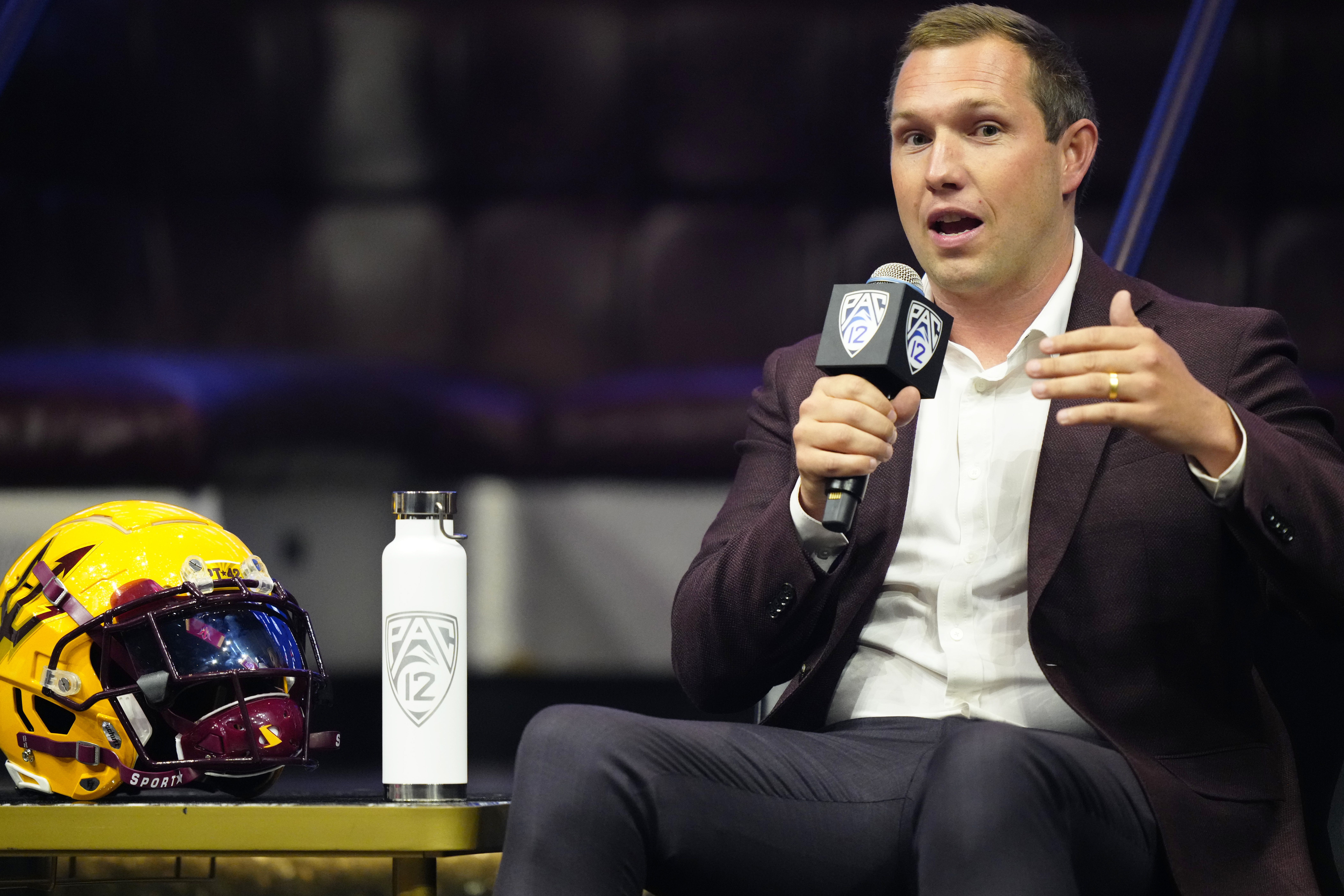 Q&A
We sat down with Dillingham, 33, to learn how the youngest head coach in the Football Bowl Subdivision plans to elevate Sun Devil football's status in this tumultuous time.
This conversation has been lightly edited for clarity.
What do you make of how the conference realignment is shaping up?
We're going to have to step up again at a higher level, just because that conference that we're moving into is all football. That's a priority, is football.
People think it's going to hurt fan engagement — I actually think it's going to help. I think there's going to be a few more people who make road trips because these are going to be brand new experiences for people in the first few years.
Is the athletics department and university generally giving you the tools and support you need to build a program that can compete in the Big 12?
They have said they will do what is necessary to compete at the highest level. It's going to be a drastic difference in sport.
We're researching what these other teams have been spending on football over the years to really figure out what is needed to be not just competitive, but the upper echelon of programs in the league.
I think [leadership has] done more since I've been here than they've done in the past.
What else do you need to elevate ASU to the level of other programs, like Florida State and Auburn, that you've worked for?
Sellouts. It's the whole saying, what came first, the chicken or the egg? If you want to get the players, you have to have the NIL. You have to have the fan support. The reciprocal is, well if you win you'll get the fans and you'll get the NIL. But how do you get wins without the latter?
Speaking of NIL, how has that shifted recruitment? And is ASU's NIL program behind other schools?
It's everything. If you want to win in college athletics, you better have NIL. It's as simple as that. When push comes to shove, the one question is, "What do your guys make?"
Our NIL program is getting better, but we are still extremely behind.
Other teams started building up their NIL programs year one. We kind of started doing this nine months ago, when I got hired. We're just about two years behind. When you're in a race that started two years ago ... you got to run a lot faster to catch up.
Who are your coaching role models?
Mike Norvell at Florida State University and Pete Carroll with the Seattle Seahawks.
ASU could have pursued Norvell in 2017, who had been a Sun Devils assistant from 2012 to 2015. The university went on to hire former NFL player and coach Herm Edwards instead. Was that the right call?
I'm not going to comment on that. I think Mike Norvell is one of the best coaches in college football, I'll say that.
💭 Jessica's thought bubble: I had to ask! And anyone who's paid attention to what Norvell has done at Florida State would, too.
More Phoenix stories
No stories could be found
Get a free daily digest of the most important news in your backyard with Axios Phoenix.