Mountain West cities explore mass transit options beyond rail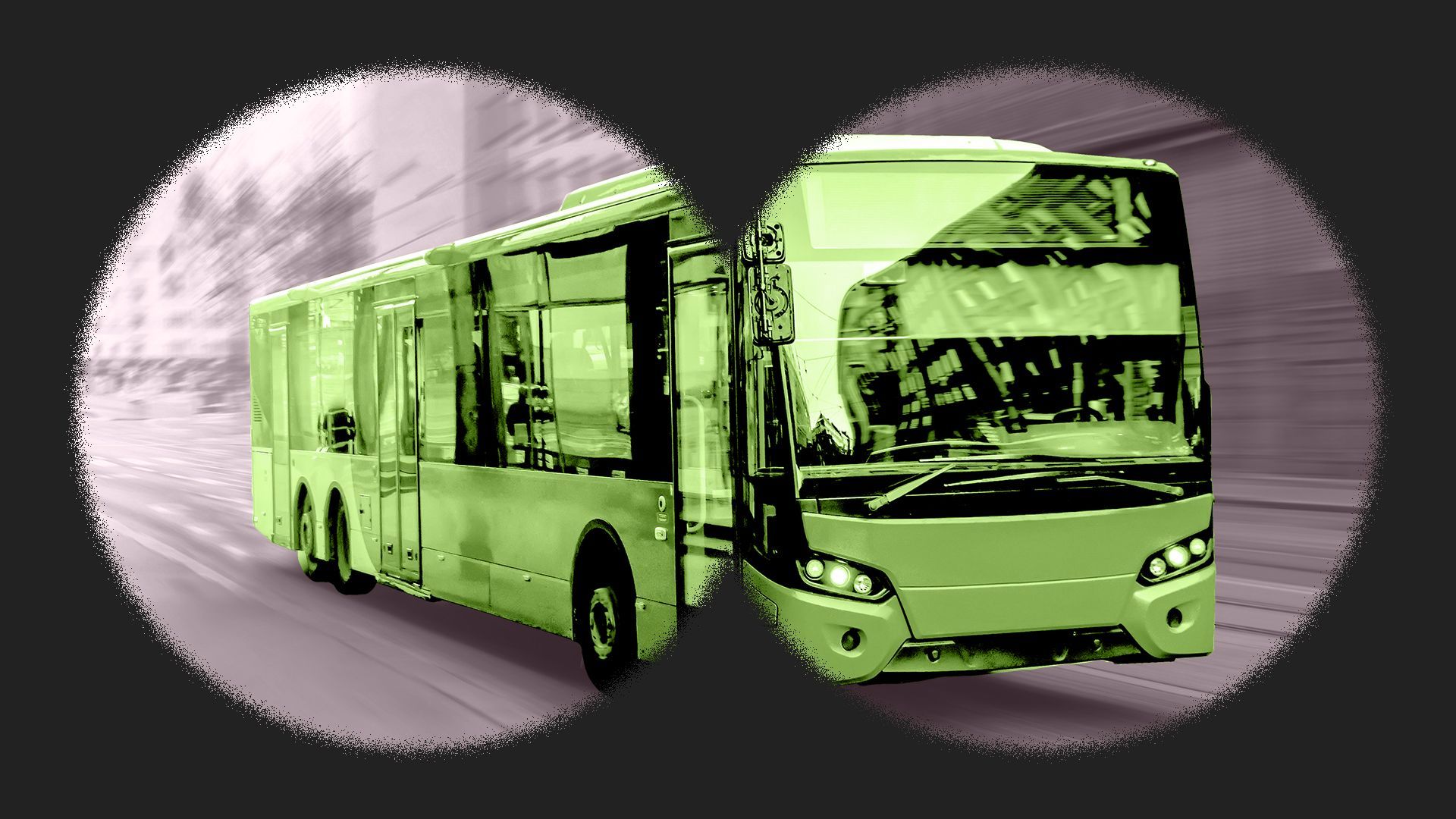 Urban planners and local officials across the Mountain West are looking at ways to expand mass transit systems while continuing to consider rail
Why it matters: Mass transit provides transportation options for people who can't afford or don't want to drive cars, reducing traffic congestion and pollution in the process.
Driving the news: In Phoenix, looking beyond rail has become a necessity. A hard-fought compromise between Arizona Gov. Katie Hobbs, a Democrat, and Republican legislative leaders yielded an agreement that will allow voters in Maricopa County, home to the Phoenix metro, to vote on a 20-year extension of a half-cent sales tax for transportation funding known as Proposition 400.
However, the agreement prohibits the use of that money to extend the region's light rail system.
Construction will continue on extensions in southern and northern Phoenix, but cities will have to find other funding sources if they want to expand the rail lines further.
Meanwhile, Denver and Salt Lake City are more amenable to additional rail options, but looking ahead at a combination of rail and streamlined bus service known as Bus Rapid Transit (BRT).
Denver's Regional Transportation District (RTD) is looking for ways to boost lagging ridership, reduce traffic deaths and improve air quality by going big on free fares.
This summer, the transit agency expanded its free rides program to cover the months of July and August thanks to an extra infusion of state funds.
The latest: Phoenix will establish the first corridor of its proposed Bus Rapid Transit plan from Metrocenter Mall down 35th Avenue and along Van Buren Street into downtown, and expects to begin soliciting public input for future phases sometime next year.
The city expects the first leg of its BRT system to be operational in late 2028 or early 2029, spokesperson Brenda Yanez told Axios.
Valley Metro, the regional transit system for the Phoenix area, is looking at BRT as well, but has no plans to implement such a system beyond Phoenix proper.
In Salt Lake County, a new BRT line called the Midvalley Connector is in the works and expected to be completed by 2025.
Context: The Utah Transit Authority (UTA) has launched two BRT lines in Utah and Weber counties in the last five years.
The newest route in Weber County, called "OGX," cost about $120 million and came to fruition after more than 20 years of planning.
Each offered free fares for their first three years of operation to entice riders.
"It is considerably less expensive to build and it basically delivers most if not all of the same benefits [of rail]," UTA spokesperson Carl Arky told Axios. "It's fast. It's efficient. It's reliable."
In Denver, where mass transit riders typically use a mix of bus and rail, the city is moving forward on a long-planned BRT line on East Colfax Avenue, one of the densest corridors in the metro.
The plan, expected to be completed by 2027, will convert vehicle lanes into bus-only lanes, with buses running every four minutes during peak times.
The "Colfax Lynx" will be the first of several BRT lines citywide.
Zoom out: For longer hauls, Valley Metro runs express buses, which transport riders from far-flung corners of Phoenix to the urban center during morning and afternoon rush hours.
They travel on freeways and are often supported by park-and-rides.
Some areas of Maricopa and Salt Lake counties are using rideshare-style services for more localized public transportation needs.
Yes, but: Rail is far from dead. Denver and Salt Lake City lack the political obstacles that hinder expansion in Arizona. Still, even in the Phoenix area, there may be room for light rail to grow.
The Utah Department of Transportation has plans to add a parallel track to its 83-mile commuter rail, called the FrontRunner, so it can run every 15 minutes during peak hours and every 30 minutes during non-peak time. The project, which would be funded by state and federal dollars, is estimated to cost about $1 billion.
Plus: Local leaders in Maricopa County are eyeing other funds for planned light rail expansions that can't be paid for through Prop. 400, the Arizona Republic reported.
More Phoenix stories
No stories could be found
Get a free daily digest of the most important news in your backyard with Axios Phoenix.