Meet Phoenix council members Kevin Robinson, Kesha Hodge Washington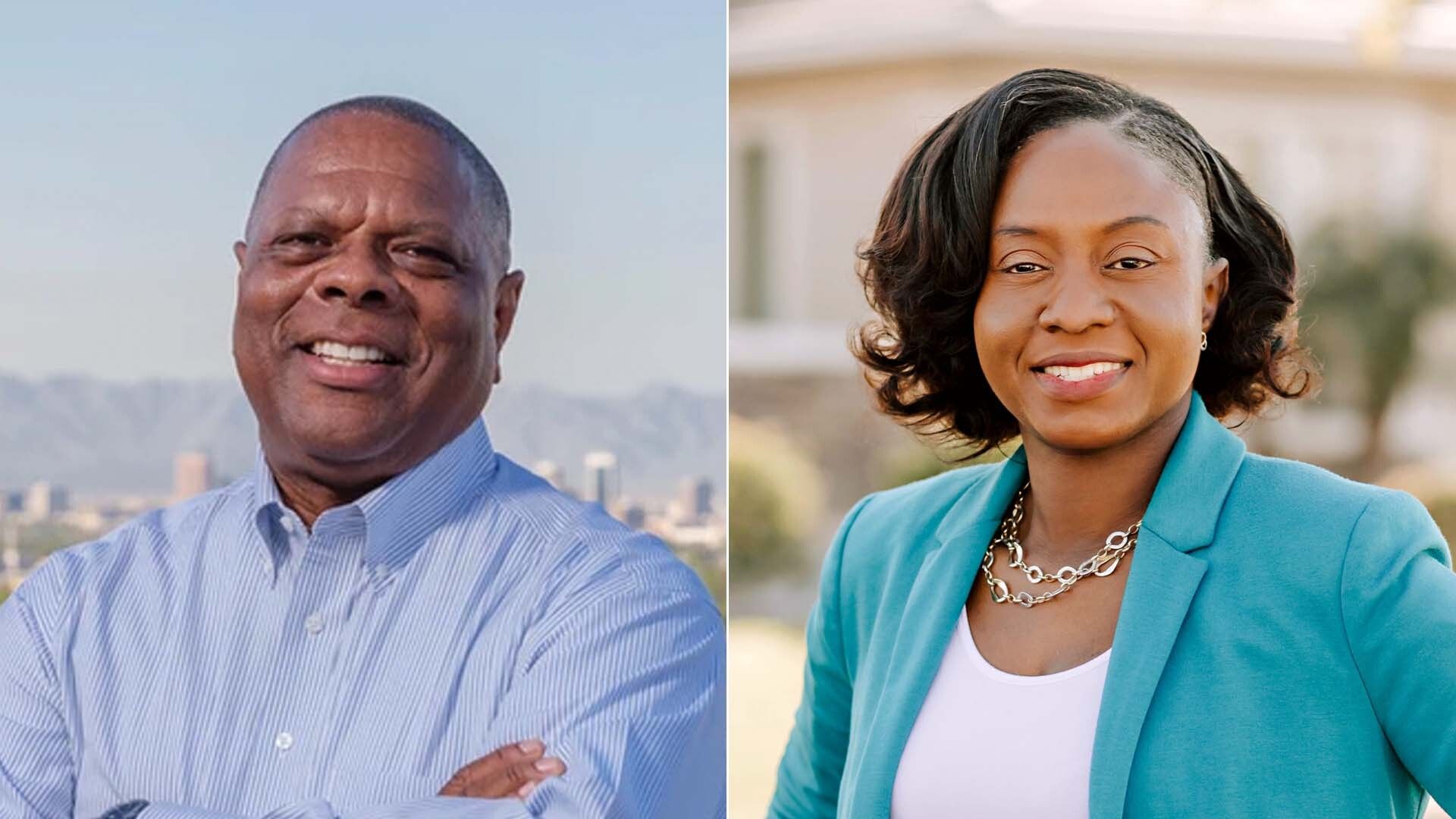 Kevin Robinson and Kesha Hodge Washington officially join the Phoenix City Council Monday.
Flashback: In the March election, Robinson triumphed over Sam Stone, former chief of staff for Council Member Sal DiCiccio, who previously represented District 6 but was term-limited.
Hodge Washington defeated incumbent Council Member Carlos Garcia in District 8, which includes parts of south and downtown Phoenix.
Why it matters: The City Council controls many of the government functions that touch your everyday life, from picking up your garbage to making sure clean water comes out of your tap.
Zoom in: Robinson is a retired Phoenix police assistant chief and Hodge Washington is a former assistant Arizona attorney general who has practiced law locally for 20 years
State of play: We got a chance to talk with both political newcomers ahead of their inaugurations. Here's what we learned:
Being a council member can be a thankless job. What made you run?
Robinson: "More than anything else it was because I knew I could be effective. I don't upset. I don't get excited … because that would cause me not to think clearly. That's that law enforcement training. So I said, 'You know what? I know I can make a difference.'"
Hodge Washington: "I decided to run because I saw a need. One of the things that was very troubling to me is I felt like the city's homeless situation was growing and I felt like they needed a specific advocate for this and a plan."
What are the top three issues in your district?
Robinson: Public safety, homelessness and water security.
Hodge Washington: Housing insecurity, public safety and economic development.
There has been hostility between Mayor Kate Gallego and some of the more progressive council members in recent months. Gallego supported you both. What do you expect your relationship with her to look like?
Robinson: "I've known Kate Gallego for a very long time, and I consider us very good friends. Do we agree on every single thing? No, we don't. Will there be disagreements? Will it be open and hostile and, in my opinion, unproductive? No. They just won't be."
Hodge Washington: "I plan to do what I believe is in the best interest of the city and my district, and I hope it's in line with what other council members and the mayor believe … but I acknowledge there will be some times when she won't be in support."
What are two restaurants you love in your district?
Robinson: The Collins and Wally's ("I like their fish and chips").
Hodge Washington: Los Dos Molinos ("Adovada ribs all the way") and Cocina Madrigal.
More Phoenix stories
No stories could be found
Get a free daily digest of the most important news in your backyard with Axios Phoenix.