Why you should watch the new Jason Kelce documentary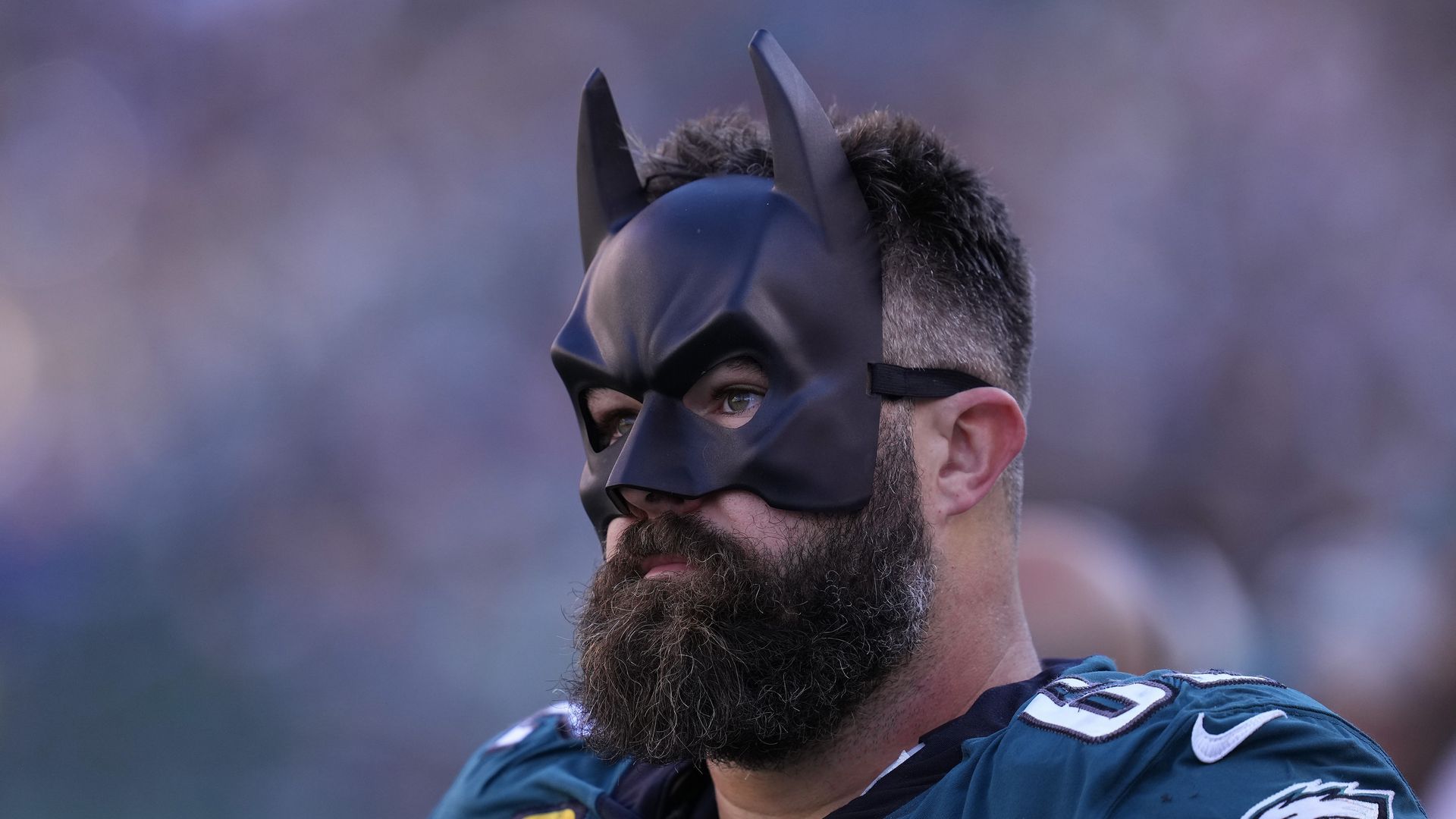 The new Jason Kelce documentary is chicken soup for the soul — and not the kitschy Chunky Campbell's kind that we've come to expect out of pro football.
Why it matters: Not all gridiron greats show their layers, but the Amazon Prime documentary that premiered this week gives an intimate peek at Kelce beyond the field in a philosophical love letter to football.
Catch up quick: The documentary captures the Eagles' beloved center contemplating retirement last year, then deciding to run it back after the team's loss to Kansas City and Jason's star tight-end brother Travis in what was dubbed the "Kelce Bowl."
What they're saying: "We idolize living as long as possible, and as healthy as possible. I don't know [if] that's necessarily the meaning of life," Jason Kelce says.
"If I get [chronic traumatic encephalopathy] (CTE) and I can't interact with my grandkids, I would still say playing 12 years in the NFL, making my family super prosperous, and being like an influential member of at least the city of Philadelphia is a good trade-off."
The intrigue: The filmmakers show the man behind the emotive All-Pro center — Philadelphia's "Fat Batman" who's played through injuries (seven surgeries over his career) and who relates to Guy Clark's "The Cape."
The hero in the song dons a floursack cape and tries to take a "leap of faith," symbolic of the dangers that Jason faces playing football.
"He's still jumpin' off the garage and will be till he's dead," Clark sings.
For Christmas, Kelce's wife, Kylie, bought him a wooden sound wave wall decoration of the chorus from "The Cape."
It's among many tender moments captured of Kelce's family, including when he reads Dr. Seuss' "Oh the Places You'll Go" to his daughters and wraps Kylie in a warm embrace after clinching a spot in the Super Bowl last year.
The backstory: The couple met on Tinder. Kylie thought she was getting catfished but agreed to a date anyway.
Jason got too drunk and fell asleep in the first 45 minutes.
Luckily, she stuck around, and the couple has been together ever since.
The doc also delves into Jason and Travis' close relationship and how Jason helped save his younger brother's football career.
The brothers played together at the University of Cincinnati. One of their dad's favorite moments is of Travis scoring his first touchdown as his hand is on his big brother's hip while Jason blocks for him.
Travis was later kicked off the team for testing positive for marijuana, but Jason convinced the coaching staff to give him a second chance.
"I owe a lot, if not all of it, to the big bear," Travis says.
Fast forward: After a controversial holding call lead to a gutting Super Bowl loss for the Eagles, Jason gets back to the hotel and is greeted by his daughters. His oldest Wyatt tells Jason, "Dad, you didn't win. Uncle Travie winned."
"We can be happy for Uncle Travie," Jason says.
The bottom line: The documentary ends with Jason, standing alone at midfield, as Clark's lyrics play.
"Spread your arms and hold your breath, always trust your cape."
More Philadelphia stories
No stories could be found
Get a free daily digest of the most important news in your backyard with Axios Philadelphia.