"Whiting out" Penn State's Axios Local bracket snub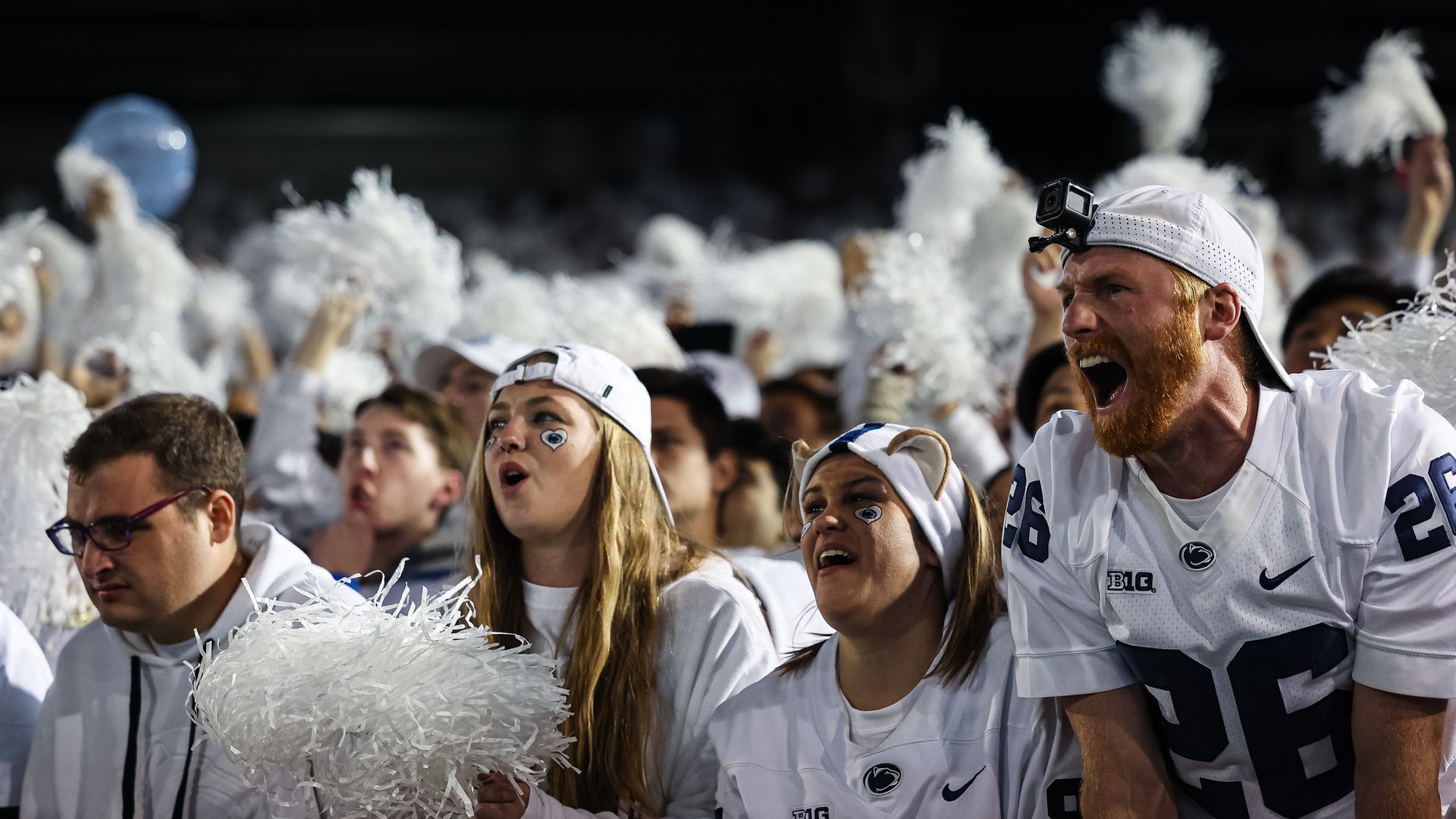 The architect of the "White Out" game is salty about Penn State's first-round exit to Notre Dame in the Axios Local bracket of best college football gameday traditions.
What they're saying: "Notre Dame is bullsh-t," Guido D'Elia tells Axios.
Quick take: In Philly, slights are met with spite. The "White Out" game is — hands down — college football's best tradition, regardless of who's crowned king next week between Notre Dame and Colorado.
The intrigue: D'Elia created the "White Out" game in 2004 to help a slumping storied football program improve home-field advantage.
"The media called us the quietest 100,000 people in football," he tells Axios. "They were a down-in-front crowd. If somebody stood up it was like whack-a-mole. They would applaud like an opera — very nice run, very nice run."
Nearly two decades later, more than 110,000 fans now pour into Beaver Stadium every year for the time-honored tradition.
"You have to be standing there and feel your chest cavity throbbing from the noise level," D'Elia tells us.
Flashback: Penn State lost to the Fighting Irish by less than 60 votes.
More upsetting: Harvard — yep, Harvard — got a first-round bye in our region, only to get obliterated by Virginia Tech.
Catchup fast: D'Elia, then head of Penn State football's marketing and branding, complained to the athletic director about the lackluster gameday environment enough that it became his problem to fix.
He needed a way to turn the opera crowd into a riotous opus on fandom. They started by trying to get 20,000 Penn State students to wear white to a game.
How it works: D'Elia got rid of a scripted gameday plan that dictated when certain songs were played, and which graphics were put up on the jumbotron.
Much like a shrewd offensive coordinator, he instituted a new color-coded call sheet that allowed the operations team to do things on the fly, fueling and feeding off the crowd's energy.
What happened: The success of the "White Out" game has turned Beaver Stadium into the most daunting place to play in college football and led to some of the biggest plays in school history.
It's a big moment in the game — cue up Zombie Nation's "Kernkraft 400," a song now synonymous with Penn State.
"We teach this sh-t," D'Elia says. "They walk in the damn door with a purpose."
It's also been a career-maker for D'Elia, who spent several years touring the country schooling the best college football programs — Alabama, Texas, Oklahoma, Florida — on how to replicate Penn State's in-game atmosphere.
The bottom line: All that to say, get the white out ready for your bracket. We all know who the winner is!
More Philadelphia stories
No stories could be found
Get a free daily digest of the most important news in your backyard with Axios Philadelphia.