Calls grow for Philadelphia to release bodycam footage after shooting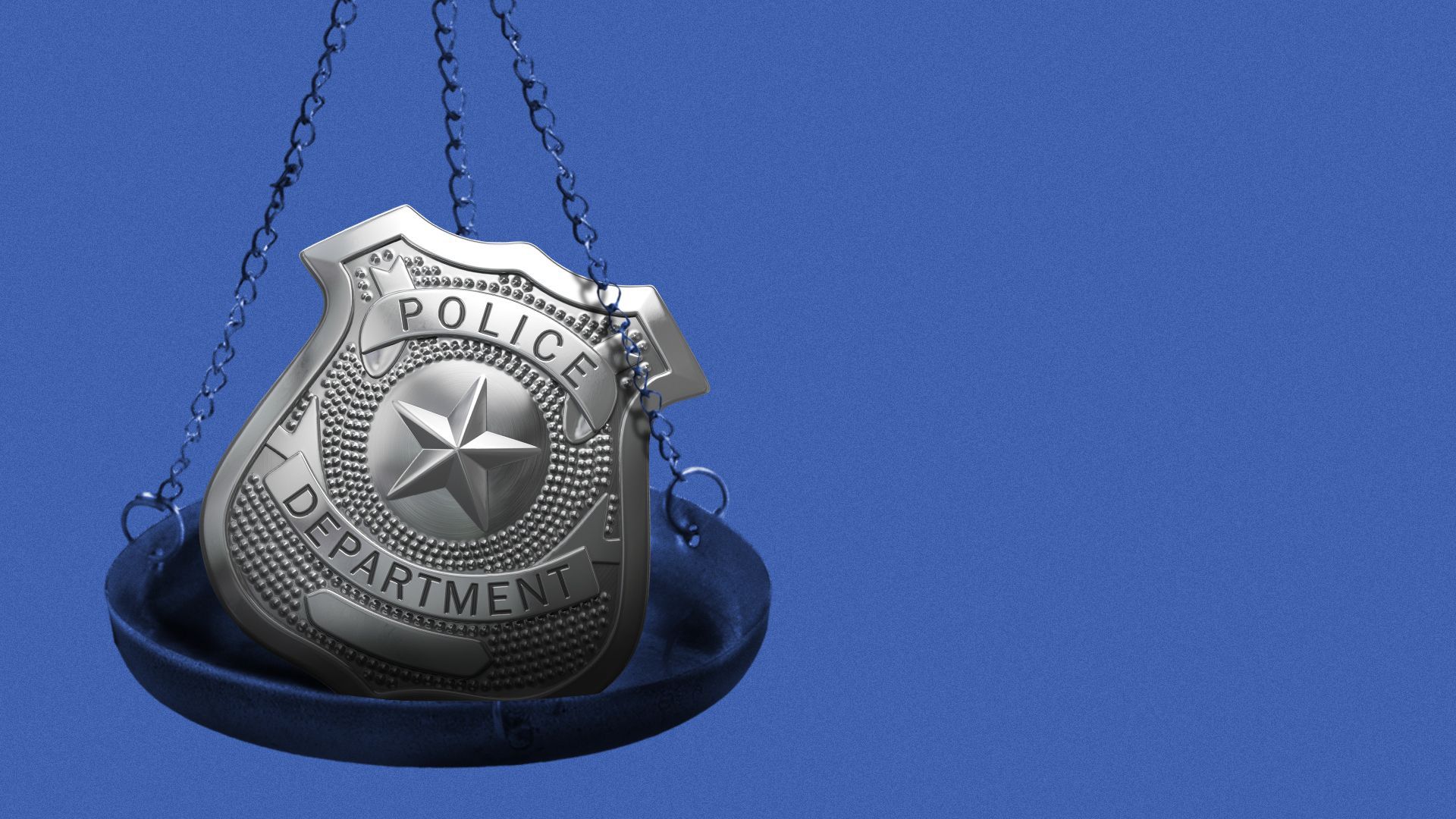 Public demands for Philadelphia to release body camera footage in shootings are growing after the death of Eddie Irizarry.
The big picture: The city has only released body-camera footage once — in the police shooting of Walter Wallace Jr. — since it spent $20 million to implement a body camera program in 2014.
Driving the news: Attorney Shaka Johnson, who also represented the Wallace family, joins Philadelphia's police watchdog and a chorus of others in urging the city to enact a policy that allows for the release of some body camera footage while investigations are ongoing.
"It's the people's footage, and they need to get access to their footage," Hans Menos, of the Center for Policing Equity, told Axios.
What they're saying: A city spokesperson told Axios the circumstances in the Wallace case were different than Irizarry's. In that case, the city and the Philadelphia District Attorney's Office agreed to release the footage about a week later after consulting Wallace's family — in part to soothe social unrest following his death.
In the Irizarry case, a city spokesperson said they'd again need prosecutors' approval before even considering any release of the footage, and that hasn't happened.
Philly DA spokesperson Jane Roh told Axios there are no "extenuating circumstances" that warrant releasing bodycam footage of the Irizarry shooting. She declined to say whether that could change.
Zoom in: Menos, former executive director of the Philadelphia Police Advisory, says he believes Philly police had a vested interest in releasing the Wallace footage since it showed them using restraint for someone who had a history of mental health struggles.
Wallace was captured walking toward police with a knife as officers repeatedly ordered him to drop the knife before shooting him.
"They're cherry-picking which footage they're willing to release," Menos said. "That is not a public-focused policy. They need to be transparent, uniformly."
Councilwoman Quetcy Lozada, who represents the district where Irizarry was killed, told Axios that "if they release it in one, they should release it in all," referencing the Wallace case.
CPOC's interim executive director Anthony Erace told Axios in a statement that bodycam footage helps bring police officers accused of misconduct to justice.
Philly residents "deserve to be able to see officer conduct for themselves, to evaluate it independently, and to call for changes if they see fit," he said.
Be smart: Obtaining bodycam footage is rare in Pennsylvania because of a state law created in response to a 2017 ruling from the state Supreme Court.
The ruling stated that body camera footage was considered public record, but the legislation, Act 22, created a new, onerous process for requesting police video.
Yes, but: Attorney Terry Mutchler has successfully pried loose footage in three cases, including one in Lancaster in which she worked with the Reporters Committee for Freedom of the Press.
All the cases were settled out of court before a judge ruled whether footage should be available to the public under Act 22, Mutchler tells Axios.
"You have transparency on paper but not in practice," she says, adding there isn't a willingness from state lawmakers to change the law.
The bottom line: Philly isn't committing to adopting any new policies on the release of bodycam footage.
But a spokesperson told Axios the city supports legislation that would make it easier for the public to obtain "non-body camera police video" under the state's sunshine law.
More Philadelphia stories
No stories could be found
Get a free daily digest of the most important news in your backyard with Axios Philadelphia.