How Meek Mill went from rapper to culture hero: an oral history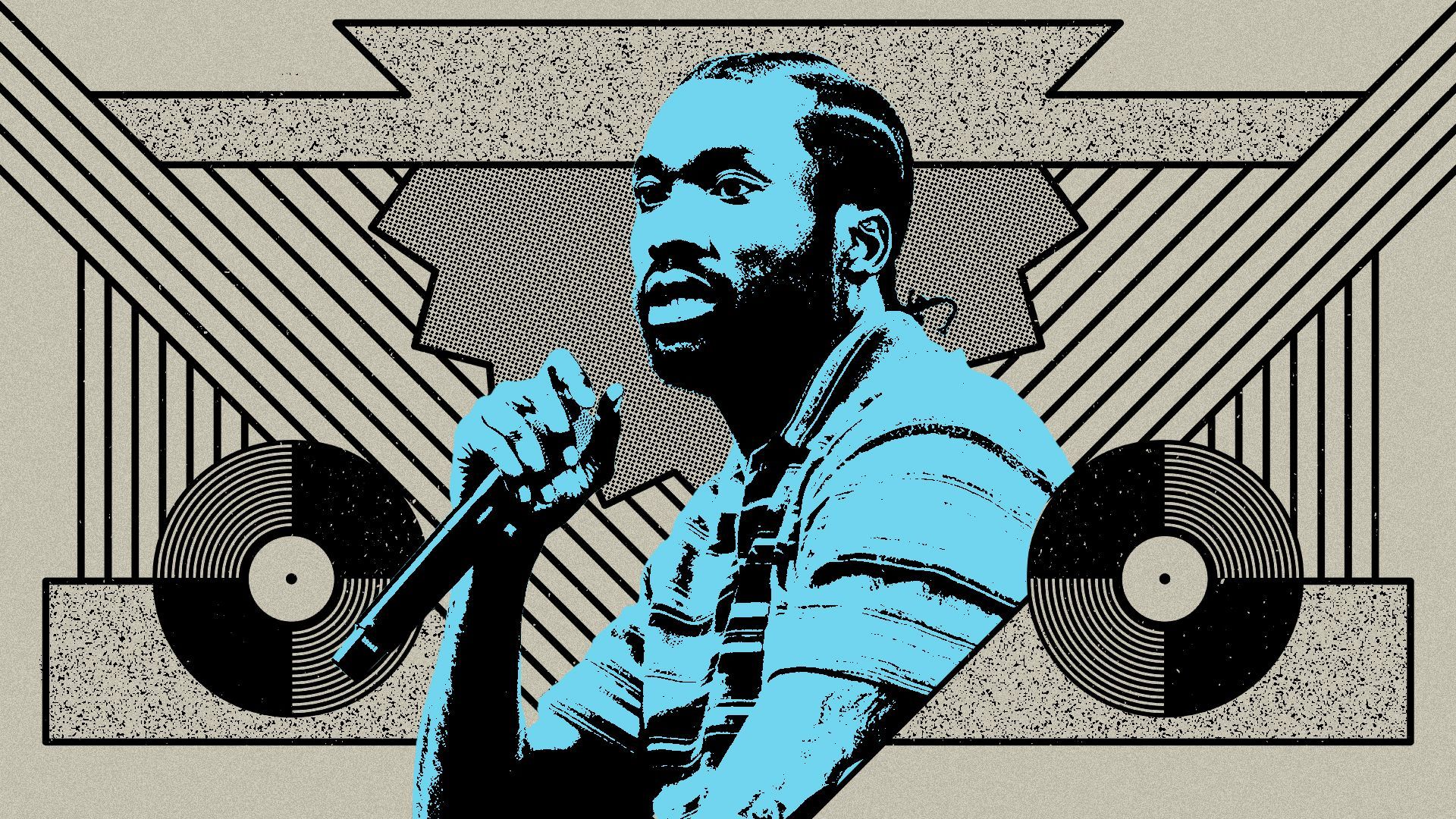 You may remember it: the day Meek Mill walked into a Philadelphia courtroom for a hearing, and Judge Genece Brinkley sent him back to prison for popping illegal wheelies while on probation in 2017.
Why it matters: It was a seismic moment in the history of hip-hop, one that would transform a chart-topping musician with 64 Billboard hits into something else entirely: a face of national criminal justice reform.
What's happening: To mark this week's 50th anniversary of hip hop, we're going behind the scenes with a mini-oral history of that moment, and what it wrought.
Catch up quick: Mill — né Robert Rihmeek Williams — may be Philly's most beloved rapper, a guy who rose from battle-rapping older kids on his neighborhood streets to a hometown hero who puts cash into the city school system and once paid bail for 20 local women so they could spend the holidays at home.
His legal odyssey began in 2007, when he was arrested on drug and weapon charges stemming from an alleged undercover deal in Southwest Philadelphia, then convicted at trial and locked up for several months.
Brinkley presided over the case, and as part of his sentence, she put Mill on probation for a decade.
The rub: In the fall of 2012, Mill released his chart-topping breakout album "Dreams and Nightmares." And the life of a jet-setting rap star did not vibe with the terms of probation Brinkley laid out for him.
As Mill's career took off, the judge cracked down.
Over the next five years, Brinkley barred Mill from touring, limited his travel and ordered him to take etiquette classes over various probation and parole violations including drug use, badmouthing justice-system officials and problems notifying probation officers of his whereabouts.
At one point, when he scheduled new concerts during a timeframe that she forbade, she ordered incarceration.
At another, she placed him on house arrest for 90 days.
What they're saying: "Meek defied every obstacle, every hill of bad luck dumped on him," recalls Paul Solotaroff, a Rolling Stone journalist who co-produced the "Free Meek" documentary. "[He] signed with Rick Ross. Began making $50,000 a show. Had hit after hit after hit, then hit album after hit album – every time the man was poised to become Drake, she benched him."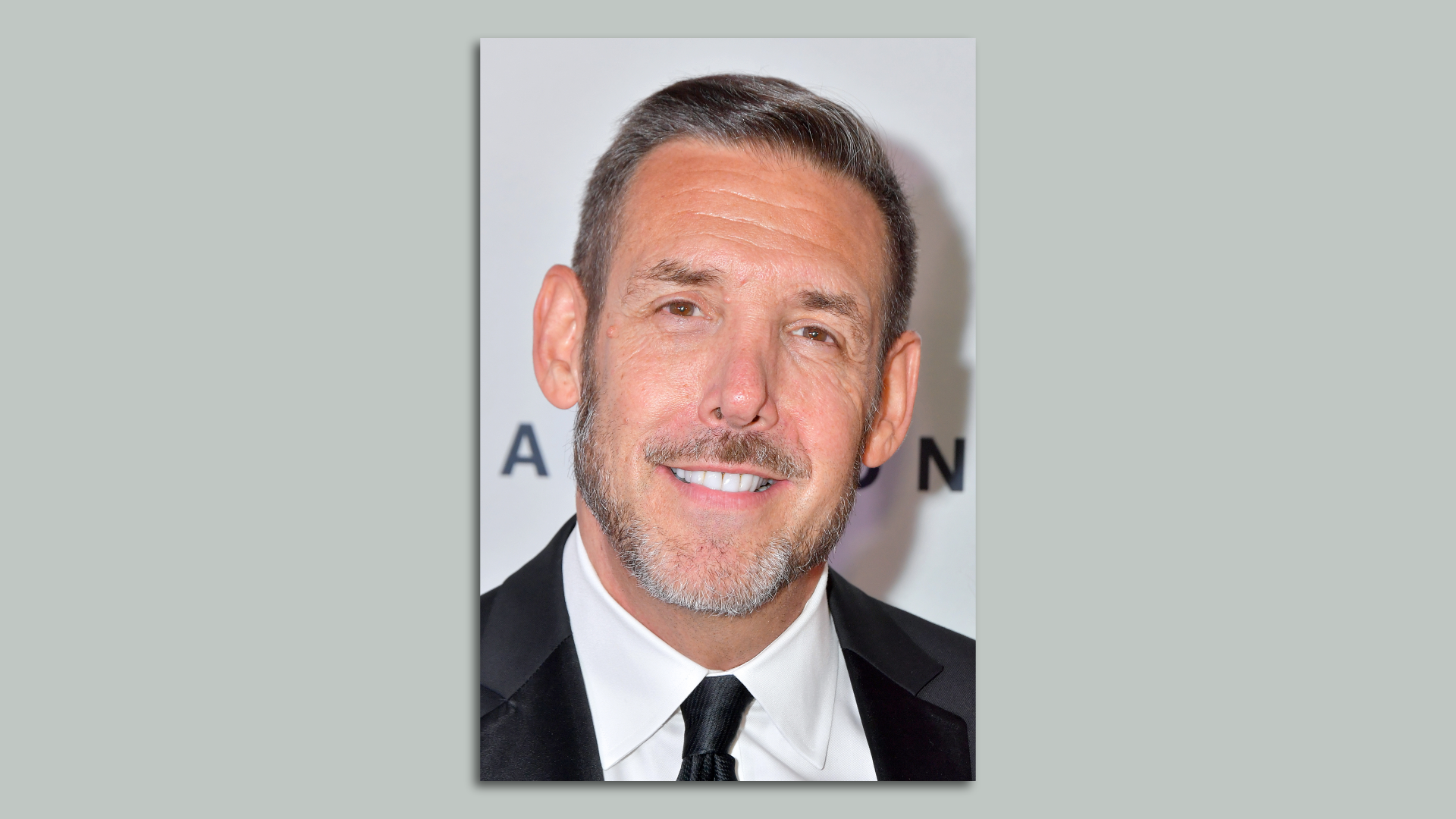 November 6, 2017
The scene: Mill and his Philadelphia defense attorney, Brian McMonagle, showed up for the latest probation-violation hearing before Judge Brinkley.
Meek had been involved in a fight at the St. Louis airport. And he'd admitted to a misdemeanor charge in New York City, later dismissed, after riding a dirt bike through the streets. (The St. Louis case was ultimately dropped.)
Several sheriffs were lined up in the courtroom, and after 10 years of going mano-a-mano with Brinkley, Mill sensed the judge would come down on him.
Mill, in "Free Meek": "Once you see sheriffs, you know somebody going to jail."
Yes, but: McMonagle tells Axios he had a "quiet comfort" heading into court. In prior discussions with officials on the other side, he learned they wouldn't ask Brinkley to jail Mill again.
Philly billionaire Michael Rubin, the Fanatics CEO and Mill's friend: "It was the f–kin' craziest thing I've seen in my life. ... The probation officer got up and spoke like they were a witness for Meek. Like, look, he's a model probationer. … DA gets up and says we recommend no sentence."
McMonagle: "You could go 30 years and never see a probation hearing quite like that one in terms of the positive evidence and testimonials that were submitted."
Rubin testifies as a character witness: "I said, 'Look, I recognize that Meek's not a perfect individual but he's a really good friend of mine. I've been around him for three or four years now, he's been around my kid a zillion times, my mom. I brought him around lots of business people …
'Everyone loves this guy. Any time I ever asked him to do anything, he's always done it. … He's creating jobs, he's good for the community, he's a guy I'll put my reputation behind.'"
Mill, at the hearing, per the Inquirer: "I'm not perfect. I'm asking for mercy. You gave me the ladder to do what I have to do to prevail in my struggle. I made it this far. I can't really go back and start over."
Brinkley, per the hearing transcript: "I do more and more and more to give you break after break after break to help you. You basically thumb your nose at me and just do what you want the way you want."
Mill acknowledged in the "Free Meek" documentary making mistakes along the way, including struggling with an addiction to Percocet.
Brinkley: "So my sentence is two to four years in state prison.
"And then you won't be on probation from this court. You won't have to report to me ever, and I don't have to deal with you ever again."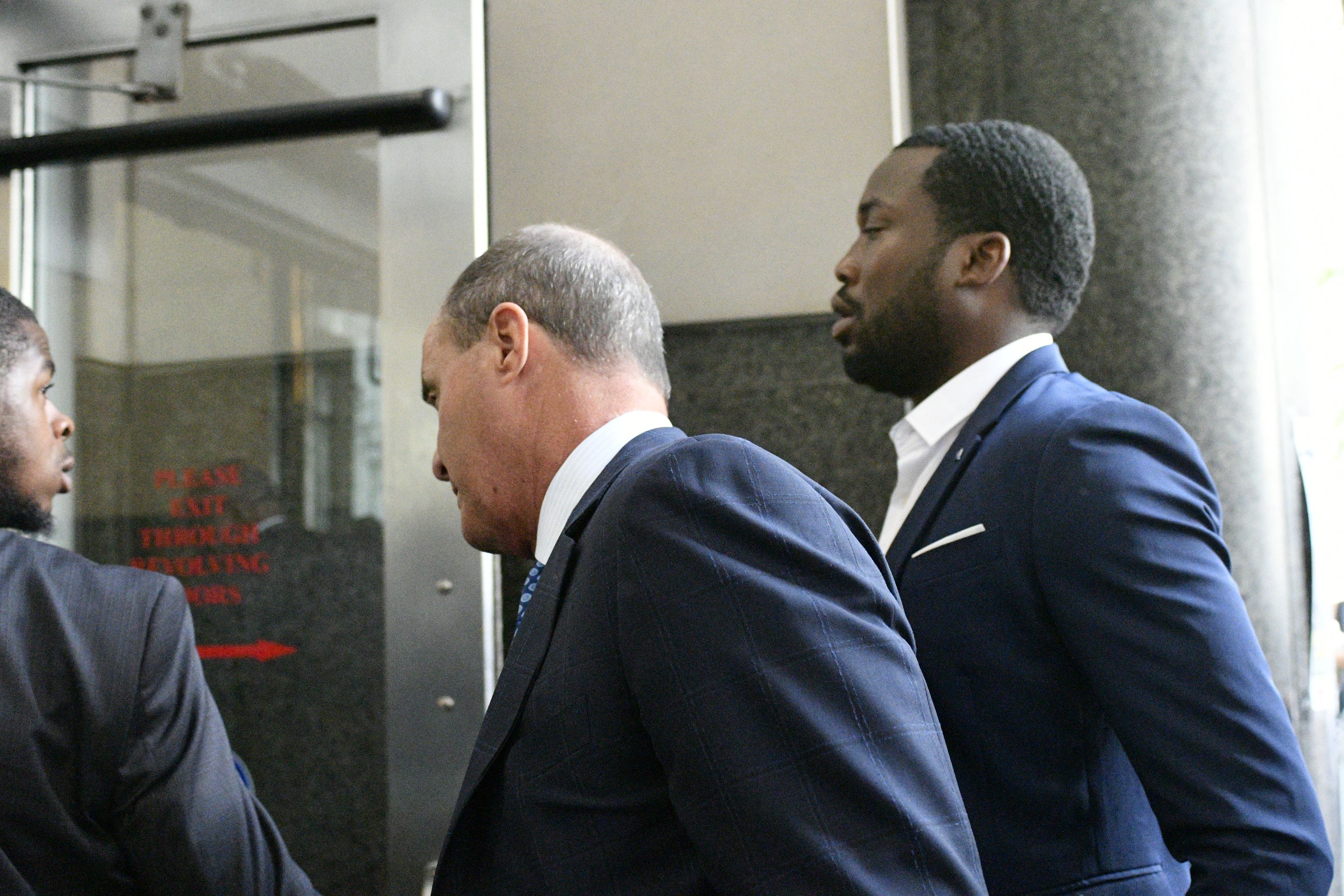 Zoom in
Mill, per "Free Meek": "I went to prison on the spot. Shackled up."
Rubin: "I never felt more small and powerless in my life."
Pennsylvania Sen. Sharif Street, who represents North Philly, where Mill grew up: "My reaction was, I don't understand. There has to be more to this. …. Ultimately, I realized there wasn't more to it, and I was blown away."
Rubin: "I called the governor, the attorney general, the mayor. ... Man, I had no idea how it worked.
"They're like all – they believe what the judge said. 'Michael, you shouldn't get involved with this; stay away from this.'"
Mill, per "Free Meek": "They put me in the hole. And the hole is like I'm locked in 23 hours a day. They put me on like a f–kin' mental ill block with people who was like cop killers, people that's crazy as hell back there screamin' from morning to night. ... All you smell is sh-t and piss. It's like a mental torture."
McMonagle: "When he came out to see me, he was literally unrecognizable. He hadn't been able to shower in days. He hadn't slept … His comment to me – and I'll never forget it — was, 'Before I saw you, I really thought that I had gone insane and had a mental health breakdown and had been committed and I didn't know it.'
"I just remember my eyes were full with tears. I'm looking at this young brilliant guy and I'm thinking, how did this happen?"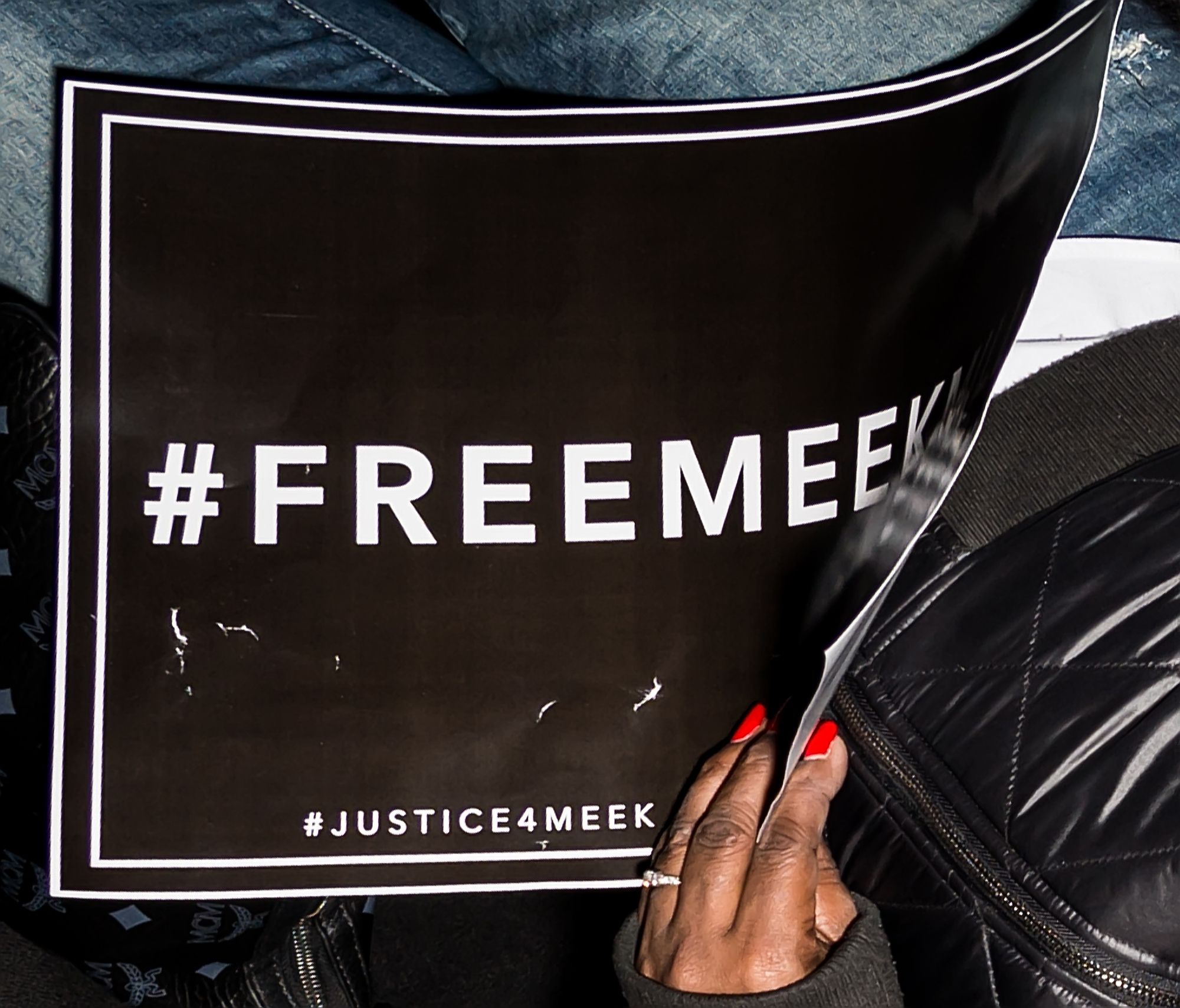 Zoom out
Hundreds of supporters chanting "Free Meek Mill" rally behind the jailed rapper at demonstrations in Philly in the coming weeks and months.
Sen. Street: "It was a diverse crowd just really concerned that the system was not doing right. … Everyone left there understanding that we have work to do to reform the system. ... That became the buzzword of the day."
Jay Z, in a New York Times op-ed: "Meek was around 19 when he was convicted... Now he's 30, so he has been on probation for basically his entire adult life. For about a decade, he's been stalked by a system that considers the slightest infraction a justification for locking him back inside."
He's "just one example of how our criminal justice system entraps and harasses hundreds of thousands of black people every day. ... Instead of a second chance, probation ends up being a landmine, with a random misstep bringing consequences greater than the crime. A person on probation can end up in jail over a technical violation like missing a curfew."
Mill's legal team spends months trying to get the rap star released from prison, their work amplified by the megaphones of celebrities, elected officials and a hashtag (#FreeMeekMill). Meanwhile, Rolling Stone's Solotaroff publishes a 6,300-word exposé in the magazine that reads like an indictment of some of those involved in helping lock up the rapper.
Mill wins: In April 2018, the state Supreme Court grants him bail and frees him, citing questions raised by prosecutors about the credibility of the main witness in the case.
Brinkley's attorney Gary Green, who represents the judge in a separate administrative matter: "Judge Brinkley acted like the most loving, forgiving mother who couldn't believe that her child would not want to take a chance to be rehabilitated and stay out of jail. I'm talking about doing contortions in favor of him. …
"If it was you, and you didn't have hundreds of thousands of dollars and millions of dollars worth of potential behind you and people that wanted you to be out of jail so you could make money for them, I guarantee you nobody would give a s–t about what happened to you."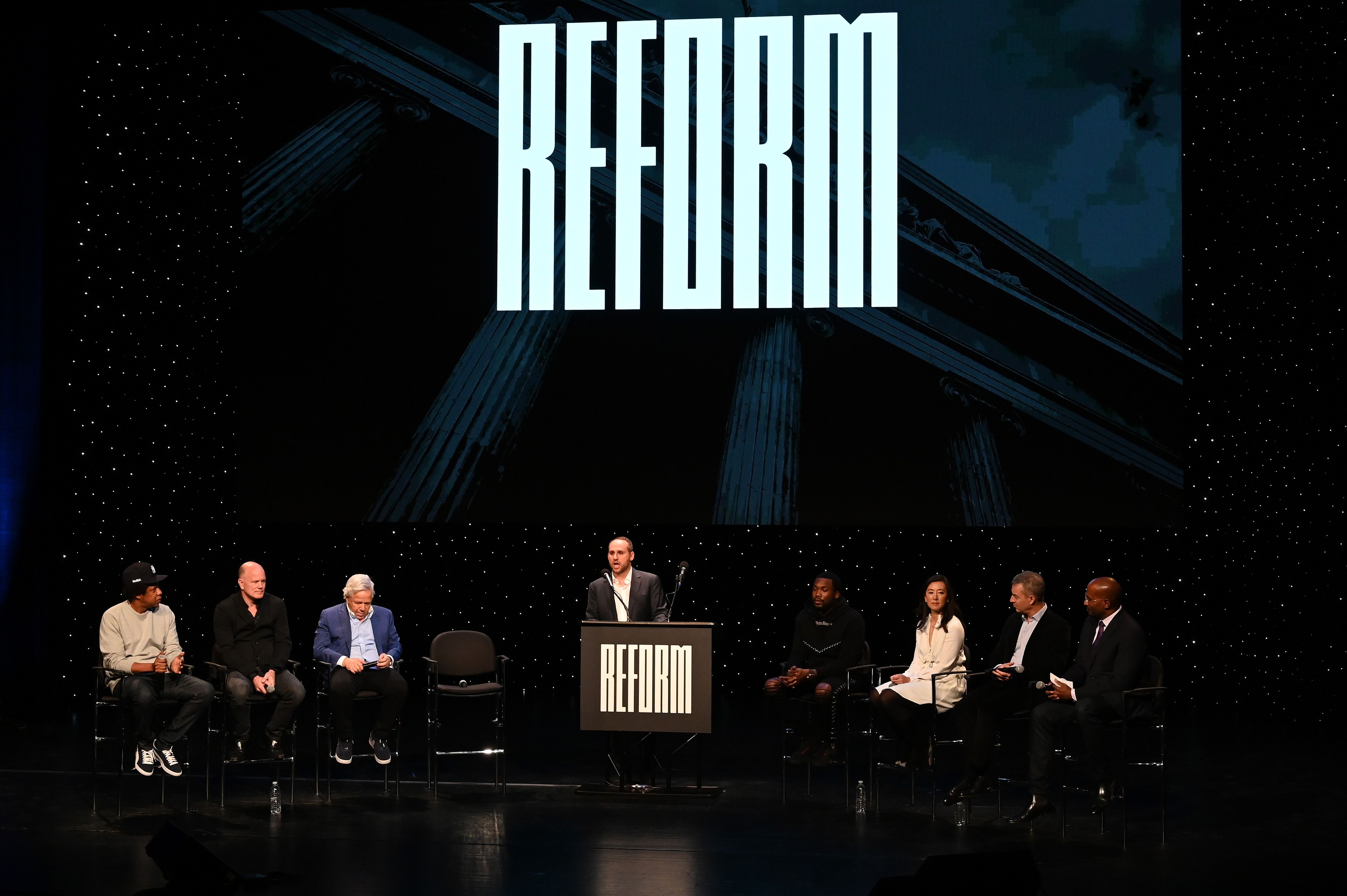 The Upshot
Solotaroff: "The drama became, well, do you, Meek Mill, use your power and celebrity to sue the city of Philadelphia for $100 million and essentially bring it to its knees and, oh by the way, not settle out of court – go all the way to a verdict. Put those cops on the stand. ... Put Genece Brinkley on trial."
Instead of suing, Mill's attention turns toward helping others. He and a coalition of celeb-supporters, including Rubin and Jay-Z, in 2019 launched the REFORM Alliance, a group dedicated to criminal justice reform.
Jessica Jackson, REFORM's chief advocacy officer: "I remember when we … were like, 'Wait, we don't even have a company credit card at this point, let alone an office.' ... And now we've got two fully functioning offices… and just a really incredible, dedicated team that works around the clock and has been able to accomplish really unthinkable goals like being able to pass 17 bills in 11 states over the course of four and a half years.
"We've created a pathway for over 700,000 people to come home."
One of the group's most recent victories came in Illinois, which enacted a law revamping its supervision system for more than a quarter million people. It's expected to save the state $16.5 million over the next five years, per REFORM.
Closer to home: A bill championed by REFORM would make it more difficult for Pennsylvania judges to jail probationers over technical violations. It was passed by the state Senate this year and awaits action in the House after advancing out of committee.
Jackson: "It actually unanimously passed [that committee]. I literally broke down in tears sobbing … We're gonna continue to change the laws, state by state, across the country."
Only months after the group formed, Mill's conviction was overturned.
And earlier this year, he received a pardon from then-Governor Tom Wolf.
Wolf: "Pennsylvanians who make it through the pardon process truly deserve their second chance, and Meek is no exception. He made a commitment to change and to help his community."
Rubin: "Sh-t happens for a reason."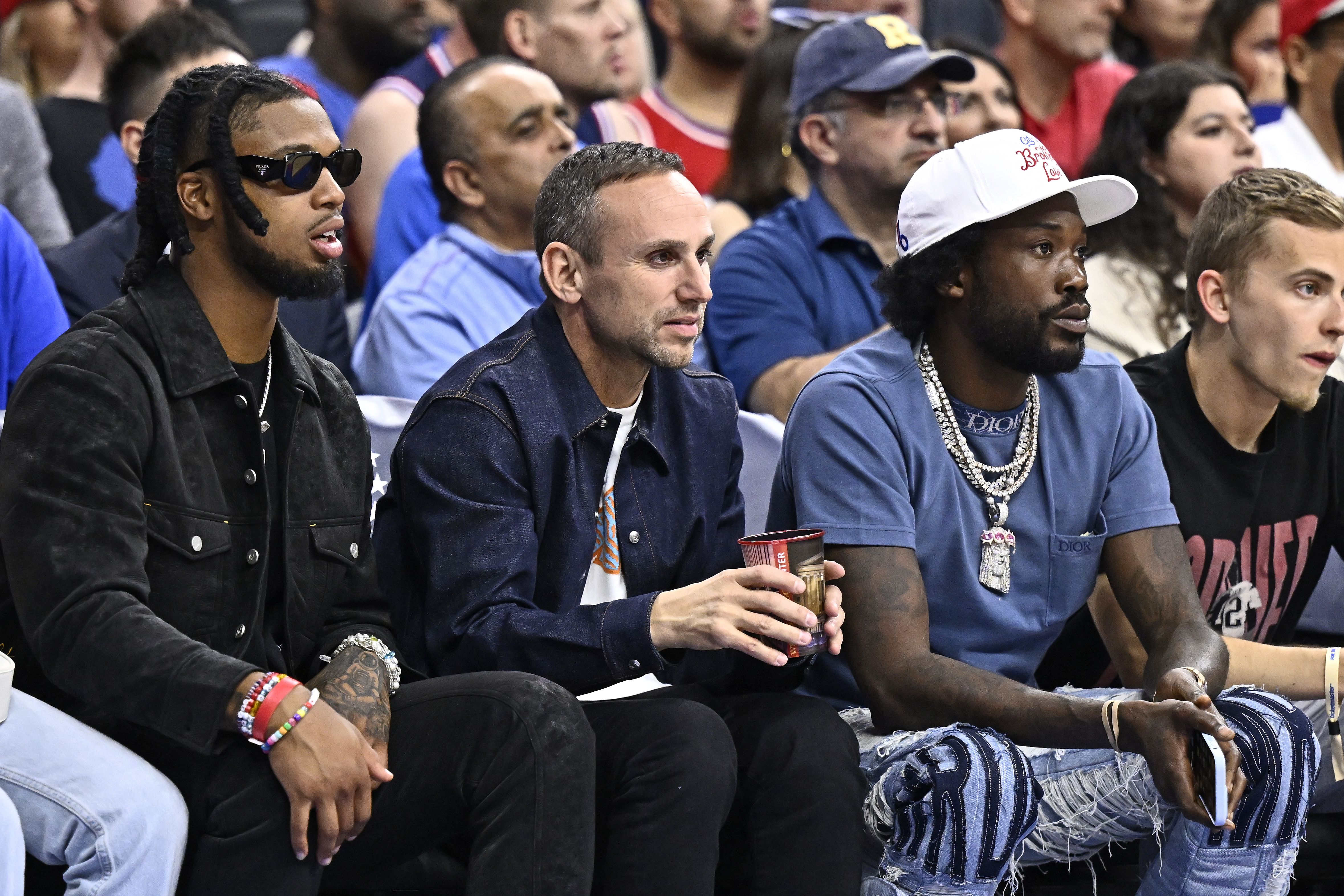 What's next
Mill was nominated for a Grammy in 2020. After notching dozens of hits in the Billboard Hot 100, he's worth an estimated $20 million.
Judge Brinkley, who didn't return Axios' request for comment, was transferred to the civil division last year, at her request. The move came amid a philosophical disagreement with her supervisors over differing views on criminal justice reform, and scrutiny of procedural issues in her courtroom.
In the process, Brinkley's post-trial criminal matters were reassigned. She has a complaint pending that alleges her higher-ups discriminated and retaliated against her.
Green, her lawyer, says judicial rules prevent Brinkley from talking about Mill's case. "She can't open her mouth and defend herself. Her hands are tied behind her back, and she's got duct tape on her mouth."
Brinkley is up for reelection in November. A coalition of activists, upset about her treatment of other defendants, vows to oppose her remaining on the bench.
"It's the ground game, knocking doors, getting out in the streets, getting information out is gonna be crucial," says Kurt Evans, organizer at 215 People's Alliance. "Getting into wards, getting in the community neighborhoods, explaining the miscarriage of justice.
"Once it was Meek Mill, but it could be you."
More Philadelphia stories
No stories could be found
Get a free daily digest of the most important news in your backyard with Axios Philadelphia.