Your cheat sheet to City Council at-large races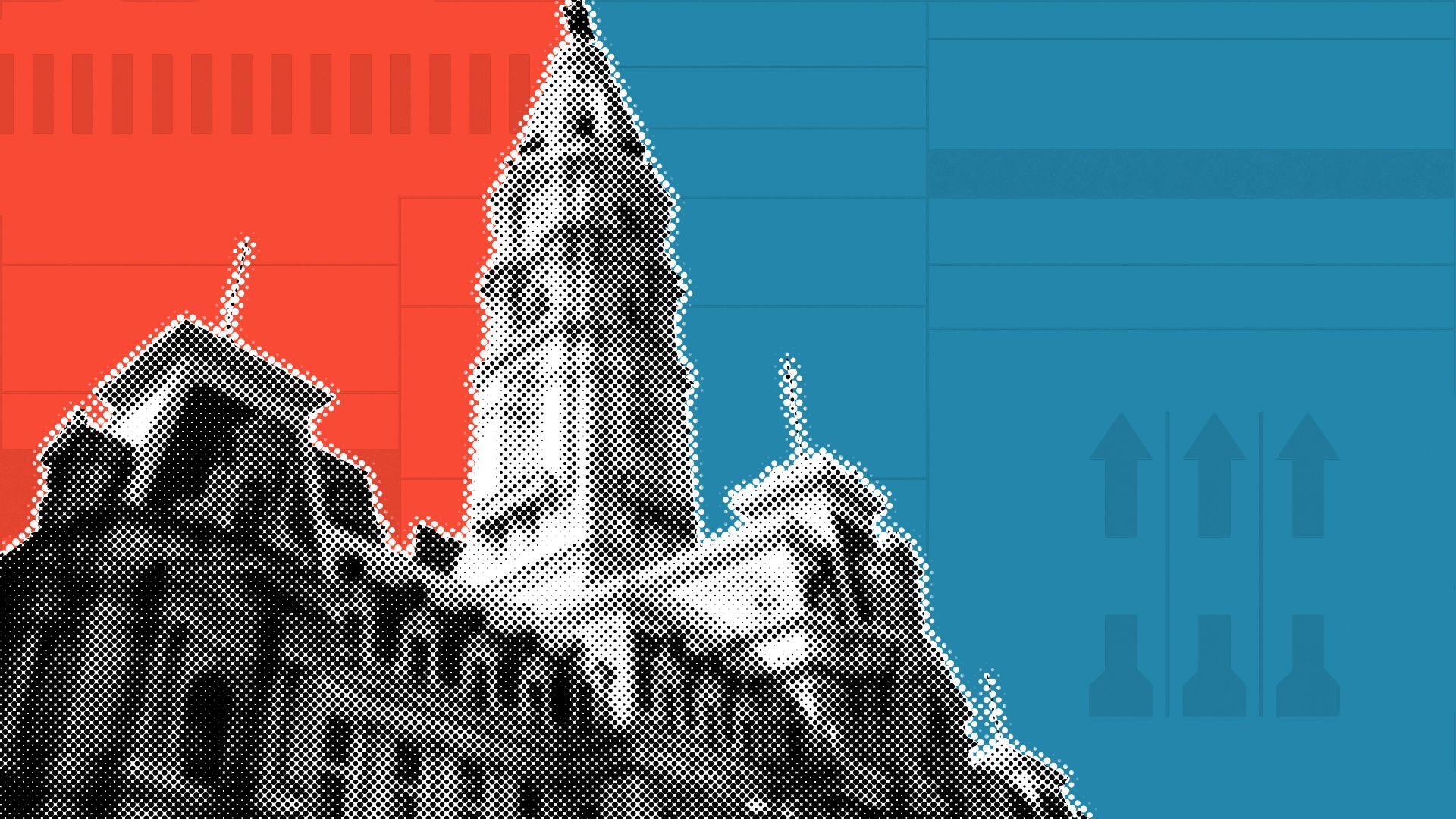 Time is running out to make your picks for the primary with the largest candidate field on Tuesday's ballot.
What's happening: The at-large City Council race features 27 Democrats and six Republicans vying for seven seats.
Three Democrats are seeking re-election.
Why it matters: The primary could reshape the city's legislature.
Of note: Pennsylvania has closed primary elections, so only registered party members can vote. Winners advance to November's general election.
How it works: Voters can pick up to five at-large candidates from their party.
Between the lines: Voters citywide elect the seven at-large legislators.
Five seats are reserved for the "majority" party and have historically gone to Democrats due to their significant voter advantage.
Two seats are reserved for minor party members.
Here are the candidates, listed in the order they'll appear on the ballot.
Democrats
Derwood Selby is an author, television and radio host, and entrepreneur. He has been a board member for the nonprofit media network PhillyCam. He lives in Strawberry Mansion, per WHYY.
Sherrie Cohen is a lawyer and activist running for the fourth time. She'd be Council's first out LGBTQ member. Her father, David Cohen, served nearly 30 years in the legislature. She lives in Ogontz, per the Inquirer.
Qiana Shedrick is an Army veteran and president of the nonprofit Upper North Neighbors Association. She has worked for the nonprofit Jumpstart Tioga, which offers training for community real estate development.
Jalon Alexander is a cyber-security lawyer and Strawberry Mansion native. He has proposed using drones as a crime-fighting tool. He lives in Strawberry Mansion.
Luz Colón has worked as a staffer for three City Council Democrats and as executive director of the state's Latino affairs commission (GACLA). She lives in Kensington, per the Inquirer.
Wayne Dorsey's priorities include mental health, education and neighborhood cleanups, per his Facebook page. He ran in 2019. He lives in West Philly, per WHYY.
Deshawnda Williams is a social worker and has served as a pastor at New Inspirational Baptist Church in Nicetown.
Melissa Robbins is an activist and political strategist who has worked on Democratic campaigns for Council and state offices. She's a veteran and former WURD radio host.
Amanda McIllmurray is a political organizer and former director of the progressive group Reclaim Philadelphia. She lives in South Philly, per the Inquirer.
Abu Edwards is a community organizer and political action chairperson for NAACP's Philadelphia branch. He founded the political action group Millennials in Action and worked on several Democratic campaigns, including Joe Biden's in 2020. He lives in Mt. Airy.
Rue Landau is a lawyer and LGBTQ activist. She's the former executive director of the Philadelphia Commission on Human Relations and the Fair Housing Commission. She lives in Bella Vista.
Ogbonna Paul Hagins is an activist and former teacher. He previously ran in 2019 and lives in Grays Ferry.
Erika Almirón is a community organizer and former executive director of the immigrant rights nonprofit Juntos. She previously ran in 2019 and lives in Germantown, per the Chestnut Hill Local.
Nina Ahmad is a scientist and women's rights activist. She's president of the state chapter of the National Organization for Women. She previously ran for lieutenant governor and auditor general, and lives in Mt. Airy, per WHYY.
Charles Reyes recently was a community school coordinator at Murrell Dobbins CTE High School in North Philly. "Good Morning America" honored him for his efforts at the school and community, including distributing food to children.
Donavan West is former president of the regional African American Chamber of Commerce. He founded a boutique consulting firm for workforce development and management solutions. He lives in Center City, per the Inquirer.
NaDerah Griffin is a former city teacher whose platform includes focusing on mental health and affordable housing.
Jim Harrity is an incumbent who snagged his seat in a special election last year. He's the former Pennsylvania Democratic Party's political director and was a staffer to state Sen. Sharif Street. He lives in Kensington.
Eryn Santamoor is a former chief of staff for then-Councilmember Allan Domb. She served as a deputy managing director under former Mayor Michael Nutter. She lives in Chestnut Hill, per the Chestnut Hill Local.
George Stevenson is founder of the nonprofit Real Men Speak, which provides mentoring and career advice services. He's a former staffer for Councilmember Cindy Bass. He lives in Nicetown, per WHYY.
John Kelly is chief financial officer for Vitara Biomedical, a medical device company in Philly. He was a board member of the Fairmount Park Conservancy and a committee person in the 9th Ward for more than two decades. He lives in Center City, per the Inquirer.
Curtis Segers III is an assistant principal at Mastery Charter School Mann Elementary. He lives in Olney.
Katherine Gilmore Richardson is a one-term incumbent. She has focused on government transparency and environmental issues, authoring bills that called for extending curfews for minors and public hearings over police contracts. She lives in Wynnefield.
Michelle Prettyman is a teacher and founder of a nonprofit that provides academic resources and support for city youth. She also runs an event planning company. She lives in Kingsessing, per the Inquirer.
Job Itzkowitz is a lawyer and executive director of the Old City District. He's a former deputy chief of staff and director of legislation for Council. He lives in Point Breeze.
Christopher Gladstone Booth is a city teacher and Democratic committee member. He's a former federal employee and lives in Mt. Airy.
Isaiah Thomas is a one-term incumbent. He was the architect of a bill that bans traffic stops for minor offenses. He lives in East Oak Lane.
Republicans
Frank Cristinzio left his job as a maintenance worker with the Philadelphia Parking Authority to run for Council. He's treasurer of the United Republican Club and lives in the Kensington-Harrowgate section of the city, per the city's GOP website.
Gary Grisafi owns two music schools and teaches music. He's a former staffer of Council member Al Taubenberger and lives in Burholme Circle, per the city's GOP website.
Drew Murray is a sales manager for a storage-system firm. He's a former Democrat and has led the Logan Square Civic Association. He ran unsuccessfully last year and lives in Logan Square.
Jim Hasher owns a real estate business and sports bar in Northeast Philly. He ran unsuccessfully last year. He lives in Torresdale.
Mary Jane Kelly worked as a court clerk with the Philadelphia Courts for more than 25 years. She's now a service hostess at Phillies games. She lives in Torresdale, per the city's GOP website.
Sam Oropeza is a former MMA fighter and boxer. He founded a nonprofit that helps clean up trash. He lives in Bridesburg, per the Inquirer.
More Philadelphia stories
No stories could be found
Get a free daily digest of the most important news in your backyard with Axios Philadelphia.