Philadelphia City Council candidate floats drone policing program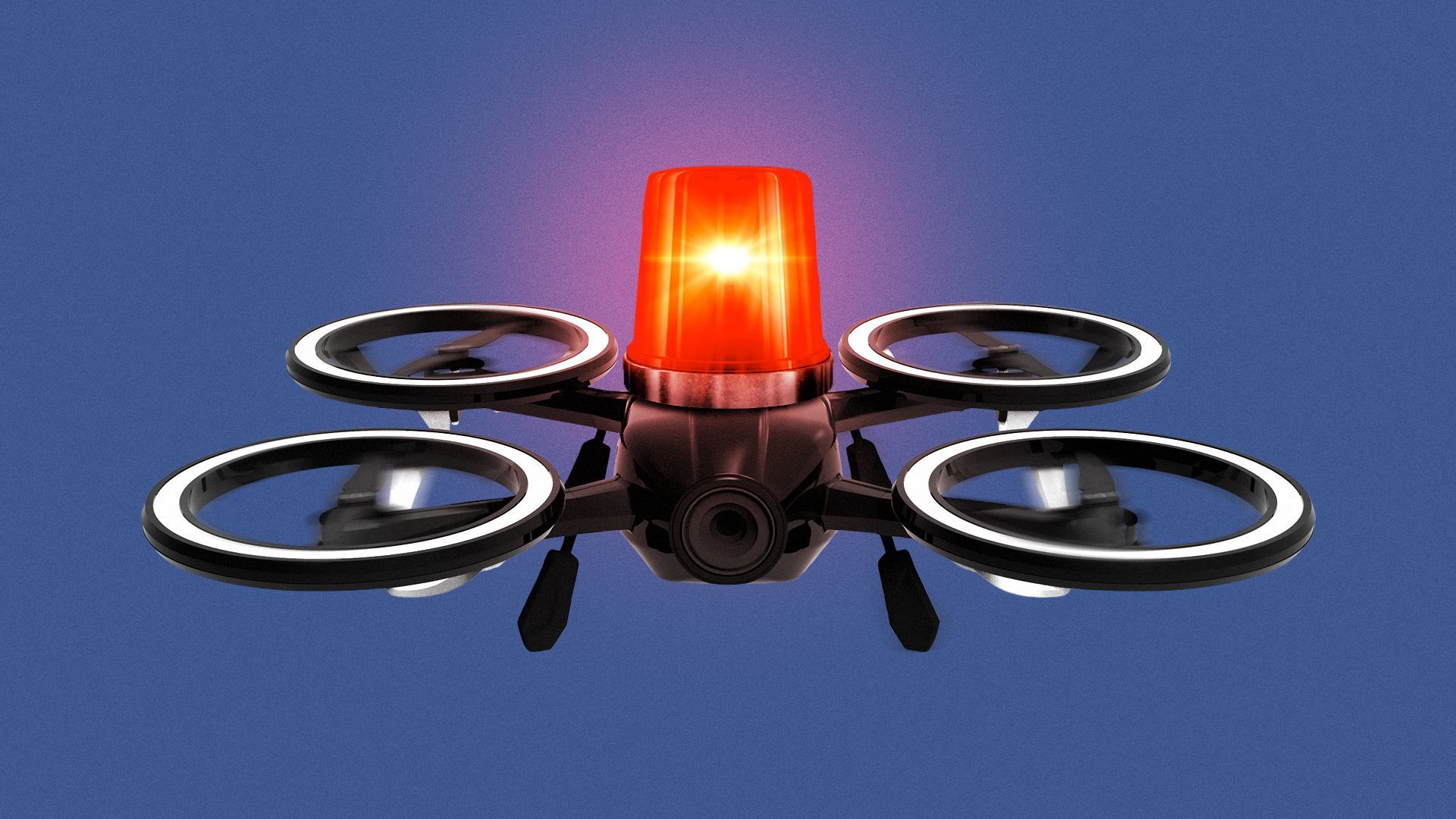 A proposal for Philadelphia Police to use drones as a crime-fighting tool could face opposition from privacy advocates who view it as an intrusion unlikely to reduce street violence.
Driving the news: At-large City Council candidate and cybersecurity lawyer Jalon Alexander, a Democrat, tells Axios that his drone plan would equip each Philly police district with two patrolling drones, allowing officers to respond to higher-priority calls.
The plan mirrors a drone-as-first-responder program in Chula Vista, California, that deploys 29 drones seven days a week.
Why it matters: Alexander's public safety proposal differs from anything put forth by other candidates on a key city issue while campaigning for Council's at-large seats.
Flashback: Then-Councilmember David Oh, a Republican now running for mayor, first raised the possibility of using drones to fight crime in 2016, but then-police commissioner Richard Ross wasn't interested.
Two years later, the department adopted a drone policy establishing that it would only use drones in search-and-rescue missions, SWAT situations, for crowd monitoring and control and to photograph accident and crime scenes, in order to safeguard residents' civil liberties.
State of play: Philly Police declined to tell Axios how many drones it has, and how often any drone has been deployed.
However, a spokesperson for the Federal Aviation Administration, which regulates drone use, told Axios that Philly Police has a single drone registered with the agency.
Zoom in: Alexander's proposal would expand the city's drone program. He calls for a 10-person team to pilot and monitor 42 drones that would respond to shootings, carjackings, high-speed pursuits and other violent crimes.
Once a drone gets eyes on a crime scene, it would send information back to dispatchers and could keep track of possible suspects as officers mobilize. Alexander says the approach could improve response times. And it could also address quality-of-life issues, such as illegal dumping.
Alexander's cost estimate for the program: $3 million.
The big picture: About 1,200 police departments across the U.S. use drones in some capacity, including in Beverly Hills, California, and in Washington state, according to Electronic Frontier Foundation, a digital privacy advocacy group.
Chula Vista has the nation's longest-running drone-as-first responder program, often touted as a case study for the benefits of drone policing.
The department's public stats show most calls handled by drones in 2022 were for incidents including disturbances, psychological evaluations and welfare checks, freeing up officers to respond to more pressing calls.
Yes, but: Researchers haven't studied whether drones lead to less crime, according to MIT Tech Review.
Zoom out: Amid concerns about privacy issues, some states have enacted laws to reign in drone use and surveillance tactics because of a "growing concern for mission creep," Mary Fan, a law professor and information privacy expert at the University of Washington, tells Axios.
She pointed to a 2021 appeals court ruling that found a Baltimore aerial surveillance system deployed to try to reduce homicides was an unconstitutional intrusion of privacy as it tracked citizens' movement throughout the day.
What they're saying: Philadelphia Black Lives Matter activist Asa Khalif calls Alexander's proposal an "outlandish" attempt to grab headlines in a crowded at-large Council race. He worries that drone policing could hurt historically over-policed communities of color.
"We need a comprehensive plan, not just a quick fix," he says.
The other side: Drones could reduce instances of racial discrimination, Alexander says, arguing that drones wouldn't be more intrusive than cameras already installed around the city.
"Drones see crime, not color," he said.
More Philadelphia stories
No stories could be found
Get a free daily digest of the most important news in your backyard with Axios Philadelphia.