Meet Philadelphia Dem mayoral candidates: Derek Green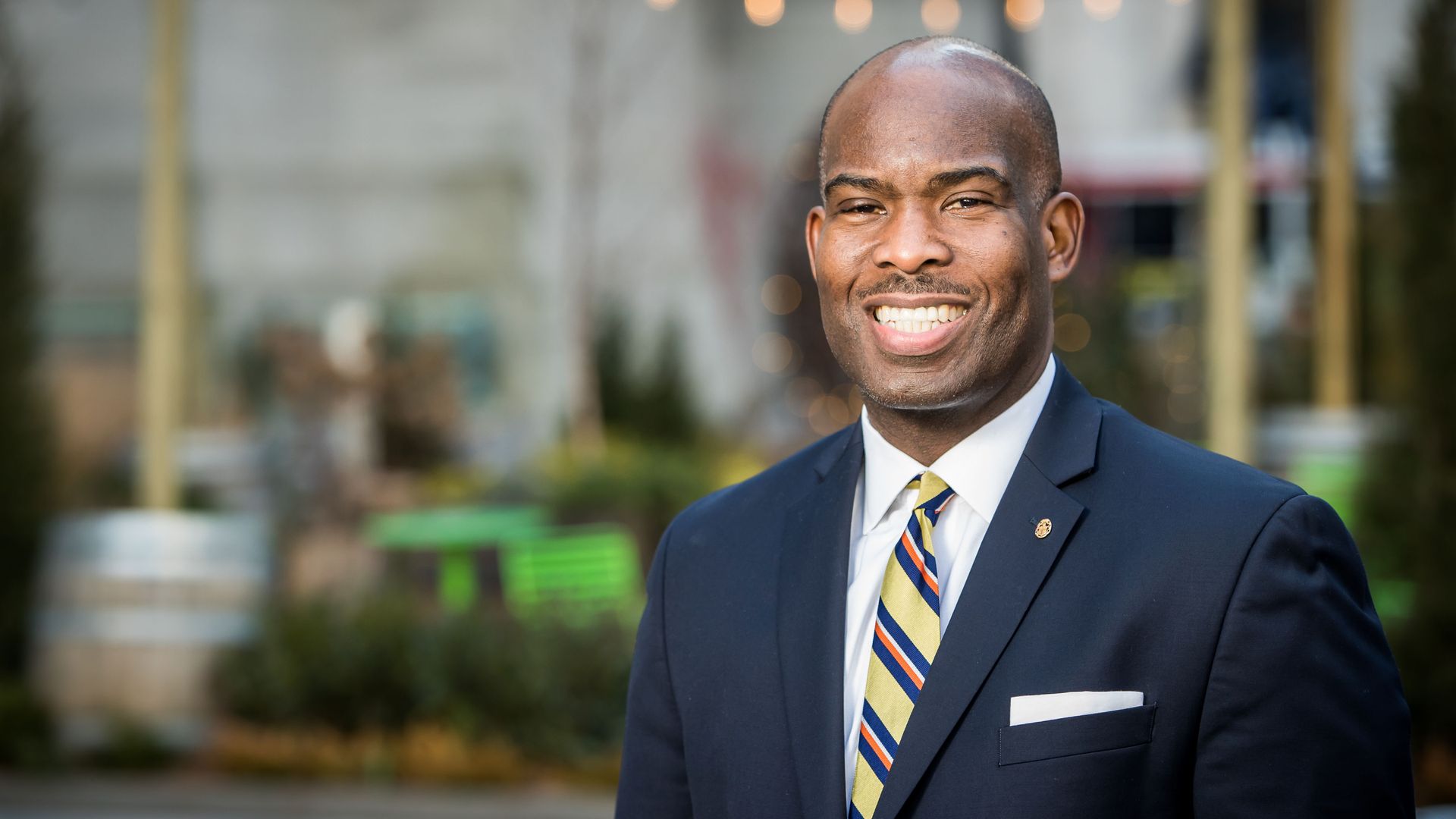 Editor's note: Derek Green dropped out of the mayor's race on April 13.
Derek Green is one of 11 candidates running in the Democrats' mayoral primary on May 16. (Read all our candidate questionnaires here.)
The candidate: Green is a lawyer who served as an at-large member of City Council for seven years before resigning to run for mayor.
He also served a stint as an assistant deputy attorney general for the state of Delaware.
🏡 What neighborhoods have you lived in? Mount Airy, East Oak Lane.
💼 What are your past jobs? Small-business owner, small-business lender, deputy city solicitor, assistant district attorney in Philly.
🍽️ Favorite Philly restaurant: Zanzibar Blue.
🏢 Favorite downtown building: Philadelphia Museum of Art.
📺 Favorite Philadelphia TV show: "This Is Us."
💰How much did your property taxes go up last year? Like many Philadelphians, too much.
🏀 Favorite Philly athlete (past or present) and why? Julius Erving.
🚗 Savesies: Pro/con? Having dug out many parking spaces, I can feel the pain but I am anti-savesies.
🏙 How would you enhance the vibrancy of Center City in the post-pandemic era? The key is addressing the public safety concerns that prevent people from patronizing our Center City attractions.
As mayor, I plan to reinstate a sense of security for all Philadelphians and make it easier for businesses to open and stay open by being the best partner to them in City Hall.
What's the one moment in your life that most shaped you? When my wife and I first had to look at schools for our son, Julian, it was an eye-opening experience for us to see how there were not the necessary support systems for him and others on the autism spectrum.
We started the first autism support class at our neighborhood school (Houston Elementary), but this experience reinforced the fact that Philadelphians should expect more and deserve better from our city with regards to education.
✂️ What is one fun thing voters don't know about you? I give my son and dad haircuts.
Sum up the state of the city in five words or less. This jawn needs some TLC.
And, of course, why do you want to be mayor? As someone who was born in Philadelphia, I'm tired of seeing our city be left behind — we are the birthplace of this nation and we need to reclaim our birthright.
I want my hometown to be at the forefront and I want my neighbors to be proud of our city — we haven't seen or felt that in some time.
On the issues
Would you increase (⬆️), keep level (⏸️), or decrease (⬇️) the police department's budget?
What's one big idea you have to address the ongoing gun violence crisis?
We can get guns off our streets without over-criminalizing our citizens, which is why I proposed a public safety plan that focuses on presence, accountability, opportunity, and investment. My plan focuses on removing illegal guns by providing people a choice to put down a gun and pick up a paycheck through a family-sustaining job.
Read Axios Philadelphia's other candidate questionnaires.
More Philadelphia stories
No stories could be found
Get a free daily digest of the most important news in your backyard with Axios Philadelphia.