An AI poetry slam with Philly's street poet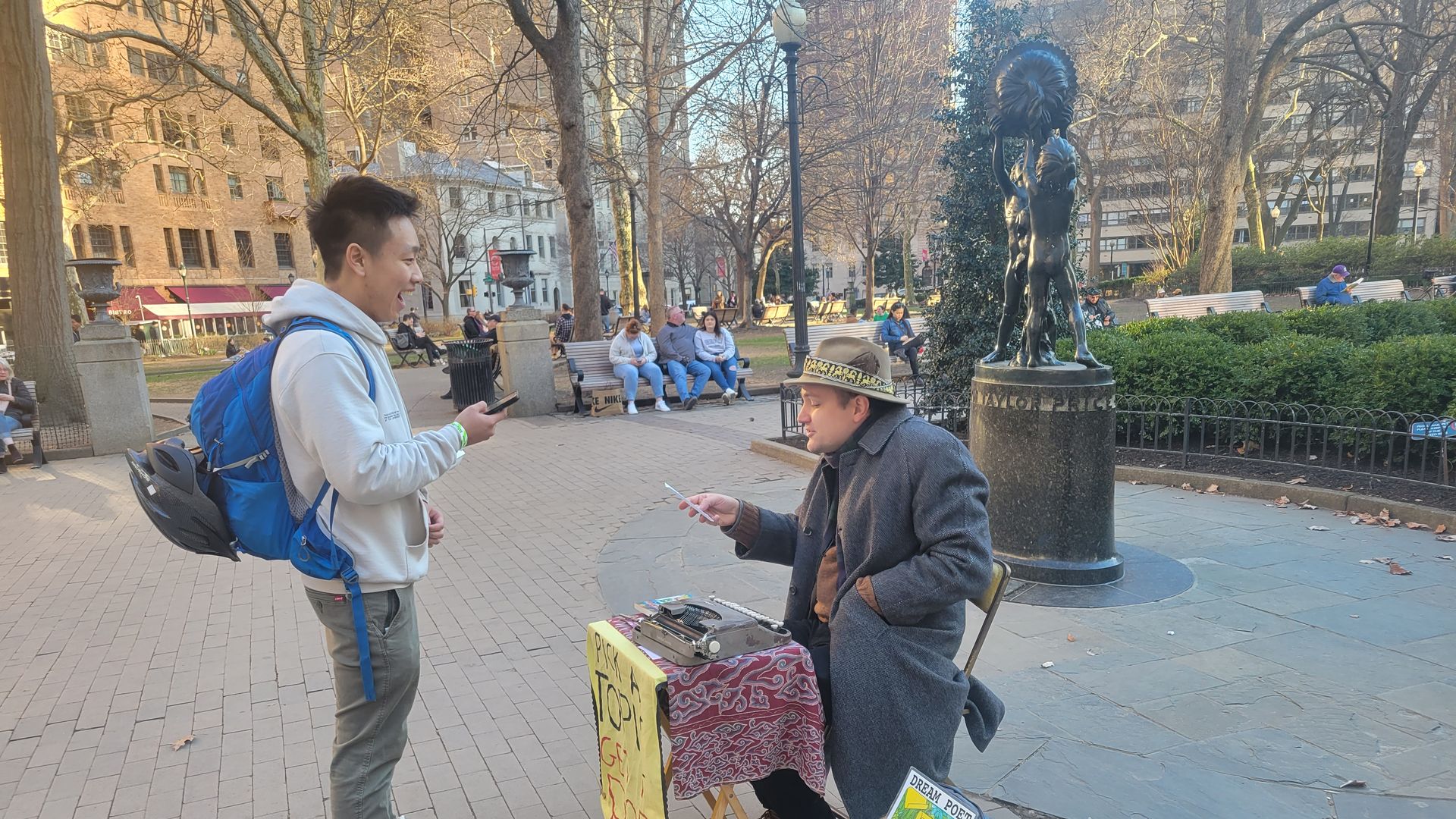 Marshall James Kavanaugh furiously pecks at his typewriter, blocking out the whir of activity in Rittenhouse Square.
Catch up quick: For the last decade, Kavanaugh has posted up around Philly with his typewriter and a sign hanging from his collapsible desk, "Pick a topic, get a poem."
The busker bangs out dozens of original works a day for whatever price you're willing to pay.
The customer chooses the topic — love and death, birthdays and anniversaries.
The intrigue: On a recent trip out west, Kavanaugh says customers amazed by his prolific output dubbed him the "OG Chat GPT."
Yes, but: Kavanaugh had never been challenged to face off against Chat GPT until Jerry Cai, a junior at Penn studying neuroscience, approached him with an idea for a man vs. machine poetry slam.
A very meta duel at that: Each would pen a poem about Chat GPT in 15 minutes or less.
Below are each of their excerpts:
1️⃣
"May your heart find joy in the simplest things/
A warm embrace, a bird that sings/
May your mind find peace in a hectic day/
A moment of calm, a chance to stray."
2️⃣
"Characters that resemble something familiar/
It weaves out of the code/
A reflection of human soul but it fails to come up with/
The heart beneath the source."
What they're saying: Kavanaugh professed amazement at the evolution of AI. "We're seeing our own selves reflected back," he said.
Cai was floored by the similarities of the poems but preferred the one composed by a human.
"There's something about it, something mechanical, something that follows too closely with the rules here," he said of Chat GPT's attempt.
How about you, Philly? Could you tell who composed each poem?
More Philadelphia stories
No stories could be found
Get a free daily digest of the most important news in your backyard with Axios Philadelphia.