Take a look at these rejected Philly vanity plates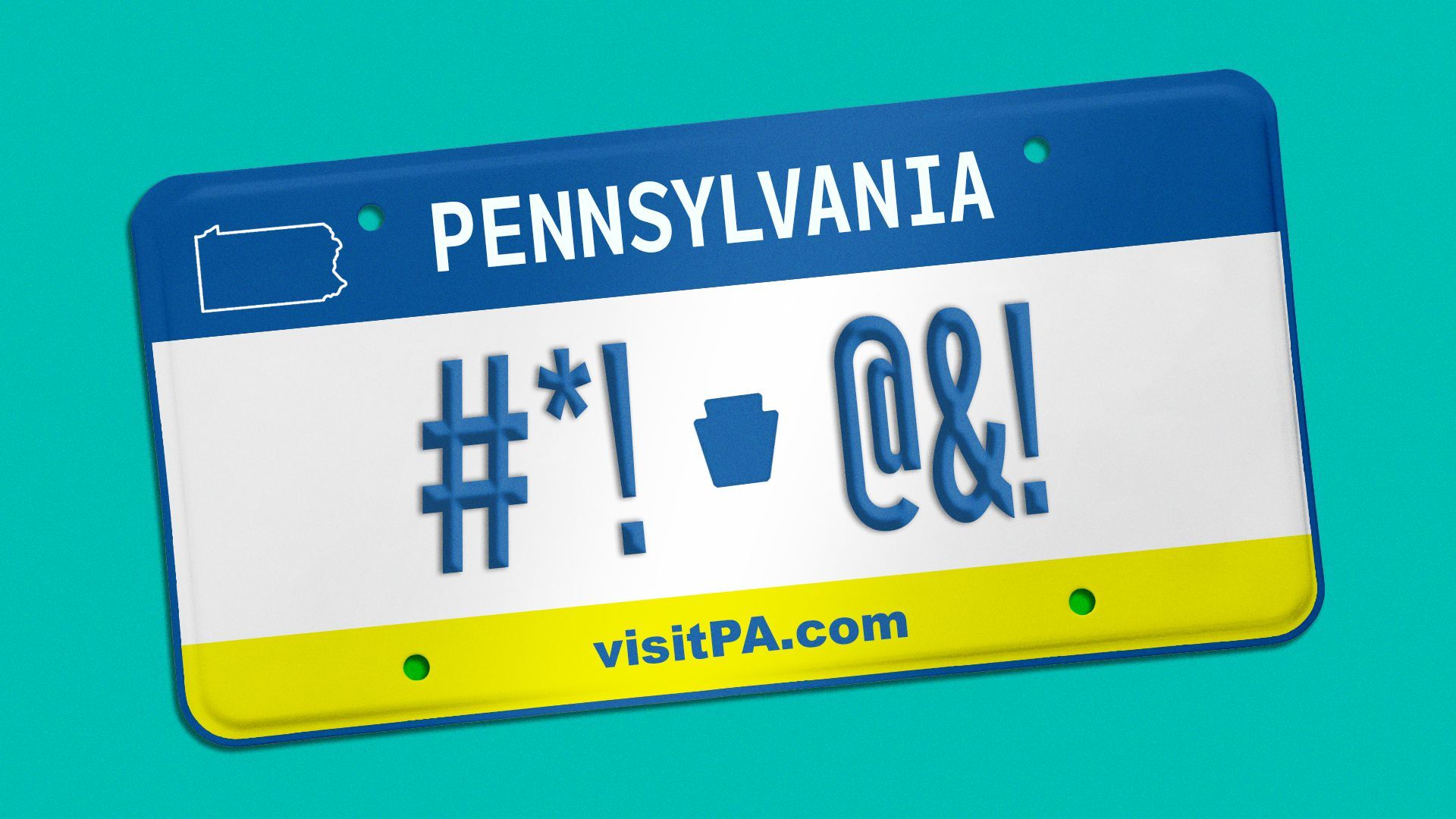 👋 Hi, Isaac here.
Pennsylvania drivers don't have the right to be a JAGOFF. And the state has every right to JUDGE you for what you try to put on your license plate.
The big picture: These are PG examples of phrases that residents tried and failed to get on their vanity plates, per a list of the state's rejected license plate submissions.
The list is a standup routine of odorous and offensive punchlines, playground insults and vulgarities that would make Howard Stern blush.
Yes, but: Pennsylvania has standards and keeps a running list of banned plates. Certain things just don't fly – sexual innuendo, vulgarities, talk about drugs and crime, acting like you're law enforcement or intentionally trying to mislead the Five-O.
The intrigue: There are more than 2,000 entries, and the list gets longer each year, as DOT spokesperson Diego Sandino tells Axios: "Different people use the same configurations to try to outsmart the system."
Axios obtained the list and spent time going through it. Here's what caught our eye:
Pennsylvania's got back and other B-words.
There's nearly every variation of "ass" and that B word you could think of. It's enough to make Sir-Mix-A-Lot and Jesse Pinkman proud.
GFY TRMP and BIDN-SUX: We're a battleground state, so there are going to be strong political opinions, but PennDOT says "not on your license plate."
IDI0T: Not sure who came up with this one, or why they have such low self-esteem. Everyone behind you is going to know an "idiot" is driving this car. A bit, what's the word, idiotic, wouldn't you say?
IM-HIGH and STOLEIT: Talk about surrendering the presumption of innocence. We're reminded of that great plate from "Better Call Saul." You're going to need to LWYRUP after offering police probable cause for a stop.
ELCHAPO and MAFIA: Need we remind you about the first rule of "Fight Club?" The infamous head of the Sinaloa Cartel spent his entire life eluding authorities. If you're boasting about mob ties, chances are you're not a "made man." You're made, man. Rookie move.
BS-PA, EPA SUKS, FBI-LIES: We're reminded of that old saying "government is best which governs least." This goes to show there's a strong libertarian presence in the state.
DADDY AF and MOM-AF: Why are we stopping people from proudly displaying their parenthood? Am I missing something here?
F DA11AS and FCROSBY: Hating the Dallas Cowboys and Sidney Crosby – It's a Philly thing!
MWMMWMW and O0OOO0O: Good luck catching chaotic drivers with these tags. Except, there's a catch. Say, hypothetically, PennDOT issues only one of these plates? You think you're being slick, and, nope, you've actually created such a distinctive plate as to be personally identifying.
8 BAL, 8 BALLS, 8 BALLZ, ATEBALL: People have tried like 80 ways to get this by PennDOT. Will they keep trying? Eight-ball answer: Check back later.
The bottom line: Personally, I'm not a big fan of government censorship. We get it — freedom of speech and all that jazz. But it's important to remember that speech isn't free — sometimes the cost is your dignity and everyone knowing you're truly a JAGOFF.
More Philadelphia stories
No stories could be found
Get a free daily digest of the most important news in your backyard with Axios Philadelphia.