"The King" thinks the Birds are headed to the Super Bowl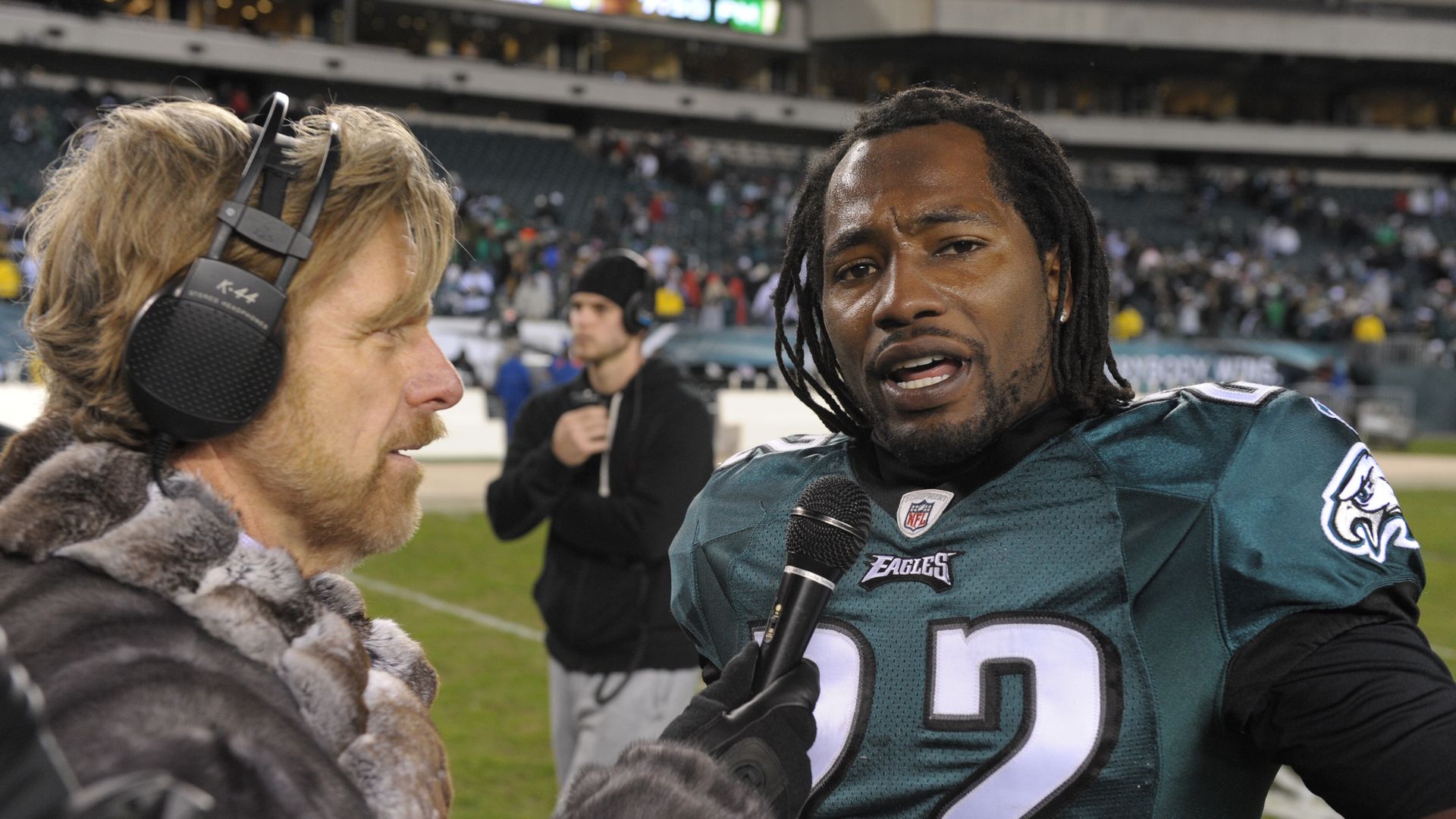 Howard Eskin was a television sportscaster in the 1980s when he broke a huge story about then-Eagles owner Leonard Tose shopping the franchise to buyers who'd relocate the team.
Flashback: The news ignited a firestorm and exposed Tose's gambling problems. He'd later admit to losing millions in Atlantic City casinos.
Flash forward: The Eagles stayed, partially thanks to Eskin's reporting, and are now a win away from their second Super Bowl in five years.
Meanwhile, Eskin went on to a decorated radio career for WIP and as the Eagles sideline reporter.
Axios talked with Eskin about those perilous moments and his thoughts heading into Sunday's NFC Championship between the Eagles and 49ers. The interview was condensed and edited for clarity:
Axios: People could say you saved the franchise from leaving Philadelphia with your coverage at KYW-TV. How much of that story is true?
Eskin: [Tose's] attorneys threatened me. There was a point where to get money he wanted to try to move the team to Phoenix. I got that story, too, and when I put that out there, obviously, you can imagine that all hell broke loose … And then he tried to sell the team to a group outside of Atlantic City. They worked out the deal, and I found this out for fact, on a napkin over hoagies. I don't know that I saved [the team from leaving], but I put something out there that probably helped in some way.
Axios: I can only imagine how bitter Eagles fans would've been. What would Philly have missed out on?
Eskin: They would've missed out on a lot of whining and complaining and some good teams along the way. It took until the late 90s, until a guy named Andy Reid.
Axios: That's a sexy storyline if the Kansas City Chiefs, where Reid is now head coach, beat Cincinnati and the Eagles knock out San Francisco to have a shot at their second Super Bowl ring.
Eskin: Andy Reid will talk about the good times he had here. He's the best coach in the NFL right now.
Axios: Would it be bigger than the first Super Bowl if the Eagles win this year?
Eskin: I don't want to take the luster off it but there's nothing like the first one. It's like a rematch in boxing. The second one's usually not as good as the first one. But it's still great. And I emphasize the word great. They could stuff it up the Cowboys' nose. The Dallas Cowboys have five Super Bowls. I say yeah, dust off the trophies. I put an illustration up the other day on Twitter: Most rings since 1997, JLO 6, Cowboys 0.
Axios: You happen to be talking to a Cowboys fan. But I am rooting for the Eagles this weekend. Any circumstance when Eagles fans root for the Cowboys?
Eskin: Zero chance. Below zero. You get buried if you root for them. I call Cowboys fans cockroaches because when it's gloomy they go into the muck and grime and you don't see them. When it's sunny they come back out. One time at a pregame show, I got live cockroaches from Texas and I had people eat the cockroaches when the Cowboys were playing that day. Of course, I brought a chocolate machine to sweeten them up a little bit. You could hear the crunch when the people were eating cockroaches to bury the Cowboys fans.
Axios: That's commitment.
Eskin: That's Eagles fans.
Axios: Predictions for Sunday?
Eskin: I lean to the Eagles. They're at home. Seven of the last nine NFC Championship games have been won by the home team.
Axios: I have to ask if you ever patched up that feud with Jim Kenney on the soda tax.
Eskin: Oh, no. We don't like one another a little bit. We got in a yelling match when the Eagles were in London because he got mad that I got a Super Bowl ring, and he didn't.
Axios: We should strap a couple football helmets on you guys and let you go at it.
Eskin: We almost did a couple of times.
More Philadelphia stories
No stories could be found
Get a free daily digest of the most important news in your backyard with Axios Philadelphia.