Northwest Arkansas is leveling up its outdoor recreation offerings.
Driving the news: Ozark Outdoor Foundation announced Thursday that NWA will host Expedition Ozark, a race for the Adventure Racing World Series, in April 2023.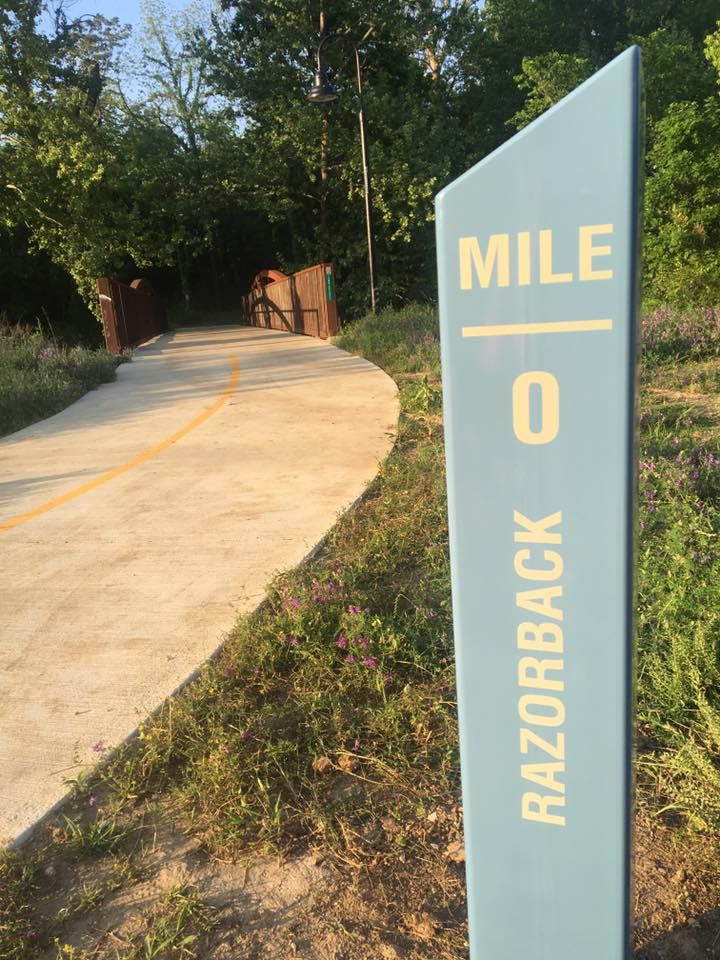 The Razorback Regional Greenway is getting a new look.
What's happening: A series of updates to the trail's brand (it's look, typography, logo and signage) including the wayfinding maps, will be happening all year, according to the Razorback Greenway Alliance.
High winds Saturday and a threat of storms Sunday made for exciting mountain bike racing at Fayetteville's Centennial Park.
What happened: The U.S. Pro Cup's top performers, elite women and men were scheduled to race on Sunday afternoon, but instead raced late Saturday.
No. 4-ranked Arkansas upset No. 1-ranked Gonzaga 74–68 Thursday night in San Francisco.
JD Notea scored 21 points; Jaylin Williams scored 15.
This is the second consecutive season the team has won in the Sweet 16.
The University of Arkansas is helping entrepreneurs capitalize on the Natural State.
What's happening: Greenhouse Outdoor Recreation Program (GORP) revealed its first cohort of startup companies yesterday.
Four local startups began the three-month incubator program last week. All of them focus on products or services to be used outside.
If you missed the 2022 Cyclo-cross World Championships over the weekend, here's a taste:
Thousands of people. Dozens of languages.
Laughter. Tears. Blood. A lone trombone and lots of cowbells.
Beer, sun and good food.
Why it matters: This was a moment where Northwest Arkansas could show off its cycling chops to an international audience.
Steuart and Tom Walton are in hot water — water brimming with kayaks, that is.
What's happening: Eddyline Kayaks of Burlington, Washington, raised an undisclosed minority equity investment from RZC Investments, owned by the brothers.
Just like people, more deer are moving to NWA.
What's happening: Deer have fewer natural predators than they used to and, ironically thanks to urban development, feel safer closer to town.
There is usually plenty of food, and they begin having fawns, so the population grows over time.
Get a free daily digest of the most important news in your backyard with Axios NW Arkansas.
🌱
Support local journalism by becoming a member.
Learn more