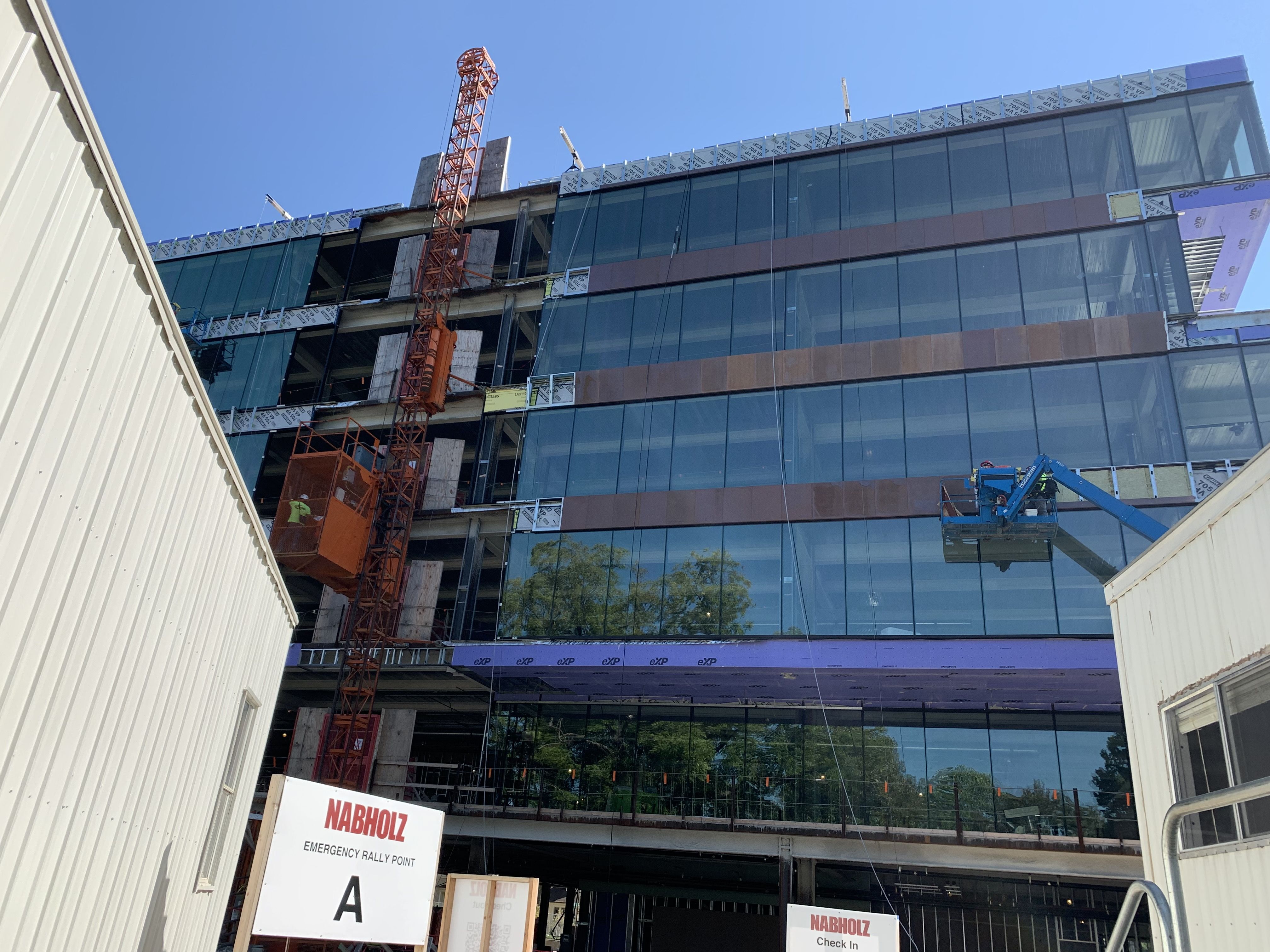 I put on a hard hat and took a tour of the under-construction Ledger in downtown Bentonville on Friday. Now I'm ready to tell you all about the massive project that's impossible to miss.
Why it matters: The flexible coworking space was planned before the pandemic, but it couldn't come at a better time given changes in working habits. Mary Best, who's on the operations and community team for the Ledger, called it the "evolution of the coffee shop worker."
It'll be a place that startups can use while getting their businesses off the ground, where self-employed and remote workers can rent office space, and where business people from out of town can get some work done.
Coworking space exists in Benton County, but not on this scale.
1 cool thing: Perhaps the most glaringly unique part of this building is that you can ride your bicycle up to any floor — including its in-building coffee shop.
If Bentonville is going to proudly be the "mountain biking capital of the world," then a workspace like this should celebrate the bike community, Best and developer Josh Kyles tell Axios.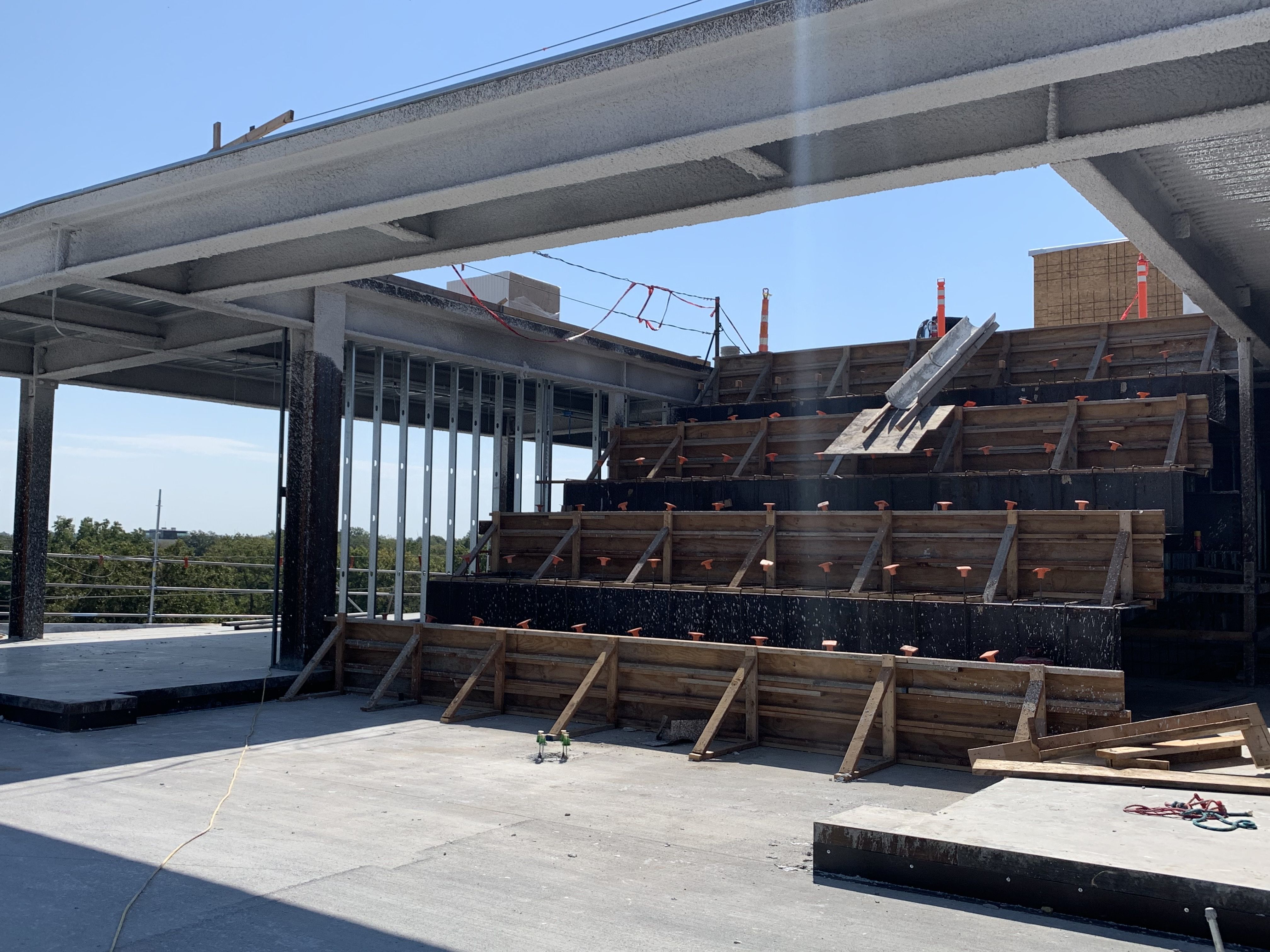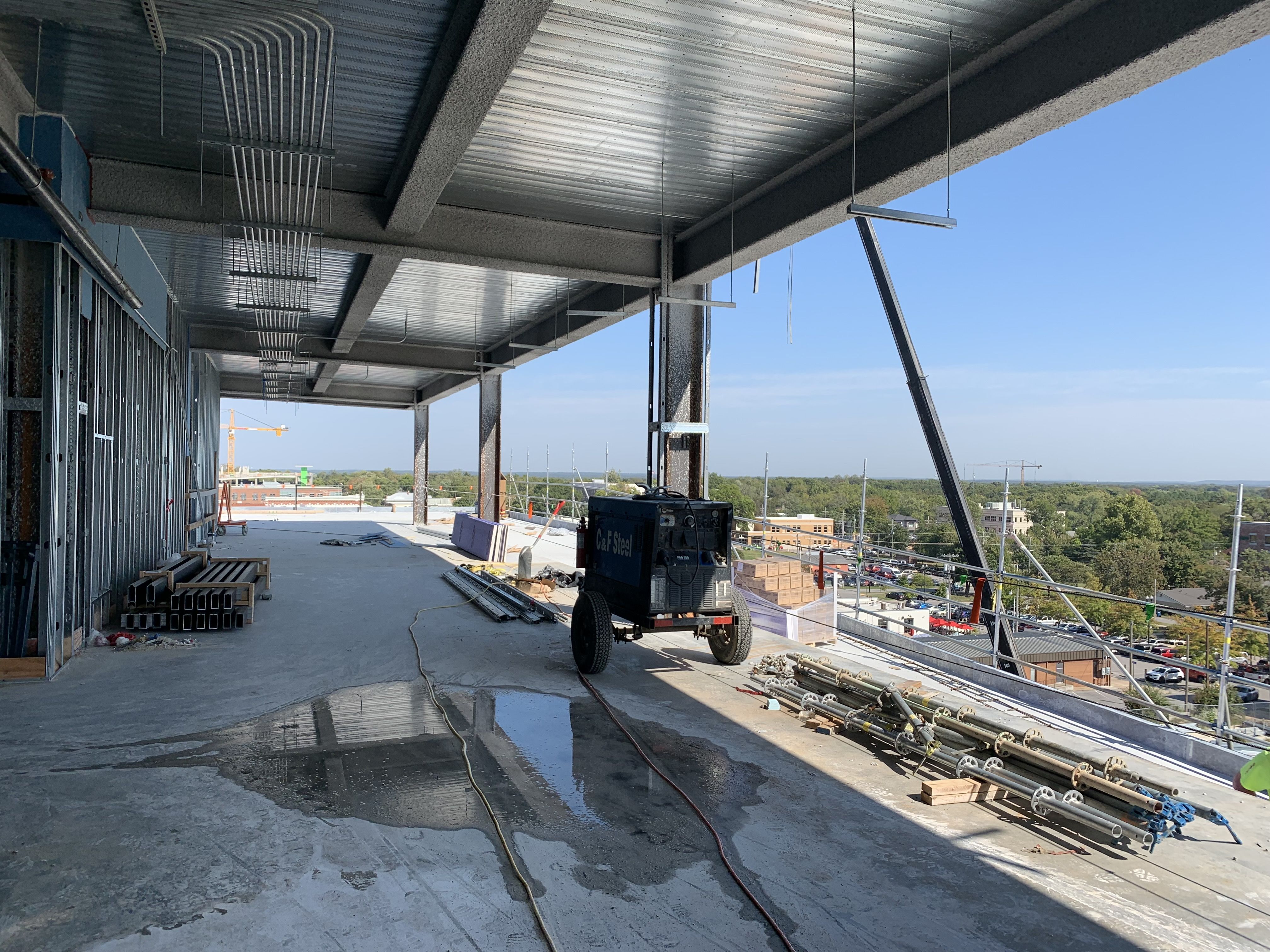 Details: The Ledger will be six stories and 230,000-square-feet with a bar and retail space. It will be able to accommodate about 1,500 workers at full capacity.
It will include a variety of offices, such as coworking space and private offices of different sizes.
Workers will not commit to leases. Instead, the building will be membership-based, allowing people to pay for day or month passes, Kyles says.
Unlike most office spaces only open to the people who work there, the Ledger will be community-oriented, Best says.
The space will be open to some ticketed events.
And the adjacent parking garage, a joint project between the Ledger and the city, will have an 80-foot mural painted on the side. (No, they wouldn't tell me what it'll be yet.)
Flashback: This was originally supposed to be a joint project between Kyles and WeWork, but WeWork is no longer involved.
What's next: The Ledger is expected to open summer 2022. It will at first only be open to a limited number of people to work out any kinks, Best says.
Also, I'm told there are a few more features up the Ledger's sleeve that the developers aren't ready to share. Stay tuned.
Last week, we asked about your work-from-home opinions, given work looks a lot different for many of us than it did two years ago — and it might stay that way.
Big thanks to the 135 people who responded!
State of play: Only 6% of respondents said they want to go back to working in person, while 42% said they want to work remotely.
But the slight majority — 52% — said they simply want the option of going into the office or working from home when they want.
Why it matters: NWA employers may want to take note workers' priorities are changing. Some companies have already pivoted and don't plan to require employees to spend their days away from home.
The intrigue: One theme that prevailed in most responses was flexibility. People want to go for a walk when they feel like it, work wherever they're most productive and pick their kids up from school.
Other than less exposure to COVID-19, the top reasons why people want to work at home or remotely include saving time and money on commuting, the ability to wear comfortable clothes (yoga pants for the win), and the ability to work out, nap or take breaks when they want.
Of note: About 42% of respondents have the option to work in person or remotely, while 35% work solely remotely. About 16% work solely in person, and 6% have a split arrangement.
If you watch Gov. Asa Hutchinson's weekly COVID-19 updates, you may have heard state health secretary Jose Romero stress monoclonal antibodies are available and effective at treating COVID-19.
Scott Warmack, dean of pharmacy at UAMS Northwest, talked to us about how the treatment works and why we should be paying attention to it.
Why it matters: Monoclonal antibodies can reduce COVID-19 hospitalizations by up to 70%, Warmack says.
The uptick in COVID-19 vaccinations — likely in response to the Delta variant — has remained steady for over a month now. The consistency suggests many of those who held out are now getting their shots.
Why it matters: Health experts stress the sooner more people get vaccinated, the sooner we'll see fewer hospitalizations and preventable deaths from COVID-19.
With just a month until the clock runs out on the $201 million in federal emergency rental assistance sent to Arkansas, only $17.4 million had been paid as of the end of August. That's less than 9%.
Driving the news: Another $43 million is pending distribution, but even if that were in the hands of those in need, it leaves 70% of the funds to be spent in September alone.
The annual Bikes, Blues & BBQ rally originally set for Sept. 22–25 has been postponed to an unknown date, organizers announced Thursday night on Facebook.
What happened: Organizers had little choice after the U of A decided Thursday not to allow BBB to use its lots for rally events as planned.
Bars and restaurants took financial hits last year as the pandemic drastically limited their business, but it doesn't appear to have impacted the consumption of alcohol in Arkansas.
What's happening: After nine years of growth, the taxes collected on the sale of beer, liquor and mixed drinks in the state dropped 6% to $32 million in 2020.
This compares with an all-time high of $35 million in 2019, according to the state Department of Finance and Administration.
No entity collects data on total state alcohol sales, so tax collections are the best indicator of consumption.
Karas Correctional Health provides health care at the Washington County jail but reportedly has prescribed ivermectin to inmates for COVID-19. Ivermectin is not approved for treating COVID-19.
Why it matters: The U.S. Food and Drug Administration has warned against using the drug for the virus. However, as discussed during a quorum court meeting Tuesday — and reported Wednesday morning in the Northwest Arkansas Democrat-Gazette — the jail's health provider had been prescribing ivermectin to inmates.
Get a free daily digest of the most important news in your backyard with Axios NW Arkansas.