Dogs on doobie stats soar with pot legalization and normalization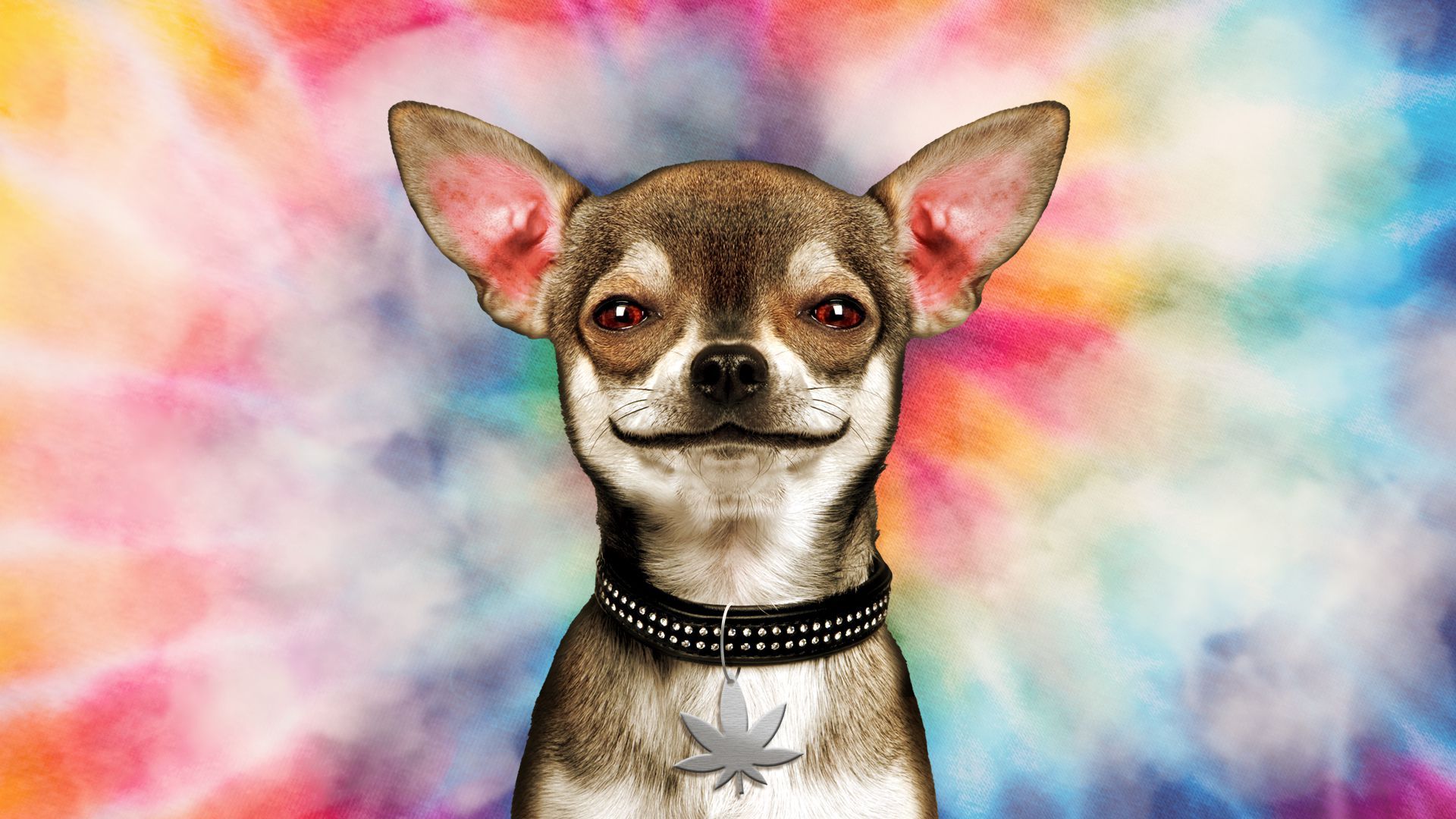 More dogs are getting high on their owners' supply.
Accidental consumption of marijuana by children and pets has spiked nationwide, sometimes leading to episodes of cannabis-induced toxicosis.
Driving the news: It's not unusual to see two cases of marijuana-related poisoning per shift, Angela Collins, who practices emergency veterinary care in Springdale, tells Axios.
Calls to the national Pet Poison Helpline for issues related to THC increased 987% between 2017 and 2021, veterinarian toxicologist Renee Schmid, who's located in Bloomington, Minn., tells Axios.
State of play: More than 50,000 pounds of medical marijuana was sold to about 90,000 cardholders in Arkansas last year, a record high since the state's industry launched in mid-2019.
A proposal for recreational use in the state was defeated in 2022, but if a similar measure makes it on a future ballot, lawmakers may need to consider how the unwitting could be impacted.
Threat level: Dogs, like toddlers, use their mouths and noses to investigate the world and are more inclined than other pets to ingest THC-laced products. Cats rank second.
Many edibles come in the form of sweets, which are attractive for canines, veterinarians said.
THC-laced butter used to make edibles is particularly harmful because of its high concentration of the chemical.
And while toxicity is rarely fatal for pets, the substance can cause unusual behavior and panic for the animals and their owners alike.
Between the lines: Easier access is likely to blame, at least in part, for the increase in pet poisonings, according to a study published last year. There's a strong correlation between registered medical card holders and cases of toxicosis in dogs, a separate academic study found.
A spokesperson for San Francisco's JustAnswer Veterinary Care said the national service fielded more than 7,700 marijuana-related calls from 2019 to 2022.
The big picture: Legalized weed is a $64 billion market across the nation and some form of THC is permitted in all but three states. Voters will weigh recreational use in Oklahoma this March, and Ohio lawmakers have until May 3 to approve a citizen-initiated proposal or it, too, will go to voters.
The intrigue: Dogs are attracted to the dried version of the plant and will eat unburned marijuana from ashtrays, said Beth Koller with National Veterinary Associates.
Many dogs seem to ingest cannabis in San Francisco Bay-area parks and sidewalks, she added.
Be smart: Signs your furry friend may be stoned include a shaky walk, lethargy, flinching, vomiting, hypersensitivity to light or motion and dribbling urine.
If there's a question about how much THC they consumed, consult your veterinarian.
Most pets will sleep it off within 24 hours, vets tell us.
The bottom line: Be honest with the vet if you know marijuana was involved, Collins says.
"It can be a sensitive subject for some people," she tells us, but noted cannabis is increasingly accepted and protected under doctor-patient confidentiality.
And, of course, lock up your stash.
What to watch: Collins notes that psilocybin mushrooms recently became legal in Colorado, shortly after Oregon.
More NW Arkansas stories
No stories could be found
Get a free daily digest of the most important news in your backyard with Axios NW Arkansas.