Tank Ball shines in new PBS documentary "Southern Storytellers"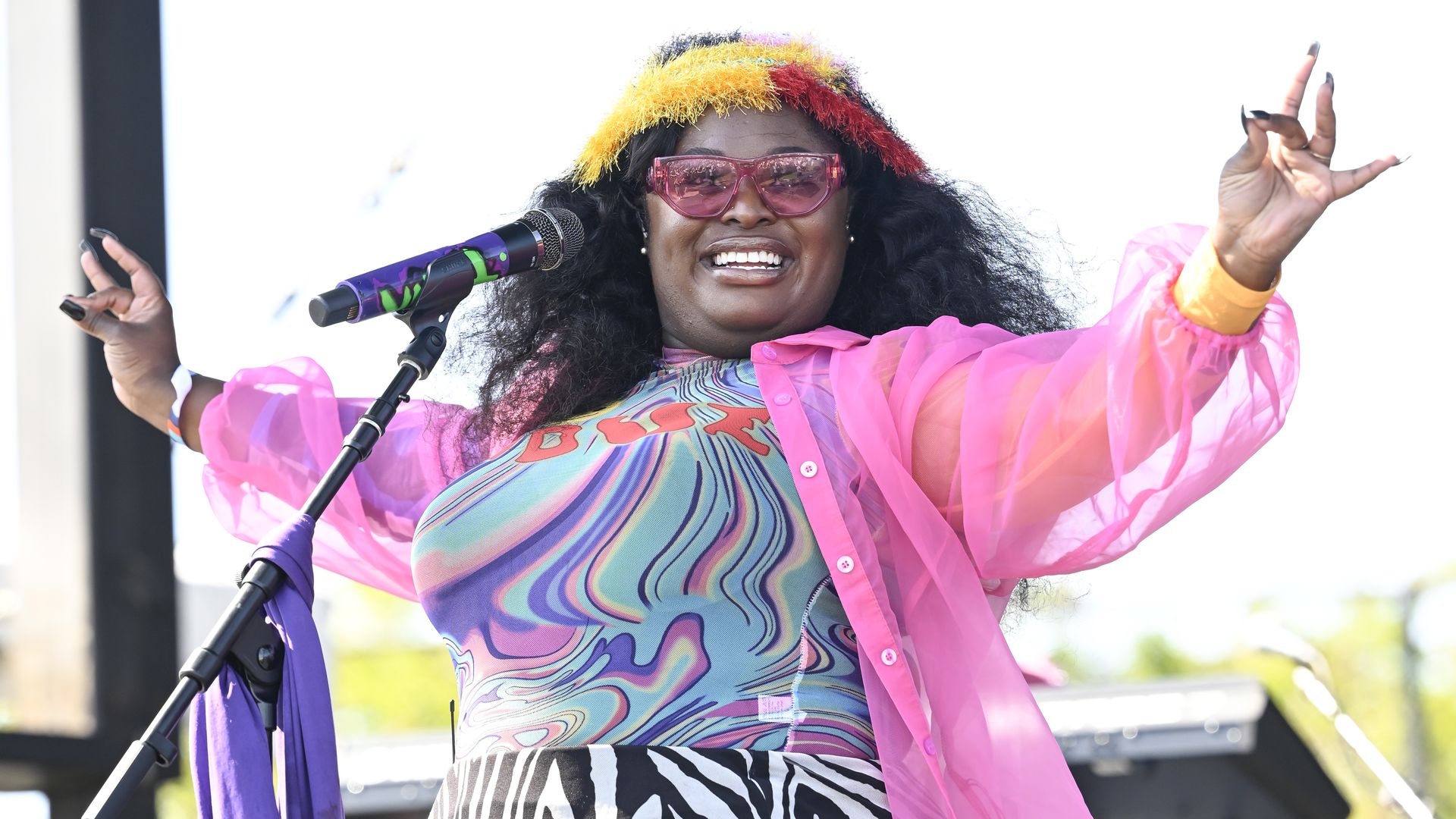 👋 Southern bureau chief Michael Graff here, with a recommendation for your next television binge if you're looking for a contemplative counterpoint to the summer blockbusters or thoughtful antidote to viral music controversies.
Driving the news: The new PBS documentary "Southern Storytellers," from Arkansas-born documentarian Craig Renaud, has interviews with some of the region's finest modern narrators, including New Orleans singer Tarriona "Tank" Ball and Gulfport poet Natasha Trethewey.
Other narrators are Arkansas-native actors Billy Bob Thornton and Mary Steenburgen, Atlanta-based poet Jericho Brown and author Angie Thomas, and Nashville musicians Adia Victoria, Jason Isbell and Amanda Shires.
Why it matters: In three episodes, "Southern Storytellers" explores this complicated region at this complicated moment, as its history and stories become entangled with newcomers' history and stories.
The interviewees plant magnolias and catch trout. They contemplate the legacy of slavery and Jim Crow, and they place a value on the land that's more about its people than its market listings.
What they say: "What I want people to recognize about the South is that it is a very, very complex place," North Carolina author David Joy, who was born and raised in west Charlotte and now makes his home in the mountains, says in the opening scenes.
"It's full of a whole lot of beauty. It's full of a whole lot of bad things as well. And it's all of those things. And I don't want to lose a bit of it.
"As a writer, all I see is gray. Most people only want to see black and white, and I don't care for it all. All I see is gray. And to me that's about the prettiest color I know."
In the third episode, Ball cooks a meal at her mom's house and talks about her love of poetry and church baptisms.
And, Trethewey contemplates the removal of Confederate monuments in New Orleans before taking us through her childhood in Gulfport as the offspring of an interracial marriage when it was still illegal.
The first episode includes footage from the singer-songwriter Victoria's recent wedding, and clips of her thumbing through her bookshelves for Eudora Welty and Flannery O'Connor and other influences on her music.
"We have these unresolved questions about our identity, even when it comes to being American. A lot of Southerners, they don't truly feel like a regular American."
Between the lines: Renaud was born in Little Rock, Arkansas. He dedicated "Southern Storytellers" to his late brother, also a journalist and documentary filmmaker, who was killed by Russian troops while working on a story about refugees in Ukraine in 2022, as Axios Northwest Arkansas reported at the time.
The series leans into Arkansas talent. Along with Thornton and Steenburgen, it includes playwright Qui Nguyen and songwriter Justin Moore.
It also includes northern Virginia's Thao Nguyen, Texas' Lyle Lovett and Mississippi-born authors Angie Thomas and Jesmyn Ward.
All bring their own version of storytelling — and their own stories — to create a series that weaves music and poetry and striking visuals of the region's landscapes.
Isbell, for instance, plays his song "Strawberry Woman," while sitting next to the Tennessee River in the second episode.
Brown, the Emory professor, reads from his poem "Foreday in the Morning," with scenes of him walking to a mountaintop mixed in with images of Stone Mountain and the Confederate flag.
"I love my mother. I love Black women / who plant flowers as sheepish as their sons. By the time the blooms / unfurl themselves for a few hours of light, the women who tend them / Are already at work. … I'll never know who started the lie that we are lazy, but I'd love to wake that bastard up / at foreday in the morning, toss him in a truck, and drive him under God."
Thomas goes back to her hometown in Mississippi and tells people at the playground she grew up there, and that she's the author of "The Hate U Give," and they lose their minds as if they've just met Beyoncé.
And Joy reads from his 2016 essay, "One Place misUnderstood," against a backdrop of footage of the rolling mountains and flowing streams of western North Carolina.
"When I sit down to begin a story, the canvas isn't blank because there is already a setting: There are mountains, streams, buildings and roads, so that when a character finally arises, that character claws himself from the ground. Spend enough time here, keep your eyes and ears open and your mouth closed, and you may come to know this place."
Watch on your local PBS or stream here.
More New Orleans stories
No stories could be found
Get a free daily digest of the most important news in your backyard with Axios New Orleans.