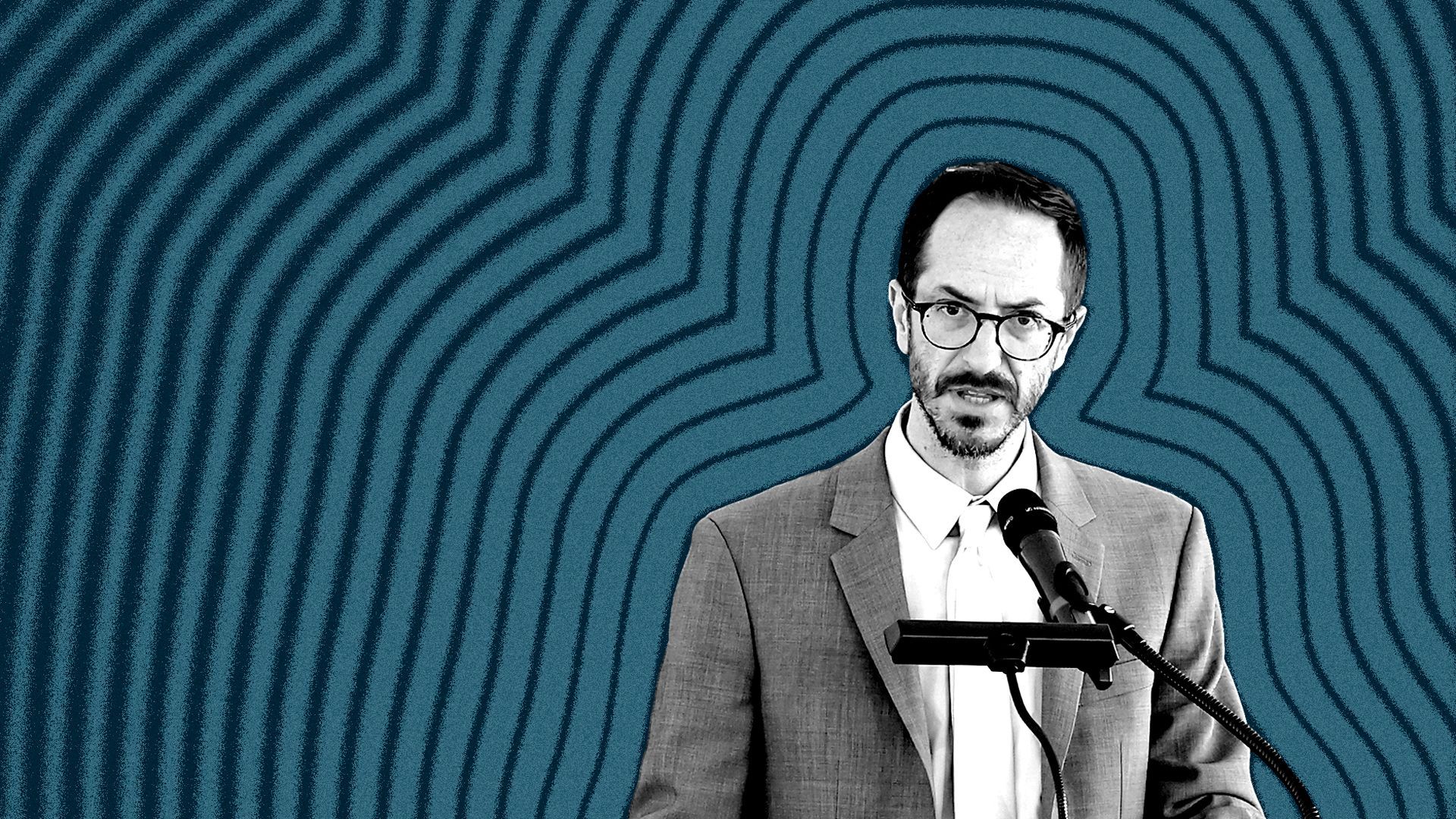 Nashville Mayor Freddie O'Connell has maintained a very busy public schedule since taking office, giving his early days on the job the appearance of continuing his rigorous approach to campaigning.
State of play: Take Thursday, Oct. 26, as an example. O'Connell began his day at the hip coworking coffee shop and social space SoHo House for a meeting about "synergizing wellness and prosperity."
Next, he attended the annual luncheon for the Urban League of Middle Tennessee at Nissan Stadium. He followed that with his weekly media briefing with reporters. (At least the last four mayors didn't hold such briefings).
O'Connell had two more meetings that evening: a meet-and-greet with the Bellevue-area Metro Council members and the Millions of Conversations event, bringing together residents to discuss the war in Gaza.
Why it matters: O'Connell's campaign-like approach to governing shows his preference for being out in the community and not chained to a desk in the courthouse.
What we're watching: Strategically speaking, he seems to be parlaying his election victory into more political goodwill before a likely push for a mass transit referendum. It wouldn't be surprising to see dedicated transit funding on the ballot in November 2024.
By the numbers: According to mayor's office press releases, O'Connell attended 46 events in his first six weeks. That doesn't include informal outings, like soccer games and concerts, that don't make his public calendar.
He also posted a map to his Instagram page charting the neighborhoods where his meetings have taken place.
Details: O'Connell tells Axios his calendar has been filled with meetings with groups that have traditionally had access to the mayor's office, using the Nashville Area Chamber of Commerce and the progressive coalition Nashville Organized for Action and Hope as examples.
He says his office has tried to expand its reach to new groups such as Black business organizations Buffalo PAC and Young, Gifted and Black.
What he's saying: O'Connell says he prefers to be out in the community because he "would rather have a conversation than release a statement."
He used infrastructure as an example. By going out, he sees firsthand the parts of town that need "sidewalk connectivity" or new transit routes. "Trick-or-treating in an area near our younger daughter's school, you can be walking along a stretch of road and every single side street lacks sidewalks."
"I wouldn't say it's a strategy. It's kind of how I've done public service for a long time," he says.
Also: When O'Connell shared the map marking the neighborhoods he'd visited so far, some commenters pointed out the parts of town he hadn't been to.
He says the map is a "good accountability tool" to make sure he's not over-focusing on downtown and also because in some cases he had been to a neighborhood but didn't mark it on the map.
O'Connell also scoffed at the idea that he's out and about at the expense of getting work done at his office. He says it's not an either-or.
Of note: O'Connell has been especially busy at Nashville sporting events. He's seen the Predators, Nashville SC, Tennessee State football and Titans. He also kept a campaign promise to a young boy on the Jefferson Street Bills youth football team and attended one of their games.
Zoom in: Katie Lentile, who served as an aide to former Mayor John Cooper, says O'Connell's strategy will pay off as he sets his agenda.
"The work he does at the courthouse is important," she says. "Meetings, decision-making — it matters. But equally important is the one-on-one time spent with community members, meeting people where they are and experiencing life in Nashville neighborhoods."
"The more public events he attends and residents he hears from, the better his policies will be."
Yes, but: With a busy calendar comes the challenge of maintaining a work-life balance. Claudia Huskey, a veteran political strategist who worked on scheduling for former Mayor Megan Barry, former U.S. Rep. Harold Ford Jr. and former Vice President Al Gore, says she's "impressed by Mayor O'Connell's robust schedule and high level of community engagement."
"The challenge for him will be his time is limited and he has a young family. Balancing the daily business of the city, many large projects on the horizon, managing his staff, keeping a robust public schedule, and being a working dad is more than a full-time effort."
More Nashville stories
No stories could be found
Get a free daily digest of the most important news in your backyard with Axios Nashville.