An interview with Nashville Councilmember Zulfat Suara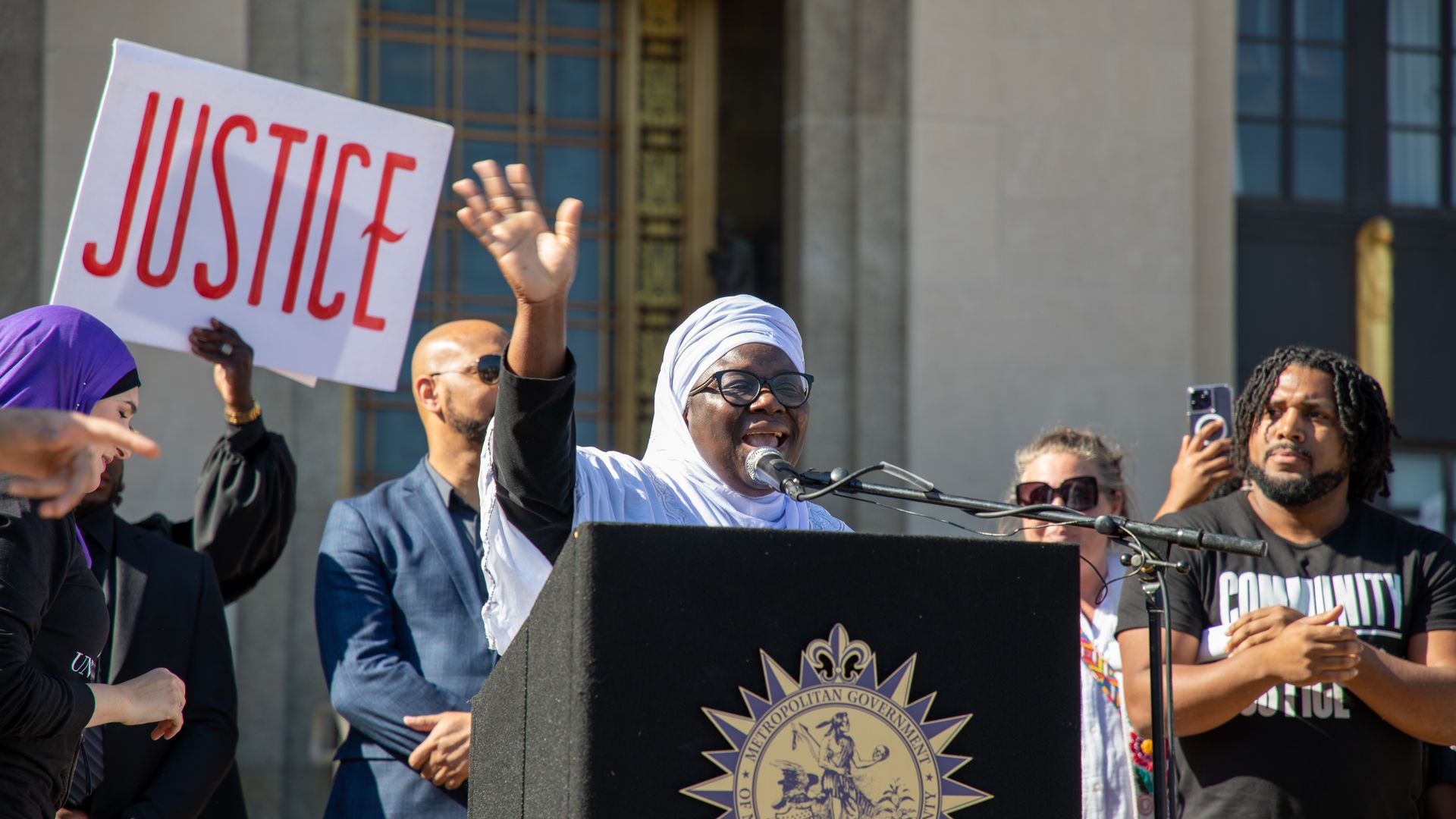 In the competition for Metro Council at-large seats, there's always been a race within the race.
Of course, each candidate wants to reach one of the five seats representing all of Davidson County.
But the top prize is the first chair, which goes to the candidate who earns the most votes.
Why it matters: On Aug. 3, Councilmember Zulfat Suara became the first Black candidate in Metro's 60-year history to win the first chair.
Her top standing positions her to be a leader on a younger and more progressive Metro Council for the next four years.
We interviewed Suara about her first term on the council and her thoughts on what the next four years could look like.
What made you want to run for Metro Council four years ago? [Note: Suara ran unsuccessfully for school board in Bolivar, Tennessee, before moving to Nashville)
The first time I lived in Nashville, my kids went to school in West Nashville. But when I came back the second time, my daughter, the youngest, went to a school in North Nashville called John Early. Being in that school every day, I saw the kids did not have enough computers in the classroom.
At that time, pre-COVID, they had a computer cart and they took it from one classroom to another. That, to me, was unacceptable. The other thing I saw was I was principal for a day and a young man came to school and he was quiet and reserved, not talking to his peers.
The real principal led him to a room, and I found out he was self-conscious because he was wearing a dirty uniform.
It got me thinking. Look at this young man who, just because his uniform was dirty, was not participating with his peers. I could only imagine what would happen that day in class. Maybe he has a bad day and ends up in detention. That's how things escalate, that's how that school-to-prison pipeline materializes, even for something as minimal as a dirty uniform.
There were things I was seeing and I was thinking, if the government is aware of it, I don't think we're doing enough. That was the primary reason I jumped in the race.
One of your early legislative accomplishments was a budget amendment, which tied extra funding for raises at MNPS to whether there was enough money in the reserve fund. I had never seen a conditional budget allocation like that before.
I look at our teachers, the people who are working and training the minds of our precious kids. Some of them are doing two jobs. My take is, when do you have the time for yourself, or the time to be all you can to the student if you have to work two jobs?
Unfortunately, you will recall that right after we got elected, the comptroller came and said the fund balances were in shambles. The state threatened to take over our finances. We had to clean up our house.
We raised taxes and did all that, but I wanted to take the money from the fund balance. So the compromise at the end of the day was, I said I think the fund balance will be fine. The caveat came in that we would do it if we had the money [about $7 million] in the fund balance. It was cleverly written so it gave us the opportunity to do it.
Did you enjoy your first term?
I don't think that would be the word I would use to describe it. The word I'd use is rewarding. We just talked about [directing reserve fund money to teacher raises]. Every time I think about it, it brings a smile to my face because I know it helped our teachers and in turn helped our children. So that's very rewarding and fulfilling to me.
When I think about the money we put toward eviction right-to-counsel [a $2.6 million pilot project to provide legal aid to low-income renters], which was able to help a lot of people stay in their homes, that is something that is very fulfilling. For me, it's very rewarding and fulfilling. It's worth it.
Some days it's fun, but we went through a lot the last four years, from the budget to COVID to the bomb. That was not an easy day for me, because as much as I wanted to praise the police for all they did [to make sure there were no bystander deaths], it also showed the disparity in how we deal with certain calls. Because I know if that person was black or a Muslim, the police would not go to their house and then leave. They would break the door down.
You took a lot of flack for your vote in support of the Titans stadium financing. Why do you think there were hard feelings there?
When I was on the campaign trail, most places I'd go they'd ask me to explain my stance. Once I do, a lot of people said that makes a lot of sense. Some people said, "We still don't like it, but we still understand your stance."
What was very painful was the Twitter chatter would not allow me to explain my stance. I think part of it is people were just mad. I think people were frustrated. I get it. A lot of people are hurting in Nashville.
So if you can barely make your rent, or sleep in your car, how do you listen to an explanation about $700 million to a sports team? No matter what the justification is. So I understand to the core.
That's why I take the time to explain. But I think there were some people who did not take the time to understand the whole thing. Some people just jump on the bandwagon and don't want to hear anything at all. Some of it is just the politics of the moment.
If I think about my politics, voting no would be safe for me. I think most people who support me thought that's the thing I would do. But I have to do what I think is right for the people I serve based on my understanding of the analysis. The people who voted against it — this is where I'm different — I give people grace. If your analysis gets you to where this is just not good, I think that's OK. But making it about my integrity is what I did not get.
What is your biggest priority for the next four years?
I think housing will still have to be No. 1. I think the housing crisis is real. Costs are skyrocketing, so if your rents get raised but you're still making the same amount of money, how do you cope?
For me, I was proud of the eviction right-to-counsel that we piloted last year. I'm hoping we can continue to fund that. I hope we can look at different tools in the toolbox to address this housing issue.
I know we used [American Rescue Plan] money, so now that the money is not there, what are we going to do as a city? How do we preserve the dignity of all of our residents in making sure people are housed?
The last few mayors were former council members. Would running for mayor be something you'd be interested in?
[Suara laughs.] Yes. I had a lot of people ask me this time around, but I was not ready. I really do think it's an office where you want to be prepared. I don't want to go into it without thinking it through, but I would not rule it out.
More Nashville stories
No stories could be found
Get a free daily digest of the most important news in your backyard with Axios Nashville.