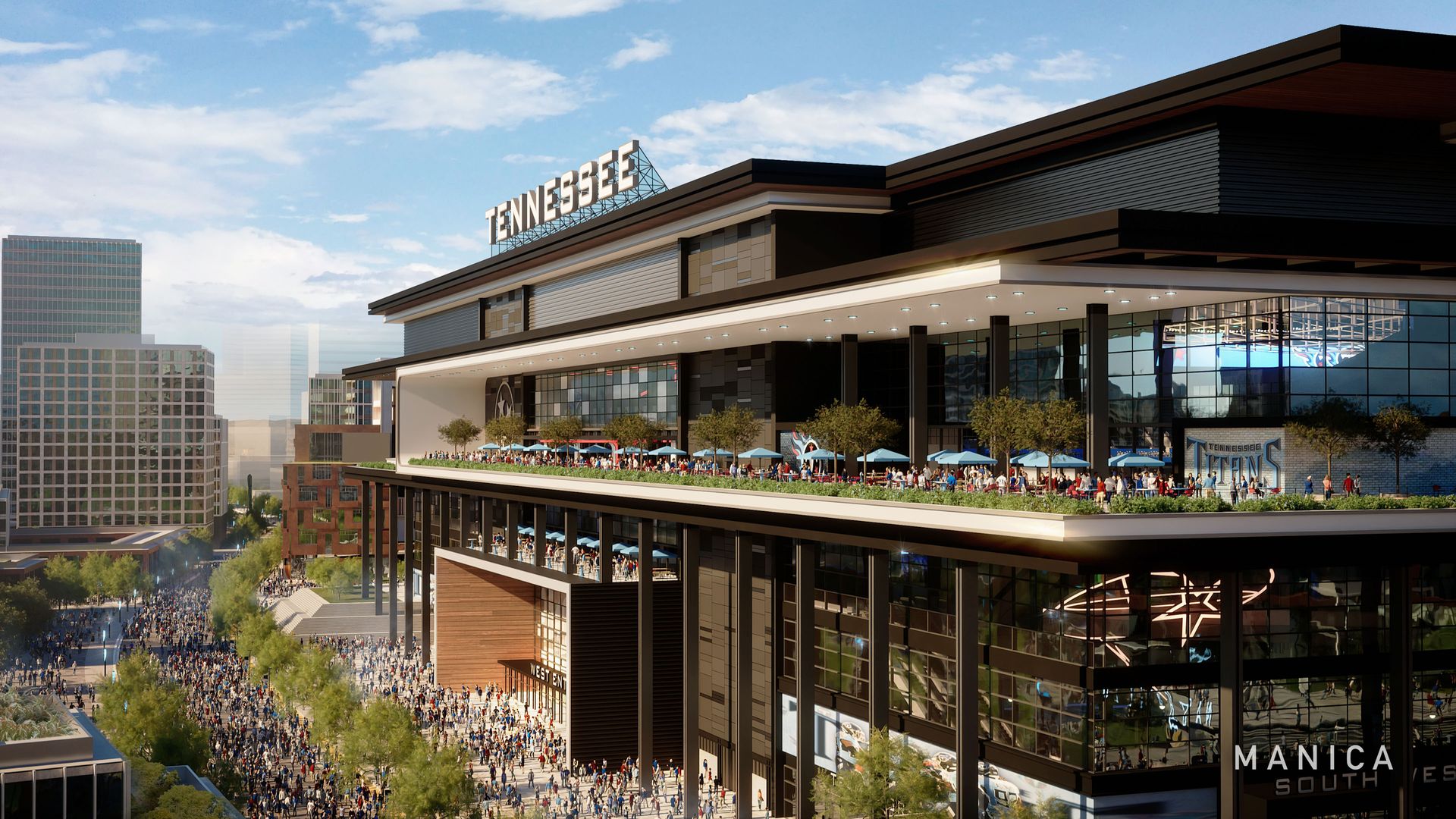 Metro Council approved a $2.1 billion financing plan for a new indoor Tennessee Titans stadium early Wednesday morning, concluding more than a year of debate and a final month of passionate opposition.
Council heard from the public, mostly opponents, during a public hearing that lasted over five hours.
Why it matters: The plan tethers the Titans to Nashville, where they relocated from Houston a quarter century ago.
The yes vote, by a margin of 26-11 during a meeting that lasted over six hours, gives Mayor John Cooper a legacy project on his way out the door. He's not running for reelection.
Stadium backers say the new stadium lines up Nashville to host major events like Wrestlemania, the SEC football championship game, college football playoffs and major winter concerts. The presumption is Nashville will now be eligible to host the Super Bowl as other NFL cities that built new stadiums have done.
What they're saying: "We've eliminated a billion-dollar liability created by an aging stadium lease and created a platform for the city to thrive for decades," Cooper said. "This was always about more than football. This vote unlocks the East Bank vision for Nashville's next generation."
The other side: Opponents argued the plan was rushed and that a new stadium benefits tourists but not residents.
"It's absolutely absurd that we are all sitting here tonight in our second special-called meeting this month for a massive transfer of public wealth to billionaires," Metro Councilmember and mayoral candidate Freddie O'Connell said during the debate. "Unlike two weeks ago [when council returned Rep. Justin Jones to the state House], we are not here to deliver swift justice. We are here to deliver a generational mistake."
After the stadium was approved, Metro Councilmember Delishia Porterfield, a stadium opponent, attempted a rarely used legislative procedure called a motion to reconsider. This would have pushed the final approval until next week. After a confusing and contentious back-and-forth with Vice Mayor Jim Shulman, her motion was overruled by a majority of council members.
Here are some specifics on the new stadium:
Construction will break ground in 2024, and the goal is for it to be completed by the start of the 2027 NFL season. Tennessee State University will also use the new stadium as its home field. Nissan Stadium will remain the Titans' home in the interim.
The building will be slightly smaller by previous NFL standards with a capacity of about 60,000. Unlike Nissan Stadium, it will be enclosed and use artificial turf instead of grass.
The design by the Kansas City-based firm MANICA is heavy on exterior terraces providing fans with panoramic views of the skyline. The building will also feature a 12,000-square-foot space for community use year-round.
Also: Cooper is pursuing an ambitious redevelopment of the East Bank in conjunction with the stadium. His administration is planning green space, a major new road running north and south, bike lanes and a mixture of public and private developments near the stadium.
More Nashville stories
No stories could be found
Get a free daily digest of the most important news in your backyard with Axios Nashville.