Tennessee House GOP expels 2 Democratic lawmakers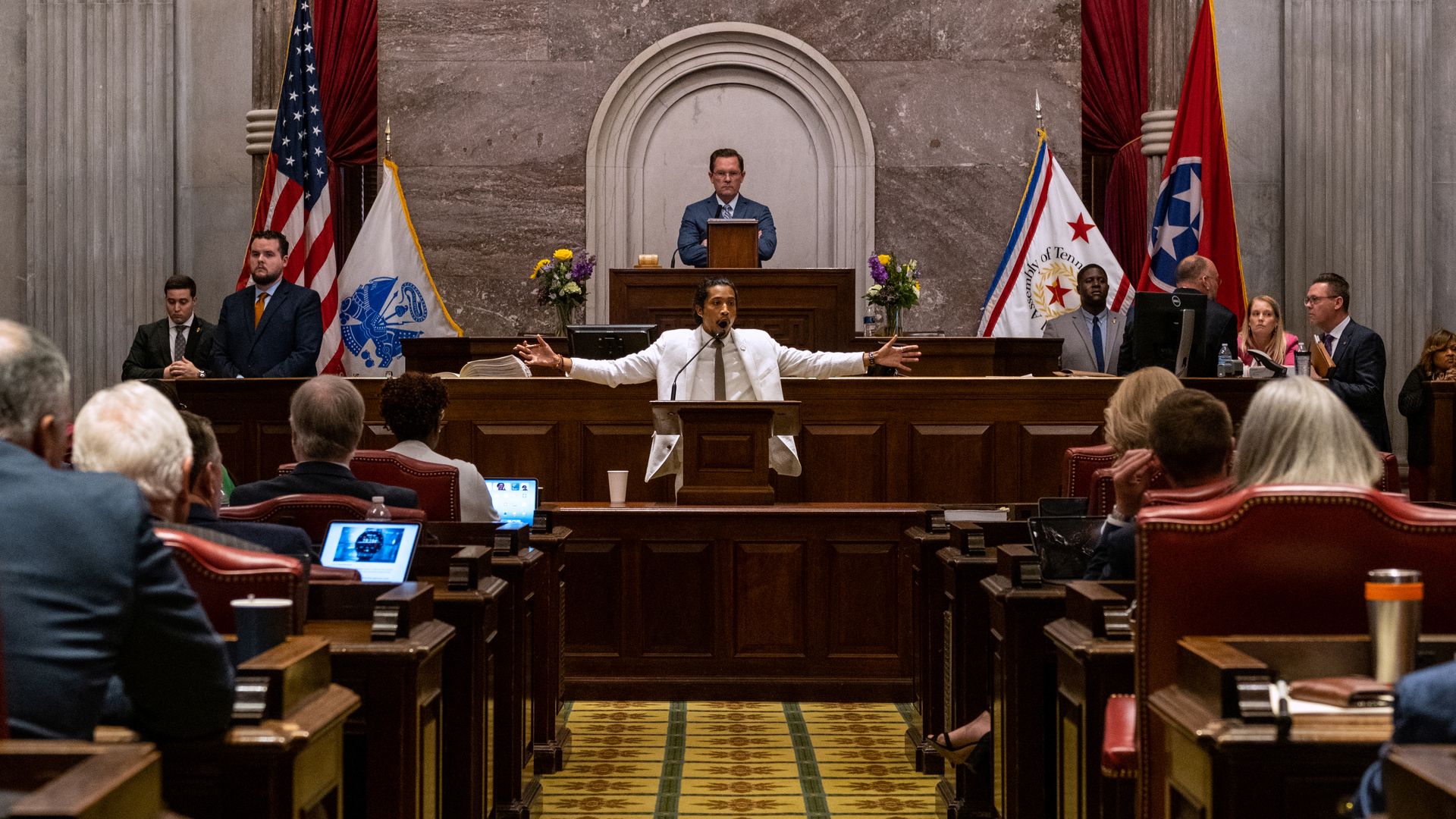 Tennessee House Republicans voted Thursday to expel two Democratic representatives who led protest chants on the House floor following the mass shooting at The Covenant School.
Reps. Justin Jones (D-Nashville) and Justin Pearson (D-Memphis) join a small group of Tennessee lawmakers who were pushed out of elected office by their colleagues.
An attempt to expel Rep. Gloria Johnson (D-Knoxville) failed by one vote.
Why it matters: Expulsions are an exceedingly rare and extraordinary measure in the Tennessee General Assembly. The Republican-led effort to remove the Democrats has attracted national attention and condemnation from the White House and the ACLU.
Thousands of protesters crowded the state Capitol to support Jones, Pearson and Johnson. Supporters have referred to them as "The Tennessee Three."
Zoom in: The expulsion votes were 72-25 for Jones and 69-26 for Pearson.
The unsuccessful vote to expel Johnson was 65-30.
Throughout several hours of voting and debate, protesters outside the House chamber chanted and shouted so loudly they could be heard from the floor.
Between the lines: The votes spurred allegations of racism. Pearson and Jones are both Black. Johnson is white.
"The expelled the two black men and kept the the white woman! The racism that is on display today! Wow!" state Sen. London Lamar tweeted.
Catch up quick: Republicans, who have a supermajority, were fiercely critical of the lawmakers, saying they broke the chamber's rules and engaged in disorderly behavior when they led gun reform chants from the House podium with a megaphone.
The expulsion resolutions said the members' conduct "reflects adversely upon the integrity and dignity of the House of Representatives."
"They tried to shred our constitution with a bullhorn," said Rep. Gino Bulso (R-Brentwood), who also described their actions as a "mutiny."
The Democratic members acknowledged they violated House rules, but said the expulsion was a disproportionate response. They said they were motivated to speak and share their constituents' outrage following the mass shooting.
Johnson brought two attorneys who had previously served as lawmakers. She did not use the megaphone and argued that her expulsion resolution was inaccurate because it said she had shouted.
During a day of fiery debate, Democrats said expulsion was a politically motivated overreaction that subverted the will of voters who sent Jones, Pearson and Johnson to the statehouse.
"This whole process is disrespectful to the rule of law," Rep. John Ray Clemmons said. "We should be spending this time on legislation to protect our communities."
What they're saying: "What is happening here today is a farce of democracy," Jones said as he argued against his expulsion.
"We were calling for a ban on assault weapons," Jones added later, as his Democratic colleagues stood behind him. "The response of this body is to assault democracy."
Lawmakers have only expelled their own a few times in state history, usually following special investigations.
Flashback: The Senate voted 27-5 last year to expel former Sen. Katrina Robinson after a federal wire fraud conviction.
The House voted to expel former Rep. Jeremy Durham in 2016 over allegations of sexual misconduct. It was a bipartisan 70-2 vote.
The Tennessean reports a House member was ousted in 1980 for soliciting a bribe to stop pending legislation.
Before that, the newspaper reports, the most recent expulsion was in 1866, when six House members were expelled for trying to stop Tennessee from ratifying the 14th Amendment, which established citizenship for people who had been enslaved.
Rep. Jones said lawmakers had failed to pursue expulsion for other members facing criminal investigations and rule violations, including an allegation that one member urinated in a colleague's chair.
"You never use a sledgehammer to kill a gnat," Rep. Joe Towns Jr. said of the latest expulsion measures. "We are dropping the nuclear option."
Editor's note: This story has been updated to include a statement from state Sen. London Lamar.
More Nashville stories
No stories could be found
Get a free daily digest of the most important news in your backyard with Axios Nashville.