Nashville responds to deadly school shooting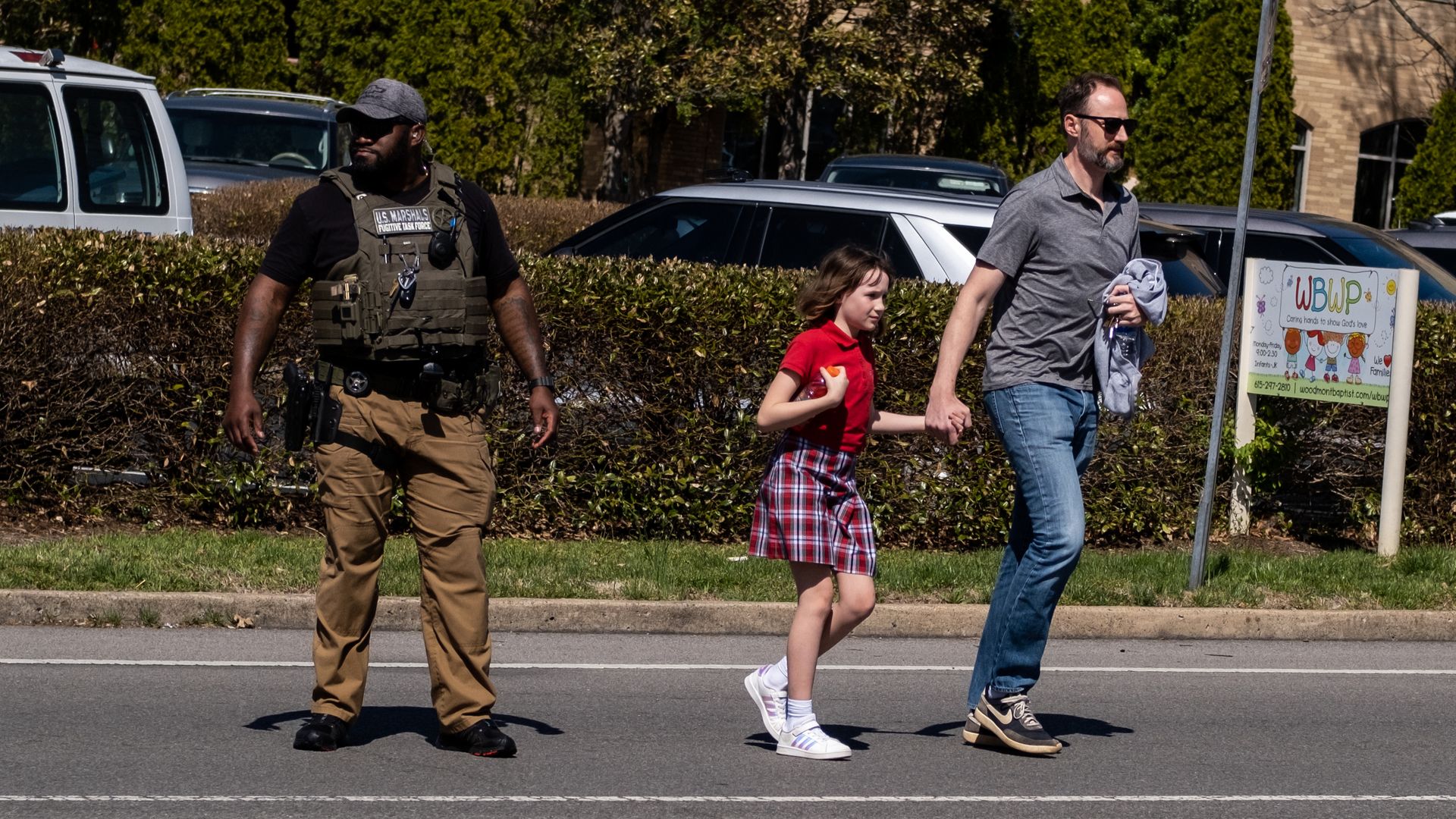 Nashville joined a growing list of cities marred by a school shooting Monday when six victims, including three children, were killed in about 14 minutes of horror at The Covenant School in Green Hills.
The shooter, who police said was a former student armed with multiple firearms, was killed during a confrontation with police.
"I was hoping this day would never, ever come here in this city," police Chief John Drake said.
The victims
Police said three 9-year-olds were killed: Evelyn Dieckhaus, Hallie Scruggs and William Kinney. The adult victims were identified as Mike Hill, 61; Katherine Koonce, 60; and Cynthia Peak, 61.
Koonce was the head of the school. The other adult victims were identified as a custodian and a substitute teacher.
The suspect
Police identified the shooter as 28-year-old Nashville resident Audrey Hale.
Drake told reporters that the shooter had detailed school maps and there was evidence that the shooter had conducted surveillance of the school. Investigators discovered a "manifesto," Drake said.
He did not provide details, although he said there was a "theory" about a motive.
The target was a small Christian school founded in 2001 that shares its building with Covenant Presbyterian Church.
Students ranged from preschool through sixth grade. There were about 209 students and 42 staff members.
Drake said there was also evidence that the shooter had considered a second target, but abandoned those plans because of security concerns.
The timeline
The beautiful spring day twisted into a nightmare at 10:13am, when police were notified of an active shooter. Surveillance video released by police showed Hale driving into the parking lot, passing a playground, and shooting through a glass door to gain entry to the building.
Police spokesperson Don Aaron said the shooter was armed with "at least two assault-type rifles" and a handgun.
Drake said some of the children ran from the gunfire and toward a nearby woodline, while others fled to a firehall.
Officers responded and began evacuating part of the school. Police said Hale fired on arriving officers from the second floor of the building. Two officers who followed the sound of the gunfire encountered and fatally shot the shooter.
The gunfire was over by 10:27.
Students were loaded onto school buses and taken to the nearby Woodmont Baptist Church, where parents gathered in the pews to find out if their children had survived.
As they waited, officials at every level of government struggled to make sense of what Mayor John Cooper called Nashville's "worst day."
Response
Cooper called for unity and said the city stands with the Covenant School community in the wake of the shooting.
What they're saying: "In this dark hour let us support each other. Let us all go and hug our children a little closer tonight," Cooper said. The mayor also thanked first responders and praised them for their swift response.
In a statement, the Covenant School gave voice to the deep pain that shook the city.
"We are grieving tremendous loss and are in shock coming out of the terror that shattered our school and church. We are focused on loving our students, our families our faculty and staff and beginning the process of healing."
The shooting hit close to home for state Rep. Bob Freeman, who represents the area where the school is located. Freeman says he lives around the corner and has friends who attend the church and its school.
"It tears my heart apart to see this," Freeman says. "I'm praying for my neighborhood, my city and my state. It is time to pull together and provide all the love and support that we can to those affected by this terrible catastrophe. It is time for serious action."
U.S. Rep. Andy Ogles was elected last year to represent much of Nashville in Congress. He and his family posed for a Christmas card picture in 2021 holding guns.
Ogles said, "As a father of three, I am utterly heartbroken by this senseless act of violence."
House Speaker Cameron Sexton called for prayers for the families impacted by the tragedy.
"No harm should ever come to any child. At some point today, please take a moment to pray for the families impacted by this tragedy," he said.
The Community Foundation of Middle Tennessee launched a donation fund called Caring for Covenant. Donations will be directed to the school to support the healing of those affected.
More Nashville stories
No stories could be found
Get a free daily digest of the most important news in your backyard with Axios Nashville.