Rick Perry is living his dream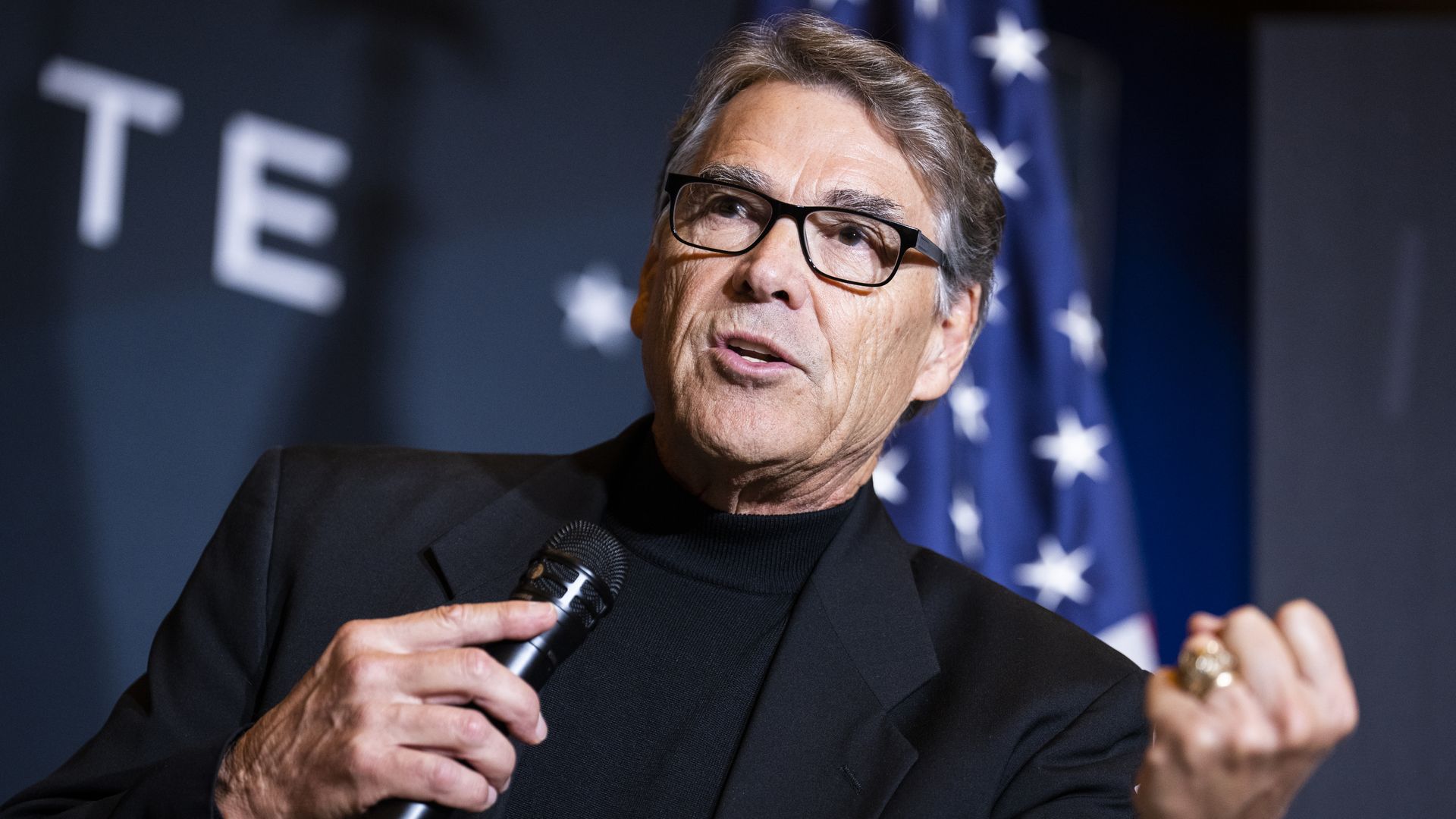 Former Texas Gov. Rick Perry lives on 50 acres in Central Texas with his two best friends from college — in separate houses a few hundred yards apart — fulfilling a dream five decades in the making, he tells Axios.
One of those friends is former Texas Department of Transportation executive director Joe Weber, who held that job for 18 months while Perry was governor.
Driving the news: In a wide-ranging interview with Axios, Perry shared details about his life since leaving office — and his thoughts on several other subjects.
Why it matters: Perry has kept a relatively low profile since resigning in 2019 as energy secretary in the Trump administration.
Yes, but: "I haven't been bored," Perry says. "So that's a good thing."
The big picture: Perry says he still has "a very close working relationship with the Saudis," specifically former Saudi energy minister Khalid al-Falih.
Perry is also on the board of Energy Transfer Partners, the pipeline company run by Dallas billionaire and Republican megadonor Kelcy Warren.
"I'm not fond of public boards," Perry says. "I serve on the only public board I serve on, and that's just out of a great respect for the man who owns the company."
His dream: Perry and his college friends told each other that one day they'd retire near each other and maybe run a beer and bait store.
"We made a deal that when we finished doing whatever we were going to do in life ... we would live hopefully in close proximity," Perry says. "This is our aspiration."
Perry says he and his wife, Anita, also spend a lot of their time caring for their five special-needs dogs on their Round Top property and visiting their grandchildren whenever possible.
Catch up quick: Perry was the longest-serving governor in Texas history, in office from 2000 to 2015, before becoming energy secretary in 2017.
He also had a short stint on "Dancing With the Stars."
And he ran for president in 2012 and 2016.
"I've never not liked what I did in life," he says.
Meanwhile: Perry has also joined the Sports Betting Alliance, the group lobbying to legalize mobile sports gambling in Texas — though he opposed any expansion of legal gambling while in office.
"This one's different because this is not an expansion of gambling," Perry tells Axios. "There's $6 billion worth of mobile sports betting going on in the state of Texas, and the state of Texas doesn't get a dime of that. It's not regulated."
Between the lines: Lt. Gov. Dan Patrick has said he won't bring a sports betting bill to the floor without the support of Senate Republicans. Perry says he believes Patrick will change his mind.
"I think the lieutenant governor is a true public servant," Perry says. "He does not want to be the individual who stands in the way of something that could help lower property taxes substantially."
State of play: Perry shared his thoughts on a few other topics, too, including what it's like to run for president while under indictment, the state of Texas' energy grid, and whether Gov. Greg Abbott should have offered to pardon a man recently convicted of murder.
Flashback: In 2014, a Travis County grand jury indicted then-governor Perry on felony abuse-of-power and coercion charges after he acted on a threat to veto state funds for the local district attorney's office because the DA refused to resign following her drunk-driving arrest.
The district attorney, Rosemary Lehmberg, pleaded guilty to driving while intoxicated but retained her position.
All of the charges against Perry were eventually dismissed. He says the ordeal cost him more than $2 million.
Zoom in: Perry says the indictment hampered his 2016 presidential run. Echoing former President Trump, Perry says he believes his indictment was also "totally for political reasons."
"It completely kept me tied up, distracted," Perry says. "I couldn't raise any money."
Separately: Perry has long been an ally to the fossil fuel industry, but while governor he also backed a massive infrastructure project designed to carry wind power from West Texas to Dallas. But now he thinks the state has moved too far in the direction of renewable energy.
"We've kind of taken our eye off the ball," he tells Axios.
He thinks the grid needs more nuclear and natural gas-powered energy.
The intrigue: Perry says he supports Gov. Abbott's efforts to pardon Daniel Perry (no relation), the man convicted of the murder of a Black Lives Matter protester in Austin.
"I understand why he is doing it," Perry says. "The left is going to basically say, 'Oh, he's interfering with the jury system,' but governors can get involved with a lot of different things up to and including pardoning someone."
Zoom out: Perry says he thinks the case is indicative of a larger problem and that the state's grand jury system might need an overhaul.
"I think the Texas Legislature needs to take a long and hard look at the grand jury system in the state of Texas," he says. "If it's abused even once, that's too much. And I will suggest to you, it has been abused multiple times."
More Dallas stories
No stories could be found
Get a free daily digest of the most important news in your backyard with Axios Dallas.