Mexico's allure for medical tourism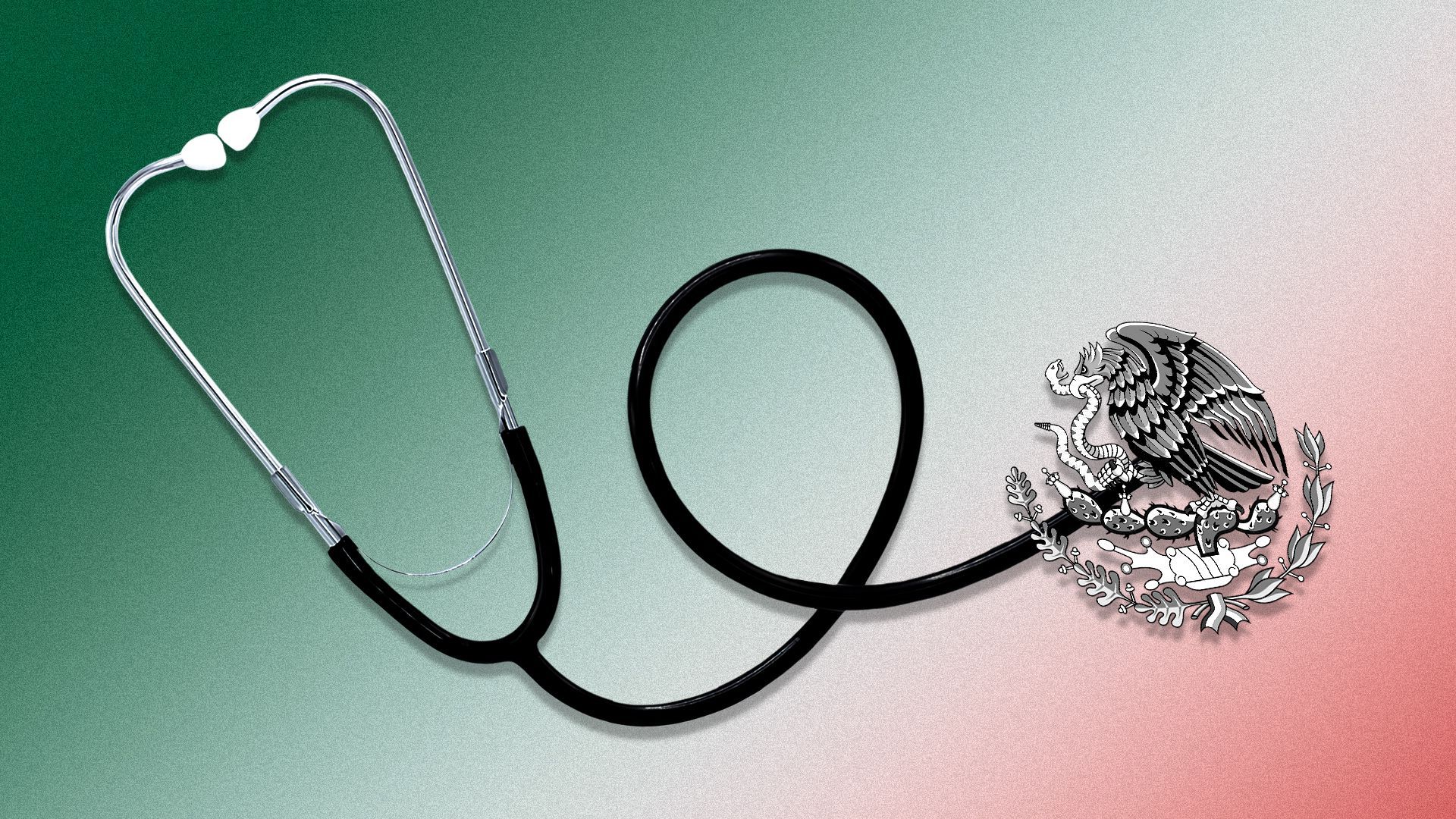 In response to the rising costs of health care in the U.S., Americans are increasingly heading to Mexico for dental work, prescription pickups and other medical needs.
The visits are popular among Texans who are willing to drive to Mexico for deep discounts on their medical procedures.
The big picture: Patients Beyond Borders, a North Carolina firm that offers resources on international medical travel, estimates that more than 1 million Americans travel to Mexico for elective treatment every year.
About 65% to 70% of those visits are for dental care, Patients Beyond Borders says. The next two most common categories are cosmetic treatments, at 15%, and bariatric procedures, at 5%.
Yes, but: Last month, four Americans visiting Mexico for medical treatment were attacked and kidnapped by a drug cartel in the city of Matamoros, just south of Brownsville.
Officials said the Americans could have been mistaken for Haitian drug smugglers.
Meanwhile, medical tourism in Mexico remains as popular as ever.
Zoom in: Tourists help sustain the Mexican border town of Nuevo Progreso, 33 miles west of Matamoros and 27 miles east of McAllen, Texas.
The small town is especially popular among Winter Texans trying to avoid the harsher winters of their hometowns.
"We've found that this is the safest community to cross over into. You meet lots of good people," Michigan natives Ed and Vickie Ervin, who visit Nuevo Progreso every winter, tell Axios.
Threat level: The U.S. State Department lists the Mexican state of Tamaulipas, which includes Nuevo Progreso, on its "do not travel" list, saying there is a risk of crime and kidnapping.
The State Department also says Americans should be cautious when buying medication in Mexico, citing the risk of tainted pills.
A recent LA Times story notes several overdose cases, including one from Nuevo Progreso, where travelers bought counterfeit medication containing deadly doses of fentanyl.
Reality check: Nuevo Progreso is still buzzing on most days, partly because of its proximity to the U.S.-Mexico border and the presence of U.S. border officers close by.
Visitors have the option of parking their car on the American side for $2 and paying $1 to walk over a bridge into Mexico.
Promoters from medical offices, pharmacies and shops hand slips of paper about their establishments to people walking over the border, greeting them like they're in Vegas.
Most of the visitors clear out by the evening, many returning to their hotels in nearby Weslaco or McAllen.
The other side: Receiving care outside the U.S. for complicated procedures like cosmetic surgery also means forgoing the protections of U.S. laws for malpractice or complications.
"Whatever kind of treatment they are getting, patients need to do their homework. The good, high-quality clinics are out there, but there are also unscrupulous clinics that will grab patients by low prices," says Josef Woodman, CEO of Patients Beyond Borders.
Be smart: The CDC also lists these precautions for anyone traveling abroad for medical care.
What the trip is like
The nine-hour drive from North Texas to the border is long, but the savings add up.
Woodman says a typical dental procedure in Mexico is roughly half the cost of that in the U.S. The cost difference widens for more complex procedures in Mexico, like getting multiple implants, he says. 
State of plaque: Oral health is important, but dental care access remains an issue. Millions of Americans don't have dental insurance, according to the CareQuest Institute for Oral Health.
55% of Americans had oral health issues in 2022, but more than half of those didn't seek care, according to the institute. Cost was a primary factor in that decision.
Vibe check: After driving or walking into Nuevo Progreso, visitors are greeted by speakers blasting music, vendors selling food or trinkets and medical offices everywhere.
Lonches, a hybrid between tortas and tacos, are a must-try specialty of the town.
The intrigue: Traveling to Mexico for dental care is an "if you know, you know" thing. Many learn about it through family friends in North Texas.
Dentist Alejandro Benitez Fernandez, who was educated in Mexico, started his Nuevo Progreso practice two decades ago with only one patient chair. He now employs five dentists who see roughly 50 patients a day.
"The weekends are even busier," he says.
Reality check: The trip is a big time commitment, and you have to be flexible with your schedule in case your issues require multiple visits.
Details: To minimize safety risks, many stay in a hotel in Weslaco, Texas, park on the American side of the border, and don't wander off the main road in Nuevo Progreso.
And most visitors leave before the sun goes down.
More Dallas stories
No stories could be found
Get a free daily digest of the most important news in your backyard with Axios Dallas.