The Axios Dallas guide to the State Fair of Texas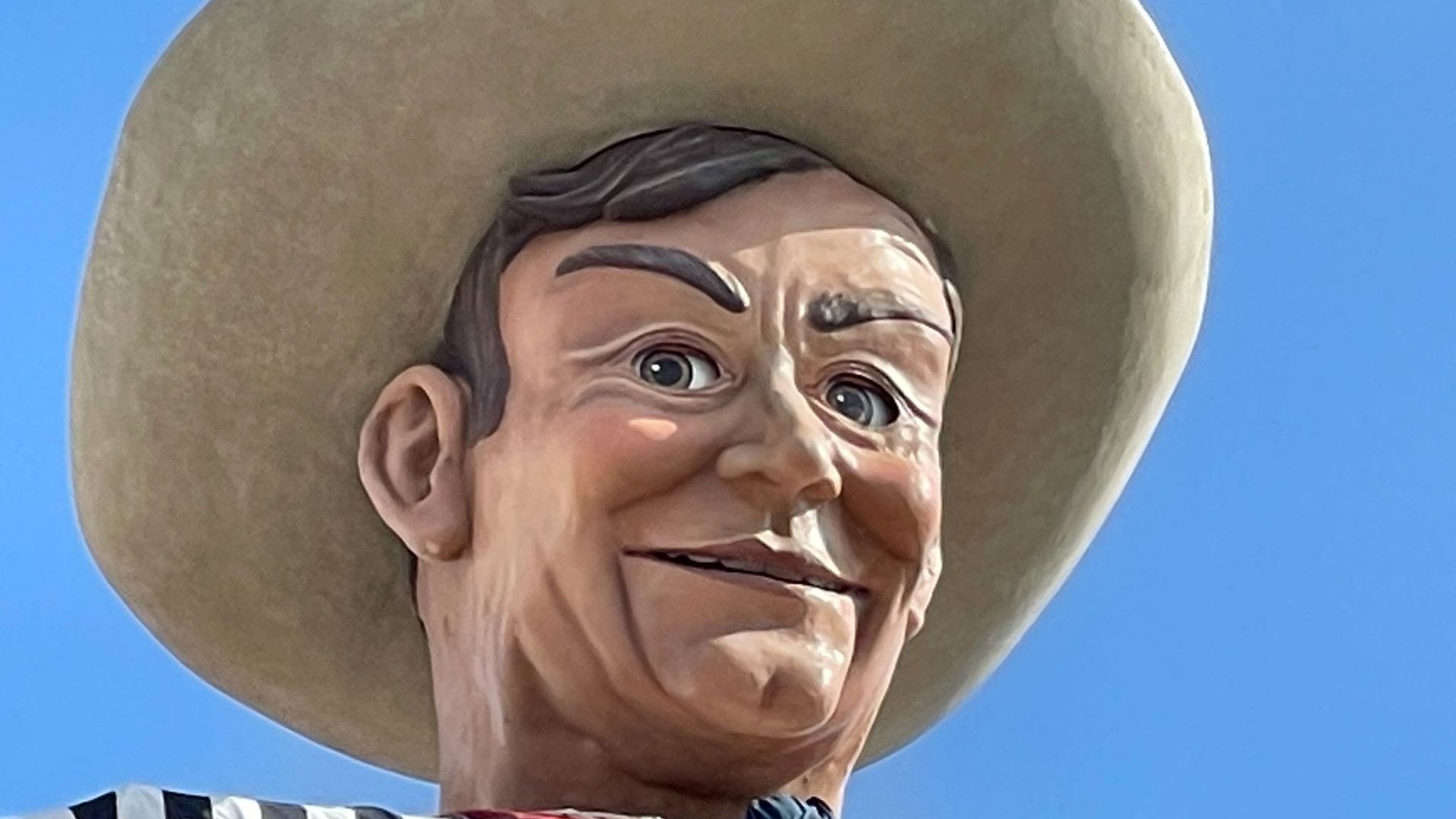 Love it or hate it, the State Fair of Texas is upon us. You have until Oct. 17 to eat, drink, ride, eat more, drink more and stare into the terrifying eyes of Big Tex.
Last year's fair was only a drive-thru event due to COVID-19. This year, masking is required indoors — but based on our time there, not everyone follows that rule.
Why it matters: Ours is, appropriately, the largest state fair in the country, with more than 2 million annual visitors. It's your chance to consume 10,000 calories of fried foods and frozen drinks, ride something that spins through the air and then watch a nice show.
This year's theme is a welcome back, "Howdy, folks!"
Things you absolutely must do when you visit:
🎡 Ride the Texas Star: It doesn't matter if you've gone every year since you were a child or that it now costs $10. Get on that wheel!
🌭 Eat a corny dog: You can do a veggie version, a turkey dog, the jalapeño-cheese kind or an off-brand footlong — but we still prefer the traditional.
🎸 Watch a concert: There is the Main Stage, which will feature Jack Ingram on Saturday, but there are several other spots to listen to live music, including the wine garden.
🚗 Sit in a Corvette: Go to the Centennial and Automobile buildings and check out some new cars. Sure, the supply chain is backed up, but you can pretend you're buying that new car smell soon
.🤳 Snap a pic with Big Tex: Did you even go to the fair if you don't get a picture with that tall cowboy?
🎆 Watch the fireworks and light show: Cap off your visit at 8pm at the Esplanade.
One thing you can skip:
🤖 Hank the Robot: He's been part of the Ford exhibit for years now, but we prefer our animatronics in giant western wear.
Savory things you should eat:
Imagine a food and then fry it. It's probably at the fair.
Smoked turkey leg
Cost: $18
Six-word review: Connect with the caveperson inside you
Jalapeño-cheese corny dog
Cost: $8
Six word review: No improvement on the original detected
Deep fried shrimp and grits
Cost: $14
Six word review: What the state fair's all about
Pearlie's Southern Kitchen smoked turkey and collard greens
Cost: $12
Six word review: Crispy and fried but also nutritional
Gator jerky
Cost: Free samples available at the Gateway Pavilion
Six word review: Genuine certified Florida swamp chicken, gummy
One thing you can skip:
Frito pie bites
Cost: $9
Six word review: Just get a real Frito pie
Some sweet treats you should try: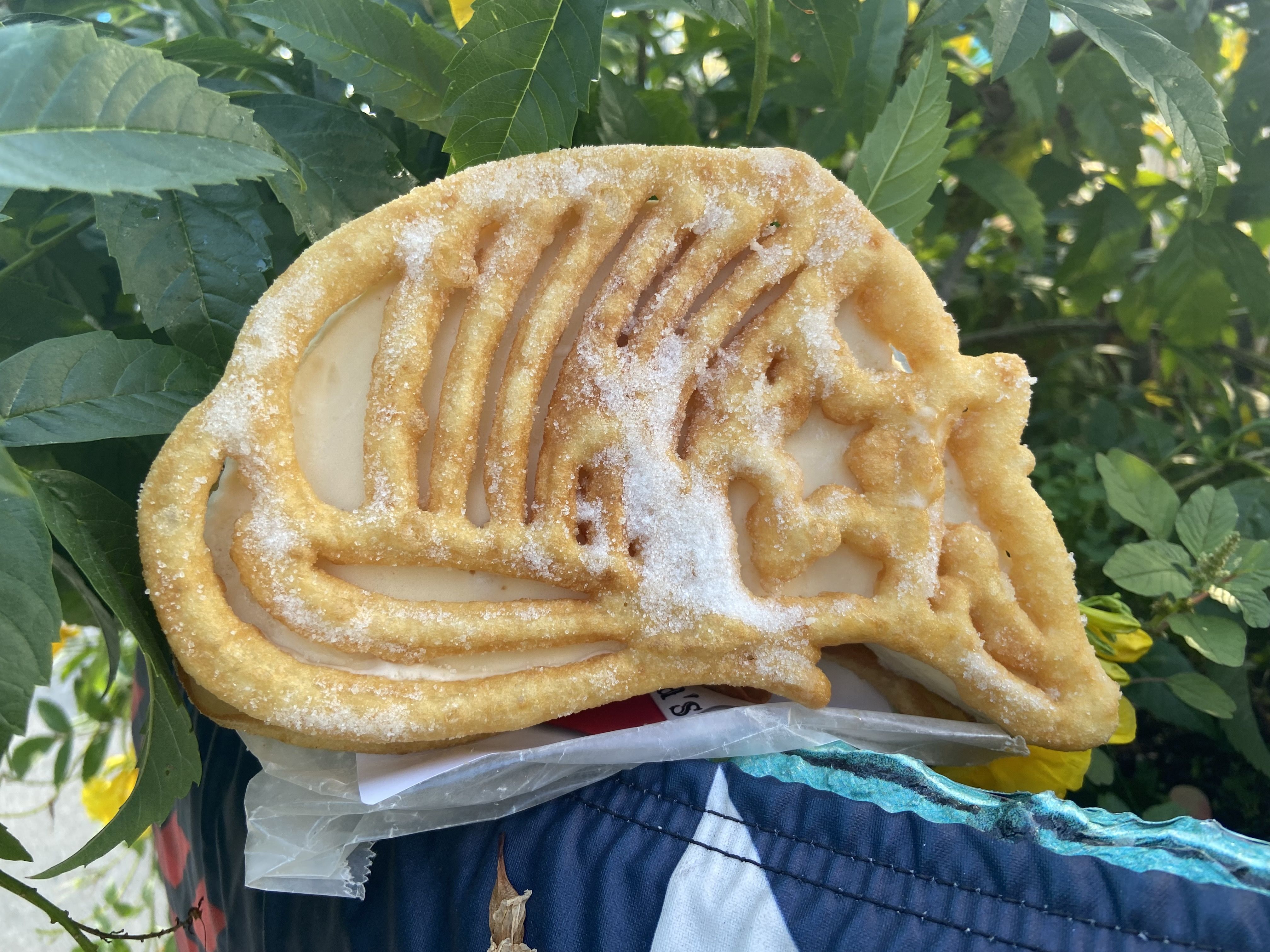 Got a sweet tooth? We've got you covered.
The Armadillo
Cost: $16 coupons
Six word review: Yummier than the roadkill kind, creamier
Pumpkin poke cake
Cost: $9
Six word review: Smushy gooey warm pumpkin spice cookie
Cotton candy on a cone
Cost: $5
Six word review: Let's all feel like kids again
Toffee coffee crunch cake
Cost: $10 coupons
Six word review: Like an English pudding but Texan
Dole whip
Cost: $5
Six word review: Creamy whipped pineapple goodness, also vegan
Chocolate-covered strawberry waffle balls
Cost: $7
Six word review: Tasha wanted to keep this secret
One thing you can skip:
Deep-fried Halloween
Cost: Years off your life
Six word review: More sugar than you'd ever need
Drinks you should try:
Kick back at one of the beer gardens or the wine garden. Or just take your drink on the go while you look at Jacuzzis and massage chairs and caged livestock.
Frozen ranch water
Cost: $12
Six word review: Helps you chill on hot days
Yuengling
Cost: $8
Six word review: So glad it's finally in Texas
Frozen daiquiri
Cost: $9
Six word review: Wait a bit before riding anything
Go Texan wines
Cost: $11-$19
Six word review: It's not Napa, but it'll do
Nonalcoholic beverages:
Iced tea
Cost: $3 ($2 if you reuse your cup)
Six word review: Get half iced and half sweet
Root beer
Cost: $4
Six word review: Tooth rotting deliciousness and bubbles galore
Bottled water
Cost: $2
Six word review: Rehydrate after all that salty food
What to expect at the Texas-OU game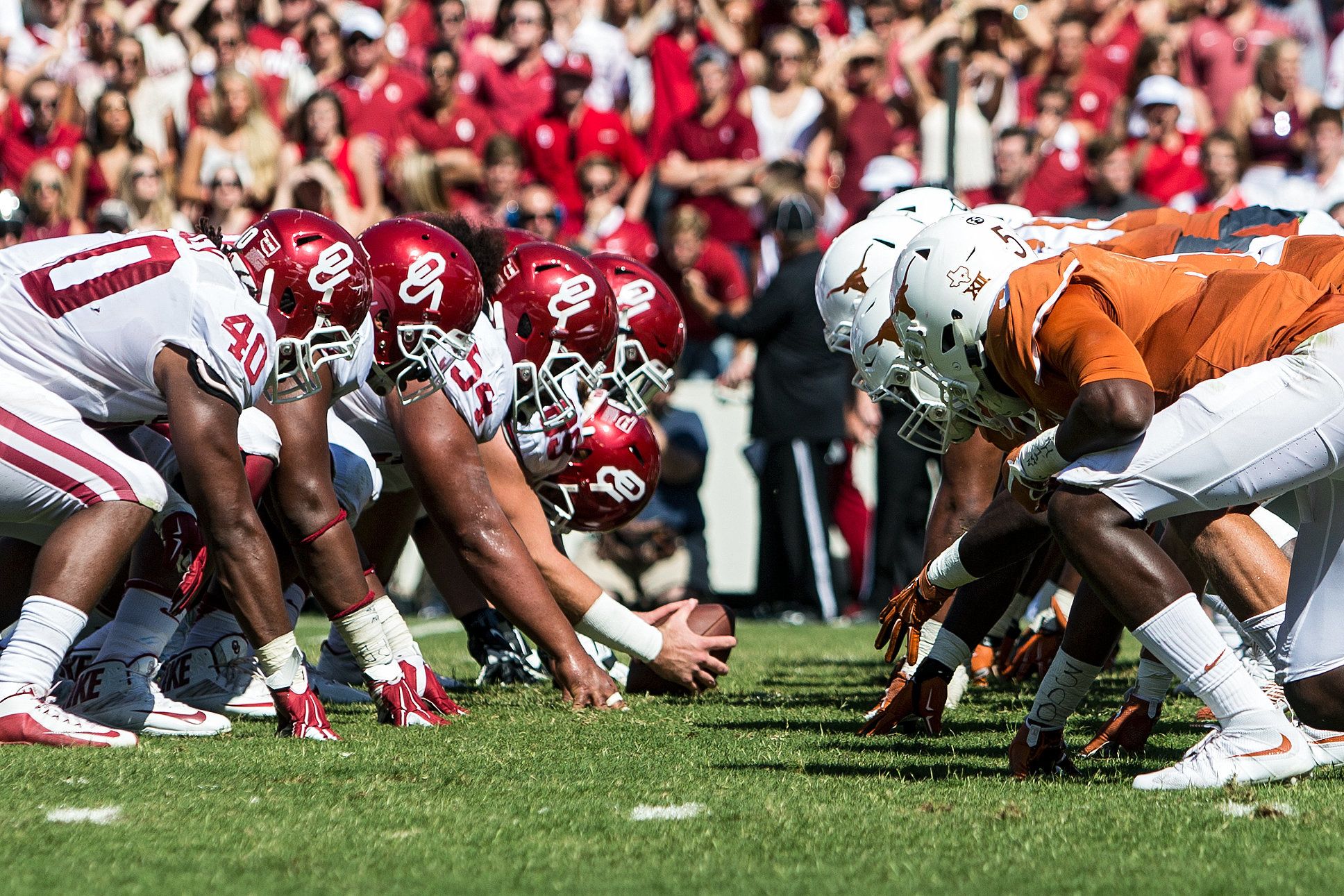 More than 225,000 people attended the fair during the last Red River Showdown in 2019.
This year's game begins Saturday at 11am. Fair gates will open at 7am.
Midway and outdoor concessions open at 8am, and all exhibit buildings and indoor concessions will open at 9am.
Gates to the Cotton Bowl will open at 9am.
Details: Only one clear bag is allowed in the stadium per person.
Small clutches or purses do not have to be clear as long as they are 4.5 inches by 6.5 inches or smaller.
No outside food or alcohol is allowed in the stadium.
The bottom line: Oklahoma is favored by 3.5 points this year.
Pro tips for the best State Fair experience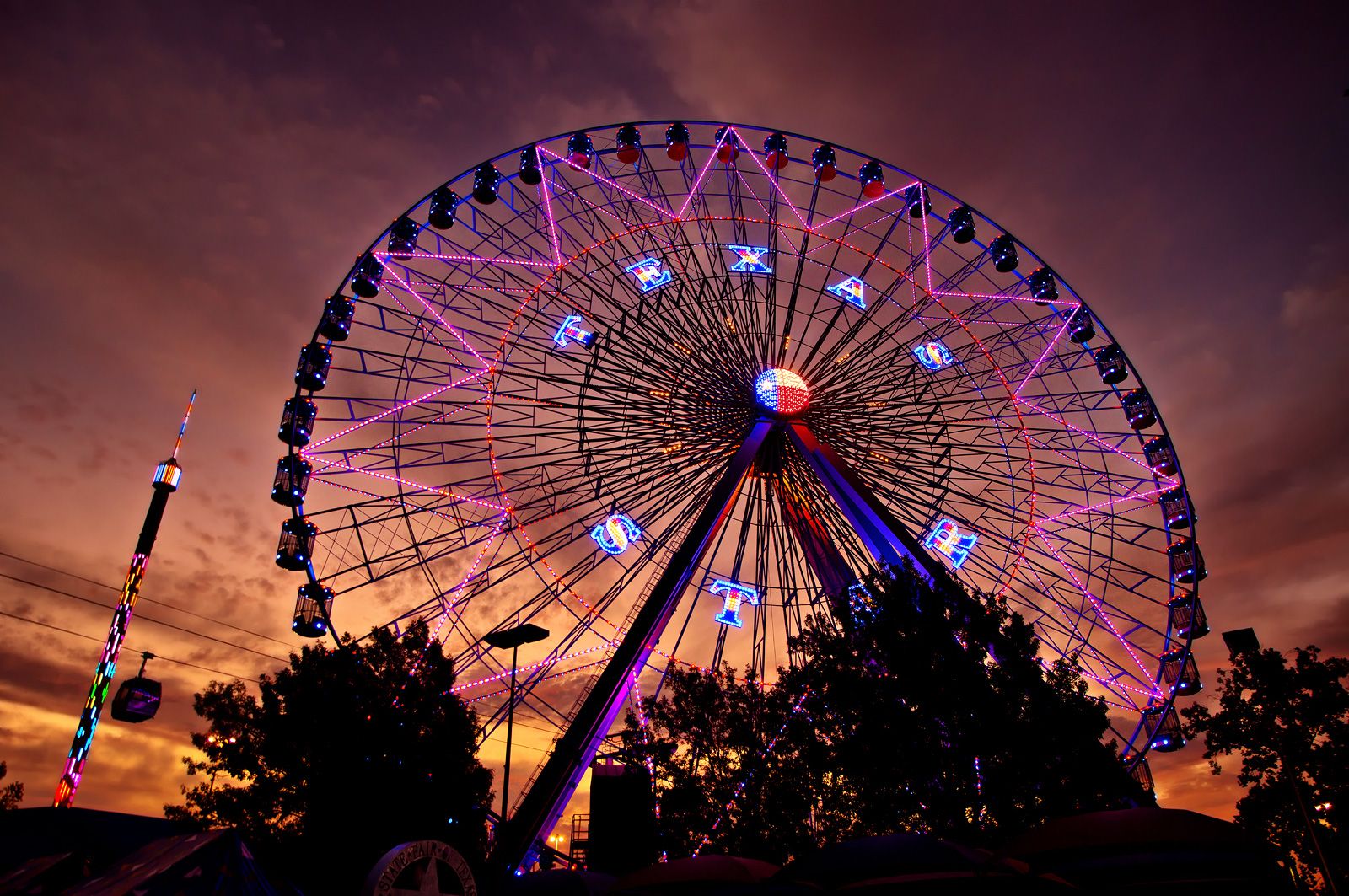 Coupon prices are different this year. Each coupon is now $1, which makes it easier to keep track of how much everything costs. (But also everything is more expensive.)
Wear sunscreen: The average daily high at the fair has been 88 degrees.
Drink water: This is just good advice for everyday life, y'all.
Grab a map: The basic layout of the fair remains the same, but if you want to find a specific food or check the times of a show, pick up the guide.
Dallas native Joshua Ray Walker: He's performing Saturday night on the Bud Light stage. If you've never seen him live, you really really should.
Cool off in the Creative Arts building: Take a moment to check out the winners of the annual crafts and culinary contests. Macaroni art and pickles have never looked so good (seriously, you can pickle anything)
Go on Thursday: Thursdays are thrifty at the fair. You can get select foods a little cheaper. There's one chance left this year.
More Dallas stories
No stories could be found
Get a free daily digest of the most important news in your backyard with Axios Dallas.