Waffle House workers organize for better pay and workplace safety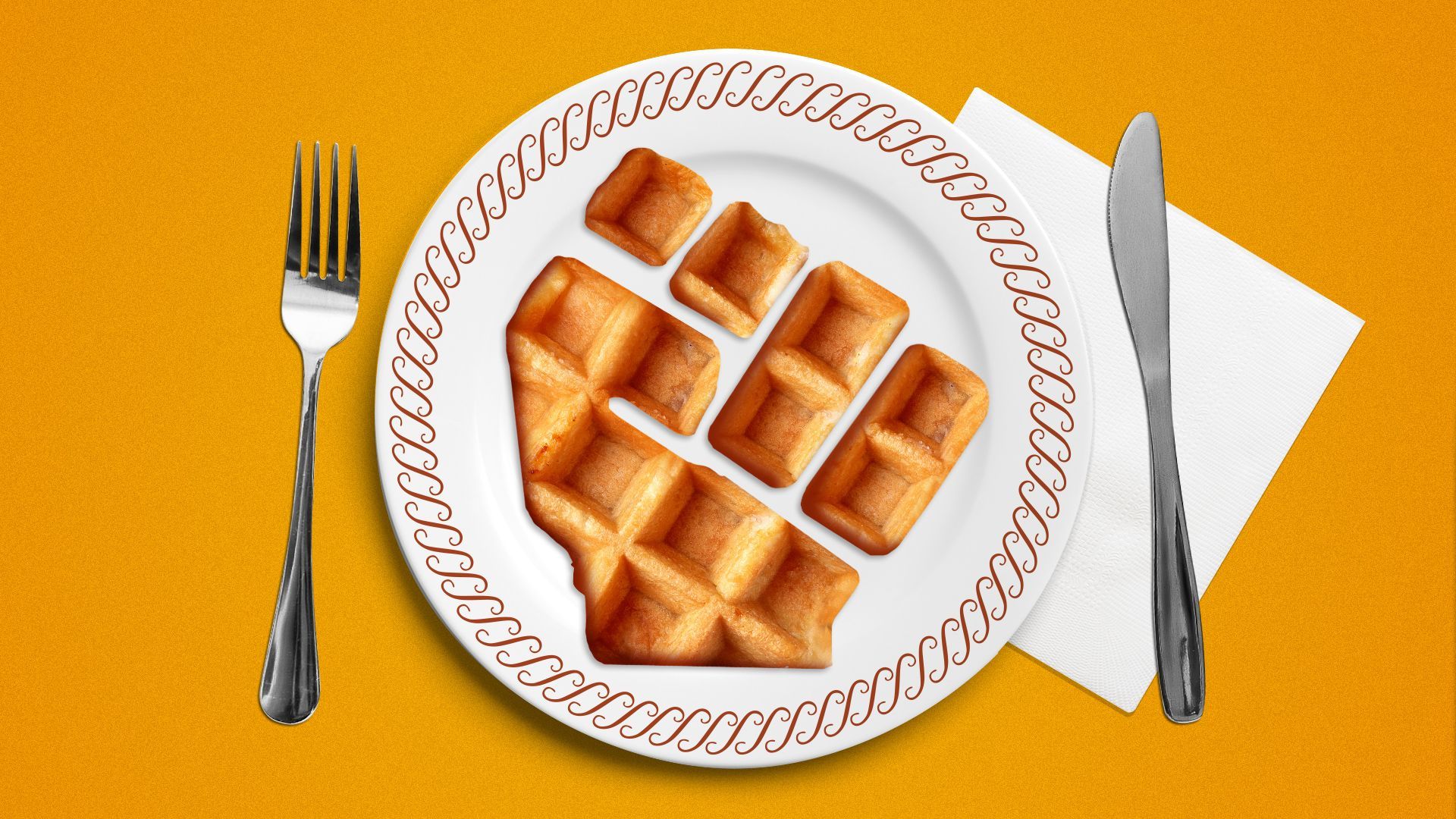 Waffle House famously rarely, if ever, turns out the lights. Maybe that's a problem, the Norcross-based company's workers, cooks and servers say.
Why it matters: Georgia's home to more than 400 of Waffle House's nearly 2,000 locations.
It's also a right-to-work state, and labor activists are exploring innovative ways to bolster workers' rights.
What's happening: Waffle House employees and organizers with the Union of Southern Service Workers are circulating a petition demanding better pay and workplace safety — and staging rallies in restaurants in Georgia and the Carolinas.
In the weeds: Founded in 2022, the USSW is an affiliate of the national Service Employees International Union. The union has chosen to push for change through strikes, petitions and other direct action rather than the traditional National Labor Relations Board process.
Details: The USSW effort calls for $25-per-hour wages for all workers, cooks and servers and 24/7 security at the restaurants where videos and tales of late-night fights have gone viral.
In addition, the workers want an end to a policy that deducts cash from a worker's paycheck to cover the cost of a meal during their shift, whether they eat the food or not, organizers said.
What they're saying: Waffle House restaurant employees have to work one or two extra jobs to make rent and pay bills, Gerald Green, a cook at the Georgia State University Waffle House and USSW organizer, told Axios.
"That's really the crux behind why we're asking for $25 an hour," Green said. "People can actually live their lives on $25 an hour. People can actually have time to plan out what they're going to do next with their lives."
Of note: Workers also want employees to have a greater voice when the company — which prides itself on not closing stores during severe weather and on holidays — reviews its storm preparation and other emergency plans.
The other side: Waffle House did not respond to Axios' requests for comment.
Company spokesperson Njeri Boss told the AJC earlier this month that Waffle House had met with workers about their concerns and that organizers' efforts on-site were "disruptive to our diners' experiences and our Associates' abilities to earn tips and bonuses."
What's next: The USSW wants to teach workers the skills to organize and advocate for more rights at their next jobs. They plan to build off that activism to later conduct union drives, Green said.
"Because we're a union focused on Southern service work, Waffle House is kind of like our white whale I guess you could say."
More Atlanta stories
No stories could be found
Get a free daily digest of the most important news in your backyard with Axios Atlanta.