Atlanta vs. Charlotte: The origins of the Falcons-Panthers "I-85 rivalry"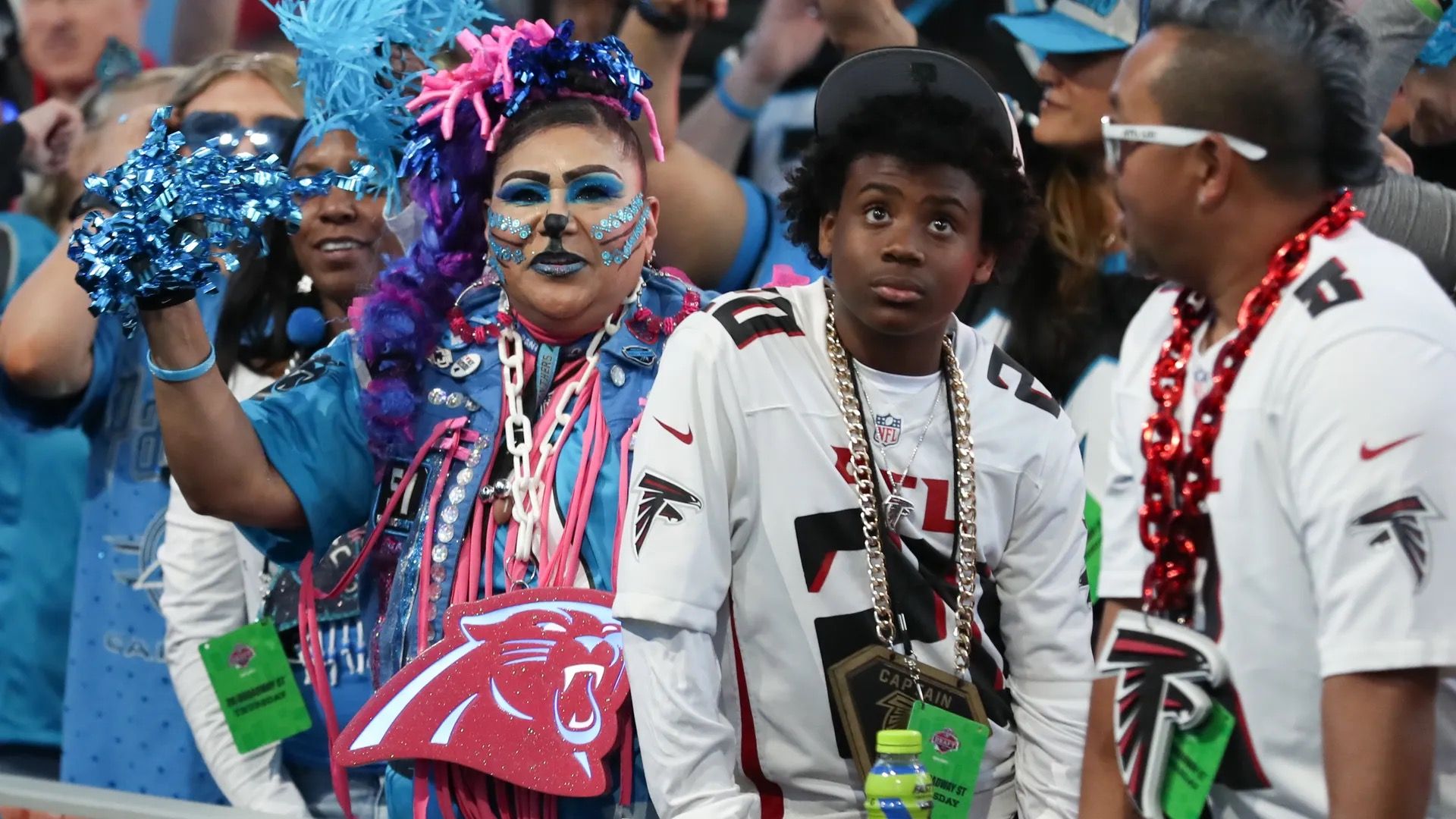 The rivalry between the Panthers and Falcons only dates back 30 years, but includes many elements of a good feud — including proximity and competition between two fast-growing southern cities.
Driving the news: The teams kick off the 2023 regular season Sunday at 1pm at the Mercedes-Benz Stadium. (Watch on FOX.)
Flashback: Decades ago, plenty of NFL fans in the Carolinas rooted for Atlanta (and Washington, for that matter) simply because of proximity. After Jerry Richardson landed an NFL team for Charlotte in 1993, allegiances shifted.
The Panthers' first game in 1995 was against the Falcons. Fans and local media billed the game as the "I-85 rivalry," a nod to the interstate that connects them.
The Falcons beat the Panthers 23-20 in overtime in front of 58,808 fans at Atlanta's Georgia Dome, the Observer's Scott Fowler wrote in a Sept. 4, 1995 story.
Frank Reich, the Panthers' current head coach, who was the team's quarterback back then, was sacked nine times.
But, Fowler wrote, it was still a good time. "When you're around a puppy, even a licking is kind of fun."
Zoom in: The Panthers play the Falcons twice a year, and the Falcons lead the series 35-21. Axios' Ross Terrell (a noted Falcons fan) picked out his top moments from the rivalry in recent years:
The instant classic: Oct. 30, 2022. Falcons 37, Panthers 34. Things got wild in the fourth quarter. A squandered Atlanta lead with 36 seconds left in the fourth quarter, a hail mary, a bizarre penalty, a missed extra point, a ridiculous turnover and eventually an overtime field goal turned this into one of the best games of the 2022 NFL season.
Julio's 300: Oct. 2, 2016. Falcons 48, Panthers 33. Well before the Falcons' trip to that Super Bowl, the offense put on a historic show. Matt Ryan threw for 503 yards and Julio Jones was on the receiving end for 300 of them. Both team records still stand.
Matt Ryan's trash talk: Sept. 30, 2012. Falcons 30, Panthers 28. Ryan earned the nickname "Matty Ice" by staying calm. But after this particular game, Ryan had a fiery five-word quip for the Panthers after the Falcons nailed a game-winning field goal: "Get the f— off our field."
Speaking of trash talk, we — Thomas of Axios Atlanta and Katie of Axios Charlotte — have a few thoughts for our rival cities:
Katie's thought bubble: Charlotte's always looking to prove something, to punch above its weight. The rivalry with Atlanta underscores this: These days, we compete for headquarters, for federal resources, for bragging rights.
Charlotte's long been the little brother, though. When the Panthers were preparing to play their first NFL game in the 1990s, Atlanta was preparing to host the Olympics.
But now, the Panthers have a new coach, a new quarterback and possibly some fresh momentum to overshadow big bro for a few years.
Thomas' thought bubble: While Charlotte tries to leapfrog Atlanta, Atlanta's trying to do the same to everyone else — all while trying to keep Charlotte in our rearview mirror.
During the Great Recession, you were our greatest rival for rail funding, and although our city often names Austin and Miami when talking about economic development, Charlotte is the specter haunting our dreams.
You've got great livable neighborhoods, a streetcar system that looks like people actually use it (ours is eh) and great restaurants. Like us, you care about trees.
And you have the benefit of learning from our mistakes when it comes to transportation, affordable housing and income inequality.
But we have a very rich Civil Rights history … and do you have Outkast? Just checking. (Yes, you'll probably win on Sunday.)
More Atlanta stories
No stories could be found
Get a free daily digest of the most important news in your backyard with Axios Atlanta.