When ranking the health of Georgia counties, a familiar discrepancy is clear: Those around metro Atlanta sit at the top.
Rural Georgia counties are at the bottom — in particular, those south of the "gnat line," stretching roughly from Columbus up to Augusta.
Why it matters: Statistics show rural Georgians have less access to health care and must travel farther for it, which can mean life or death. But it's not just health. Rural Georgia's population is shrinking while Atlanta keeps growing. And rural Georgians on average make less money.
What's happening: It's long been called the "Two Georgias" problem — and according to the latest county health data from the University of Wisconsin Population Health Institute, it's still raging.
The data takes into account factors that "influence how long and how well we live," including education, health care access and income.
By the numbers: Name your statistic, and the disparities persist.
Forsyth County, ranked first in the report, saw its population grow 43% over the last decade. The population of Hancock County, ranked last, shrunk 7%.
Forsyth County is 65% white. Hancock County is nearly 70% Black.
Hancock County's median household income sits at $34,000. Forsyth County's is $119,000. Hancock County has 62 employers to Forsyth County's nearly 7,000.
Hancock County has more than double the rate of those with a disability. 13% of Hancock County residents are without health care coverage to Forsyth County's 9%.
The big picture: Health cannot be separated from economics, said Kristy Klein Davis, president of the Healthcare Georgia Foundation. "I think it's the moral of the story, if you will."
"If people don't have the opportunity to have economic security, it's a lot harder to have the opportunity to have health."
Zoom in: Davis highlights the story of one Hancock County woman who had lupus and had to travel 250 miles round trip every three months to see a specialist.
"There's a logic to it. If you don't have time off work, a car, money, health insurance … you're not going to get treated and then eventually that's going to catch up to you."
Be smart: Ten rural Georgia hospitals have closed since 2005, seven of them south of the gnat line.
Charlie Hayslett, an Atlanta Journal reporter turned public relations executive, started a blog crunching numbers on Georgia's rural/urban divide about a decade ago. (Or as he calls it, "Atlanna and Notlanna.")
The rural/urban divide in premature death rates, he said, is alarming.
In 1994 there was a 16% gap between metro Atlanta and the rest of the state. Now it's more than 41%.
'Crisis level'
Health is indeed tied up in underlying drivers like economic conditions, but also cannot be separated from structural discrimination, said Leah Chan, senior health analyst with the Georgia Budget and Policy Institute.
"Black Georgians in rural counties have a higher rate of dying too soon than white rural Georgians," Chan told Axios. "And that is not because of race; that is because of racism."
One in every 100 residents in majority-Black Hancock County, she pointed out, died due to complications from COVID-19. But in nearby Laurens County, which is two-thirds white, the COVID death rate was 1 in 185.
"If you have rural, higher communities of color, and lower income, those three things together are where you really start to see your worst outcomes," Davis said.
It comes down to "disinvestment ... everyone else has turned their back on them."
Threat level: "These issues are so big. They're crisis level in rural communities," said Sherrell Byrd, director of SOWEGA Rising, a nonprofit focused on marginalized communities in southwest Georgia.
Problems become "major" quickly she said, "because we have such a lack of resources and lack of funding."
Zoom in: As a result, SOWEGA Rising's efforts in southwest Georgia span far beyond health, Byrd said. The region has some of the highest concentrations of racial tension, persistent poverty, high rates of unemployment and is in the top 1% for food insecurity and food access, she said.
In 2021 suicide was a leading cause of premature death in rural Georgia, but not in cities, Chan said.
Utilities were an early focus of SOWEGA's, Byrd said. Low-quality, older housing generates higher utility rates and contributes to a domino effect of economic and health pressures.
Forty percent of people in Dougherty County who live in public housing have had children taken away from them because of nonpayment of utilities, she said.
Then there are the "little things" that have contributed to the region's high rates of maternal mortality — even worse for Black women — stories that SOWEGA is trying to document, like women whose birthing plans were ignored or who almost died on the table because of malpractice.
Some southwest Georgia counties have just one EMT vehicle and the nearest hospital is an hour away. That, too, can be life or death, she said.
"For every 15 minutes a woman is in labor without medical attention, she puts her baby further at risk."
Food access is another issue that contributes to some of the region's high rates of HIV, sickle cell, heart disease and cancer. SOWEGA has partnered with A Better Way, a bus converted into a grocery store on wheels that travels the region.
They're advocating in counties to limit alcohol density as dollar stores try to get liquor licenses and explain how alcohol density affects health and crime. Byrd cites data from the CDC that show alcohol outlet clustering contributes to excessive alcohol use and violent crime.
And they successfully lobbied Mitchell County to stop arresting people for marijuana offenses under 1 ounce, she said.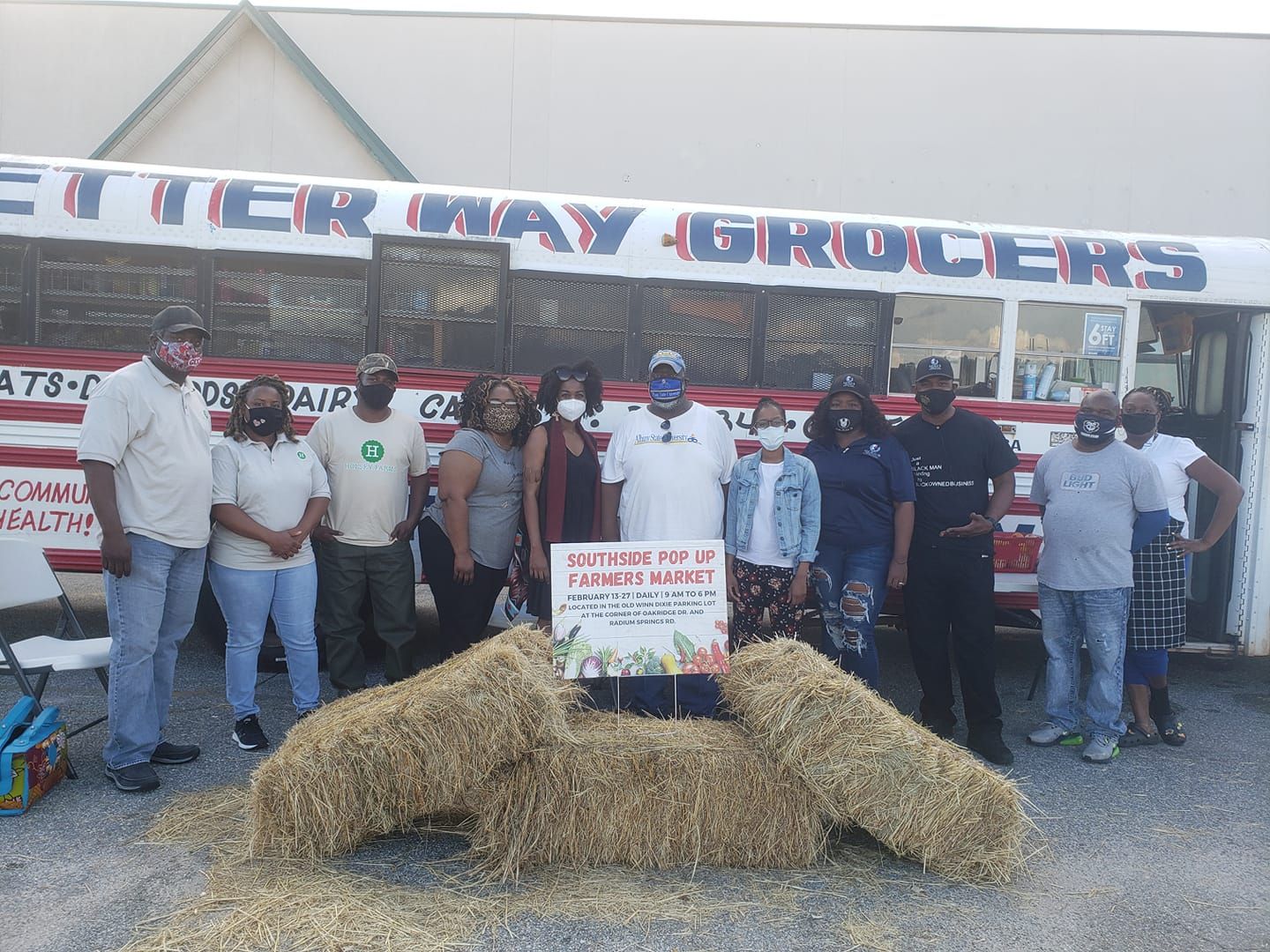 What we're watching
The state has tried to address the health disparities, including through the J-1 visa program to recruit foreign doctors.
Half of doctors placed in the last decade went to rural Georgia and a recent survey showed 93% of participants plan to stay where posted, the state's Office of Rural Health told Axios.
There are a range of grants and programs to steer funding to rural hospitals and to educate farmworkers on (prevalent) diabetes and hypertension.
Plus, there are a series of state programs reallocating more than $1 billion to address health inequity and rural communities — including a new Medicaid funding formula designed to give small rural hospitals millions more.
Between the lines: Chan with GBPI said she thinks Georgia has a unique asset to tackle all these major problems: its 159 county health offices. (Georgia has the second-highest number of counties in the country.)
Those offices could be an untapped advantage given persistent underfunding of public health, she said.
With more funding, the offices could "really be that natural convener in each county ... working on those community-led solutions."
The bottom line: Hayslett said metro Atlantans need to care about these disparities. Out of sympathy of course, but also because of money.
"The more economically challenged rural Georgia becomes, the less capable it is of supporting its own needs with the tax dollars it generates."
"And the more that burden falls on metro Atlanta."
More Atlanta stories
No stories could be found
Get a free daily digest of the most important news in your backyard with Axios Atlanta.