Inside two partisan local redistricting battles in metro Atlanta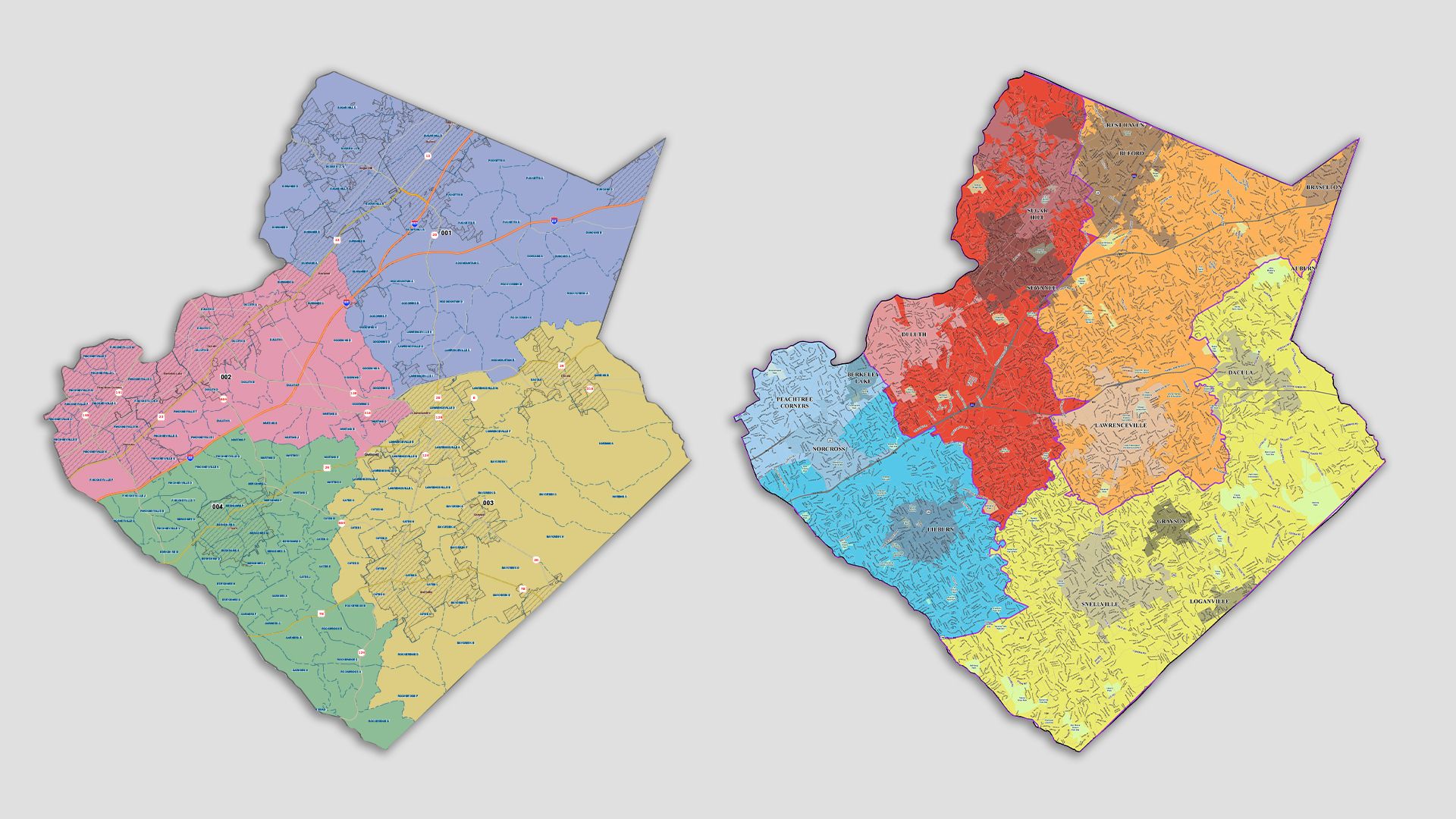 Republicans in the Georgia General Assembly are bypassing the traditional local redistricting process to overrule Gwinnett's Democratic county commissioners and state lawmakers over the county's commission map.
And Democratic lawmakers worry this sets a precedent other counties could follow in the Republican-controlled General Assembly, including in another suburban Atlanta county that recently flipped Democratic: Cobb.
Why it matters: Local redistricting determines district lines for bodies including county commissions and county boards of education for the next 10 years. It follows the larger Congressional and General Assembly redistricting, which happened last fall.
What's going on in Gwinnett:
Catch up quick: In 2018, Gwinnett County flipped from a longtime Republican stronghold to a Democratic majority. In 2020, Democrats took control of the county commission and school board. But five Republican state lawmakers (of 18 total) still represent mostly the northern parts of the county.
Normally, local governments draft and approve district lines with their local lawmakers. Usually, those maps are treated as local legislation and expedited through the Capitol.
Gwinnett's 13-member Democratic General Assembly majority followed that process to propose lines approved by the County Commission that are similar to the existing map.
What's happening: Republicans, led by Rep. Bonnie Rich, opposed the Democrats' map of Gwinnett County and replaced it with their own that draws a new northern district more likely to elect a Republican.
It would also likely threaten two incumbent county commissioners' seats.
What they're saying: Rich argued the Democratic map disenfranchises the northern part of the county because it splits the region among three districts.
"My constituents, the ones who vote for me, come to me and they tell me they have no vote and no seat at the county level," she told a House committee Tuesday.
Gwinnett County voted 60% for Democrats in the January Senate runoffs, and there are no Republican county commissioners.
Democratic Gwinnett delegation chair Rep. Sam Park argued that Rich's map demonstrates "racially motivated intent" and is being "forcibly imposed" on Gwinnett's elected officials by bypassing procedural rules.
Rich bristled at the characterization and said the northern district she drew is 48% white. Gwinnett County is 35% white.
What's next: The bill with Rich's map needs to pass the state House, then the Senate.
If it becomes law, Park said the map would force Gwinnett "down the path of unnecessary litigation," suggesting it would violate the Voting Rights Act.
Rich said her map "complies" with the landmark federal legislation.
Of note: This is not the first time the Gwinnett delegation have sparred along party lines. Not even the only one this session.
Meanwhile in Cobb County...
Democratic state Rep. Erick Allen, Cobb's legislation delegation chair, recently unveiled proposed map changes for the school board, as well as the county commission, that would make minimal changes to existing boundaries.
Last week, however, Republican state Rep. Ginny Ehrhart introduced House Bill 1028, which would implement controversial district boundary changes approved in December by the Republican majority on the school board.
Ehrhart tells Axios the map approved by the school board's Republicans was "drawn with all considerations to fairness, communities of interest and school feeder patterns."
Yes, but: That map, which was approved with a party-line vote, drew Democratic members Jaha Howard and Charisse Davis into Post 6 and left Post 2 vacant. Howard is running for state schools superintendent and Davis has not indicated whether she'll run for reelection.
Context: Cobb's shift from Republican stronghold to an increasingly solid Democratic county became apparent in 2016 when the majority of voters backed Hillary Clinton for president.
In 2018, Cobb went for Stacey Abrams in the governor's race and in 2020 Democrats won elections for county commission chair, sheriff and district attorney.
Democrats are now the majority on the county commission.
What we're watching: Allen tells Axios he plans to introduce his legislation that redraws district lines for the Cobb school board and county commission later this week.
Since map redrawing is normally treated as local legislation, Allen says Republicans in Gwinnett and Cobb who are bypassing the process are subverting the "will of the voters."
Editor's note: This article has been corrected to state that Gwinnett County is 35% white. This figure does not include those who identified as Hispanic or Latino.
This article has been corrected to show that the Republican Gwinnett County commission map bill was not added back into the local calendar and did not pass the House on Tuesday.
More Atlanta stories
No stories could be found
Get a free daily digest of the most important news in your backyard with Axios Atlanta.