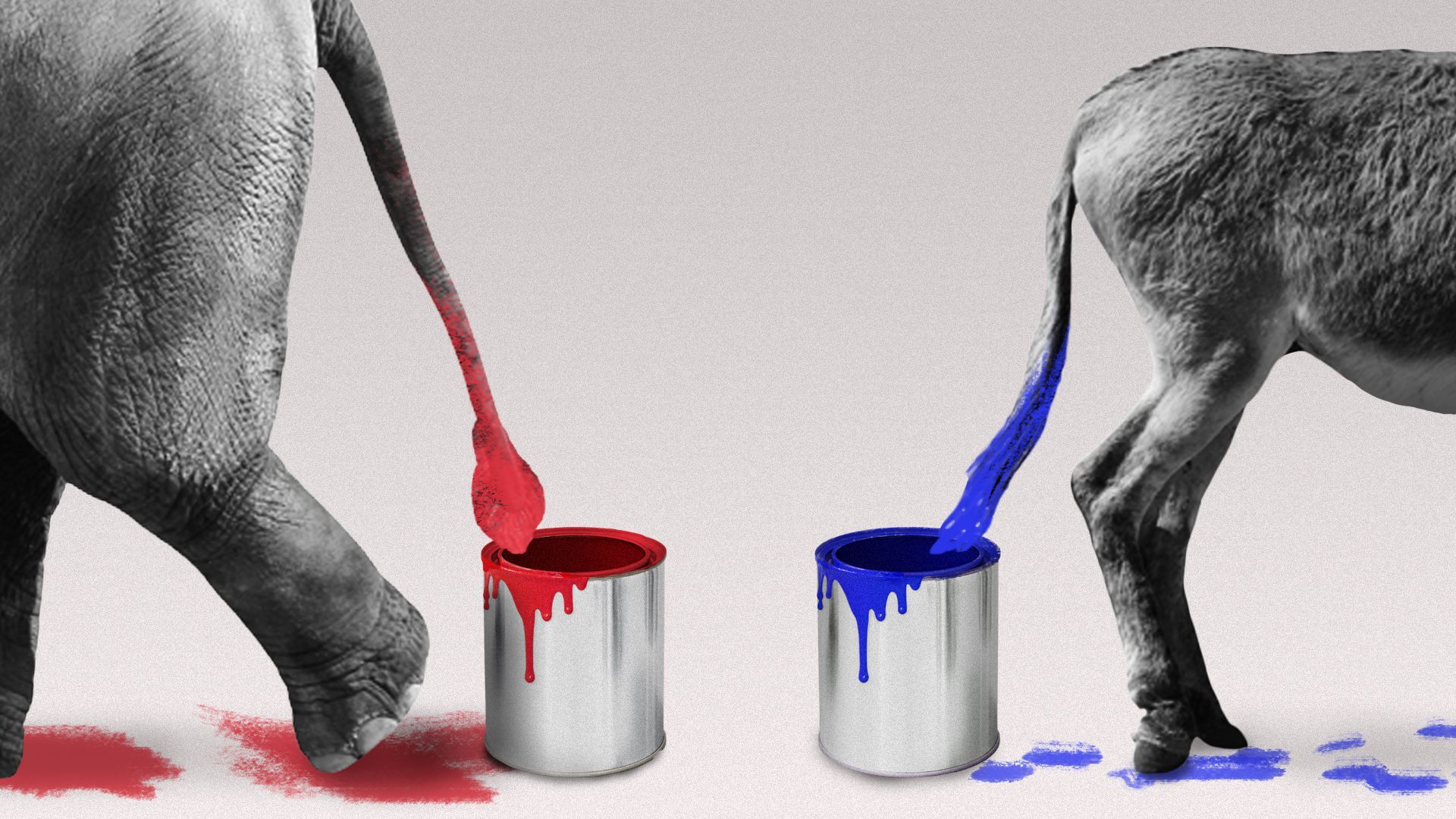 The weekend's coming up. You need some cocktail party talking points. Might we suggest... redistricting?
What's happening: Georgia's population has grown by about 1 million over the last decade. So Georgia's House and Senate are in Atlanta for their once-in-a-decade job of redrawing the state's congressional and General Assembly district lines.
Why it matters: The process is controlled by the party in power. This year that means Republicans at the Georgia Capitol are inclined to try to draw the lines in a way that will help them stay in charge.
The maps: Republicans and Democrats in both chambers have released most of their proposed maps. You can find them all here under "Proposed Plans," but since Republicans are in charge, theirs are the ones to watch.
GPB put together a breakdown of what's been released so far:
The state House Republicans' map sacrifices six GOP seats to maintain a majority. The state Senate Republicans' map maintains their status quo.
The Republican Senate's congressional proposal redraws Democratic Rep. Lucy McBath's 6th congressional district into a more conservative one. The Republican House has not released its congressional district proposal.
What they're saying: University of Georgia political scientist and redistricting expert Charles Bullock said that given the state's population change, Republicans will have to give up some districts to Democrats. But they will do it strategically in order to maintain their total majority for the next decade.
Republican House Speaker David Ralston put it this way to the AJC: "It's no secret that Republicans are stronger in rural Georgia than perhaps they are in the metro areas, and that's where much of the population loss has occurred, so we have to account for that. That means that some of our Republican colleagues may end up being left behind, and that's the tough part of this."
Georgia Recorder has taken an early look at some of the possible conflicts between incumbent elected officials within the new lines.
What's to come: First, the state House and Senate will pass their proposed maps through the normal committee process with public testimony at the Capitol. Then the two chambers will work together on the congressional map. And the governor has to sign off on everything.
The Senate's redistricting committee chair said yesterday that he expects they could pass their Senate district maps to the Senate floor as soon as tomorrow.
What it could mean for you: Stacey Abrams' Fair Count nonprofit teamed up with the Center for Urban Research at CUNY to create an interactive map of the proposed changes.
Yes, but: "Stage 2" will play out in the courts, Bullock said, since whatever gets passed is very likely to be challenged. Throwback to 2001, when Georgia Democrats' maps were overturned in court as too political.
More Atlanta stories
No stories could be found
Get a free daily digest of the most important news in your backyard with Axios Atlanta.