Cheaper turkey boosts savings for Thanksgiving feast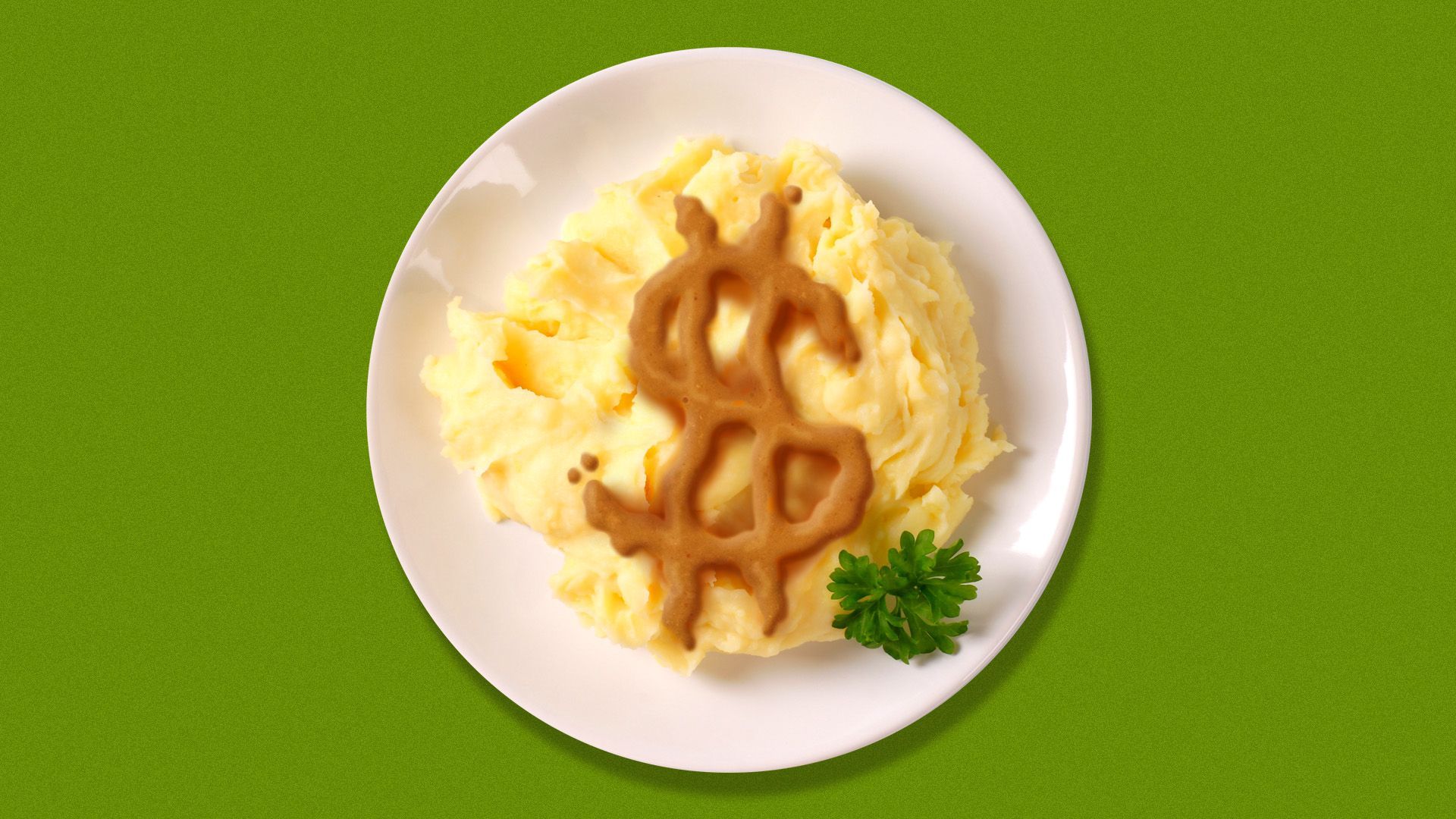 Your Thanksgiving turkey might be cheaper than last year but you still might fork over more money for some sides and the pie.
Why it matters: Consumers are feeling pressure from inflation despite many of the traditional food items costing less than last year.
The big picture: Some retailers, including Walmart and Aldi, say they are fighting inflation with holiday price reductions on turkeys and sides through the end of the year.
Aldi has more than 70 items in its "Save More, Seat More" program with discounts up to 50%, Scott Patton, the retailer's vice president of national buying, told Axios.
Walmart's program continues through Dec. 26 and the company says it is "removing inflation to offer a traditional Thanksgiving meal on customers' favorite brands at an even lower price than last year."
Target says it is offering a $25 holiday meal for four while Kroger said its Turkey Day bundle is more affordable than last year.
By the numbers: The American Farm Bureau Federation's annual Thanksgiving survey, released Wednesday found the average cost of this year's holiday meal for 10 people was $61.17, down from $64.05 in 2022.
While the meal costs 4.5% less than last year's record, it's still 25% higher than in 2019 before the pandemic.
An analysis from research firm Datasembly paints a less rosy picture and found a Thanksgiving basket of sides and desserts cost $44.34 this year compared to $41.72 in 2022, a 6.3% increase.
Flashback: Last year's Thanksgiving turkey cost more because of avian flu outbreaks that impacted meat and egg production and increased prices.
What they're saying: Patton said Aldi expanded the number of items from last year and how long the discounts will be in place so consumers can save on Christmas meals, too.
"We think it's an opportunity for families to get back to normal, to be able to bring more family, more friends together and celebrate the things we're thankful for and do it around the meal," Patton said.
Last-minute Thanksgiving shopping
Meanwhile, expect to find turkeys at some of the lowest prices of the year in the days leading up to the holiday and some retailers will offer loyalty members a free bird.
An Instacart survey of 2,075 U.S. adults found 38% of people celebrating Thanksgiving will wait until the last minute to complete their shopping.
Zoom in: Ibotta, a popular savings app, is running its fourth annual Free Thanksgiving program with free turkeys and sides after rebates through Nov. 22.
More from Axios:
Go deeper