Amazon to sell cars in 2024 starting with Hyundai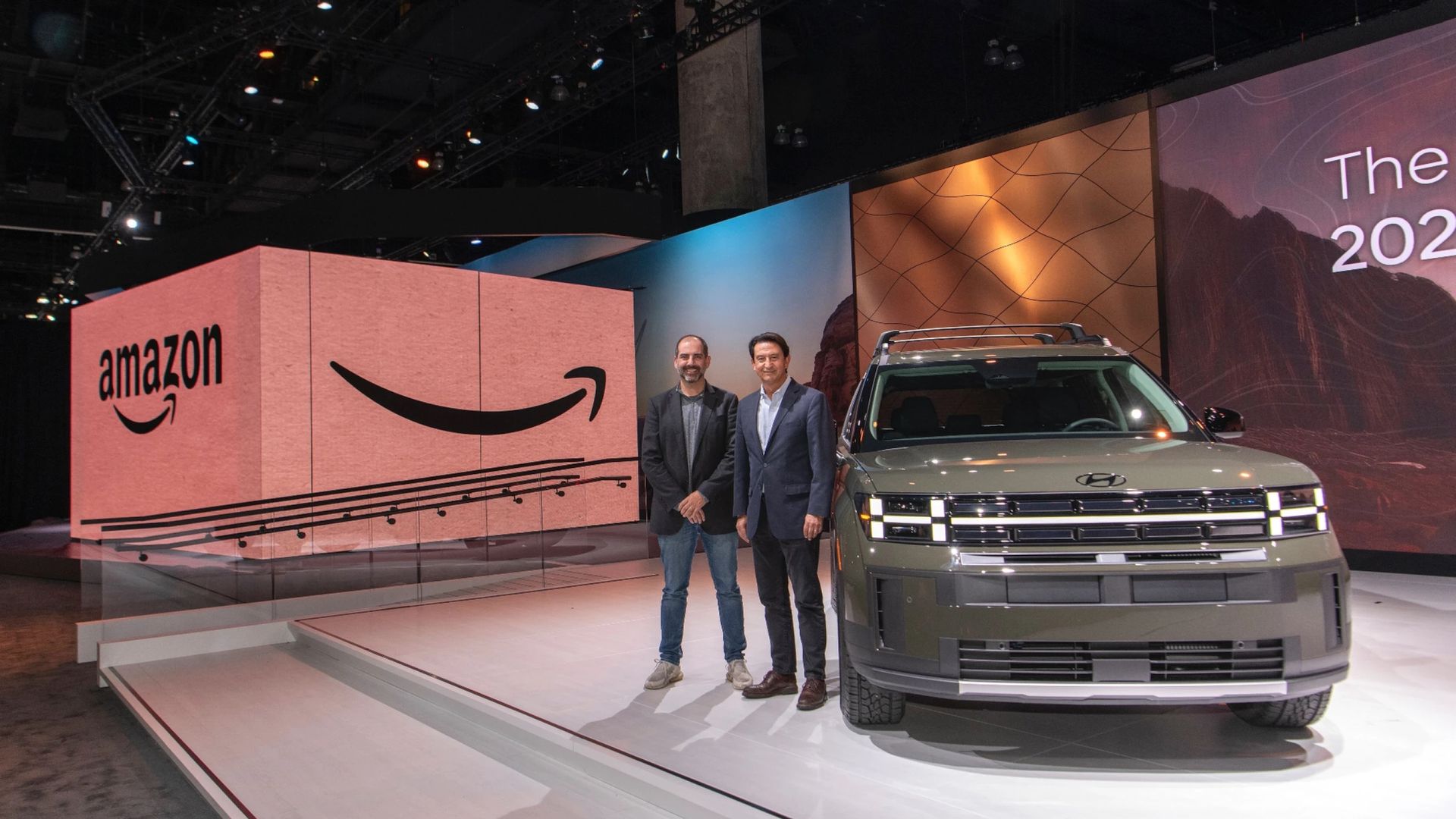 Amazon plans to begin allowing Hyundai dealers to sell new vehicles on its platform, launching the e-commerce giant into the lucrative but highly competitive car market for the first time.
Why it matters: Amazon's sheer e-commerce heft means the company must instantly be taken seriously in the automotive retail space.
Driving the news: Amazon announced its plans Thursday during the 2023 Los Angeles Auto Show, and said Hyundai would be the "first" brand to sell cars on the platform.
Customers will be able to search based on model, trim, color and other features, while also choosing payment and financing options.
As part of their deal, Hyundai will begin incorporating Amazon's Alexa voice assistant into its vehicles beginning in 2025.
Selling cars online is unlike selling any other item because most product sales aren't as complex as vehicles, which often involve trade-ins, financing, warranties and followup service.
What they're saying: Listing on Amazon "should make shopping easier" for many buyers, "but all these additional components you're still dealing with the dealership," Ivan Drury, director of insights for car-research firm Edmunds, tells Axios.
Keep in mind: Thursday's announcement comes as growth in Amazon's e-commerce business flattens, Axios' Hope King notes.
What's unclear is how dealers and Amazon will share revenue from sales. The company didn't immediately respond to a request seeking comment.
"From a Hyundai dealer perspective, it's just like any other transaction," Hyundai spokesperson Michael Stewart said in an emailed response to request for details on how the revenue breakdown works.
"We aren't providing the financial details of the arrangement, but I can say there won't be a cost to Hyundai dealers," he adds.
The impact: The stocks of several major used car sellers plunged after the announcement.
Carvana and CarMax ended the session over 5% lower, with TrueCar down 7%, even though Amazon's plans are focused on new vehicles.
Vehicle sellers "have all said, 'We want to be the Amazon of car buying.' Well, now Amazon is the Amazon of car buying," Drury says.
Worth noting: As a rule of thumb, most automakers aren't allowed to sell new vehicles directly to consumers online because of franchise agreements with dealers.
Instead, automakers sell cars on a wholesale basis to their dealers, which then sell them to customers.
One notable exception is Tesla, which doesn't have franchise dealerships and can sell new vehicles directly to consumers.
The bottom line: Amazon is capable of disrupting any industry it puts in its crosshairs, but it can't disrupt the market for new cars without dealerships participating.
Go deeper