Thanksgiving dinner prices falling from record high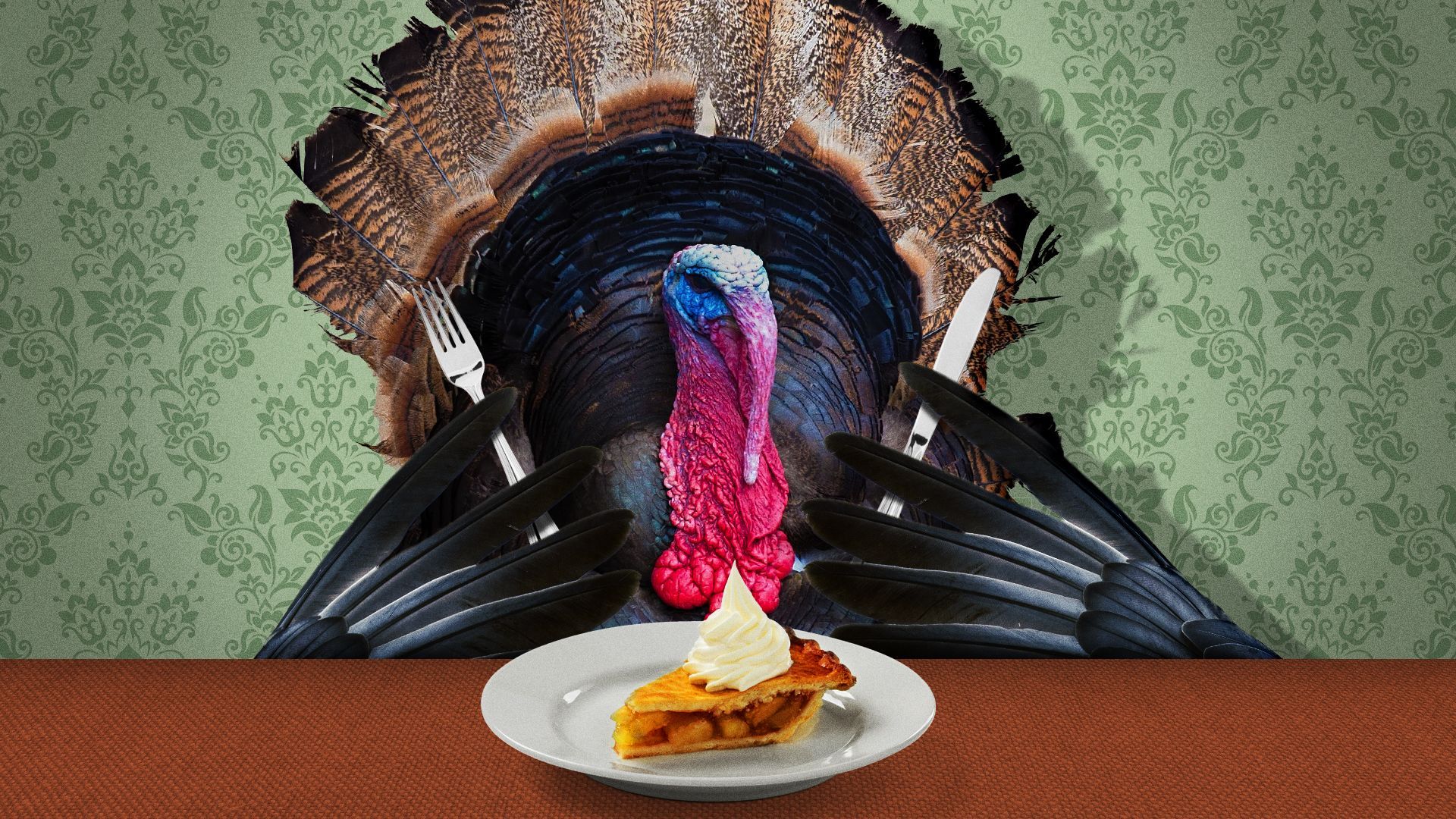 The cost of the average Thanksgiving dinner is falling after years of rising prices and a record high in 2022.
Why it matters: The American Farm Bureau Federation's annual Thanksgiving survey, out Wednesday, shows that lower turkey prices are making the holiday meal more affordable.
Driving the news: The average meal with the turkey and trimmings will cost 4.5% less than last year's record.
The survey found the average cost of this year's holiday meal for 10 people was $61.17, down from $64.05 in 2022 but still 25% higher than in 2019 before the pandemic.
The survey is another sign that inflation is cooling. It comes a day after the Labor Department released the Consumer Price Index for October which showed slower increases.
Thanksgiving prices drop for turkey, holiday staples
The majority of ingredients in the classic Thanksgiving feast are less expensive than last year, according to the 38th annual survey.
The shopping list from the Farm Bureau's informal survey includes turkey, stuffing, sweet potatoes, rolls with butter, peas, cranberries, a veggie tray and ingredients for a pumpkin pie with whipped cream.
A 16-pound turkey costs about $27.35 or $1.71 per pound, down 5.6% from the 2022 price of $28.96, which was 21% more than in 2021.
Holiday staples with the biggest price drops were:
Half pint of whipping cream: $1.73 (down 22.8%)
12-ounce bag of fresh cranberries: $2.10 (down 18.3%)
Two frozen pie crusts: $3.50 (down 4.9%)
14 ounces of cubed stuffing mix: $3.77 (down 2.8%)
A gallon of whole milk: $3.74 (down 2.6%)
A pound of frozen peas: $1.88 (down 1.1%)
Yes, but: Prices did increase slightly for a 30-ounce can of pumpkin pie mix (up 3.7%), dinner rolls (2.9%), veggie tray (up 2.3%) and three pounds of sweet potatoes (up 0.3%).
What they're saying: "While shoppers will see a slight improvement in the cost of a Thanksgiving dinner, high inflation continues to hammer families across the country, including the nation's farmers," Zippy Duvall, federation president, said in a statement.
More from Axios:
Go deeper