George Santos' colleagues sharpen knives for House Ethics report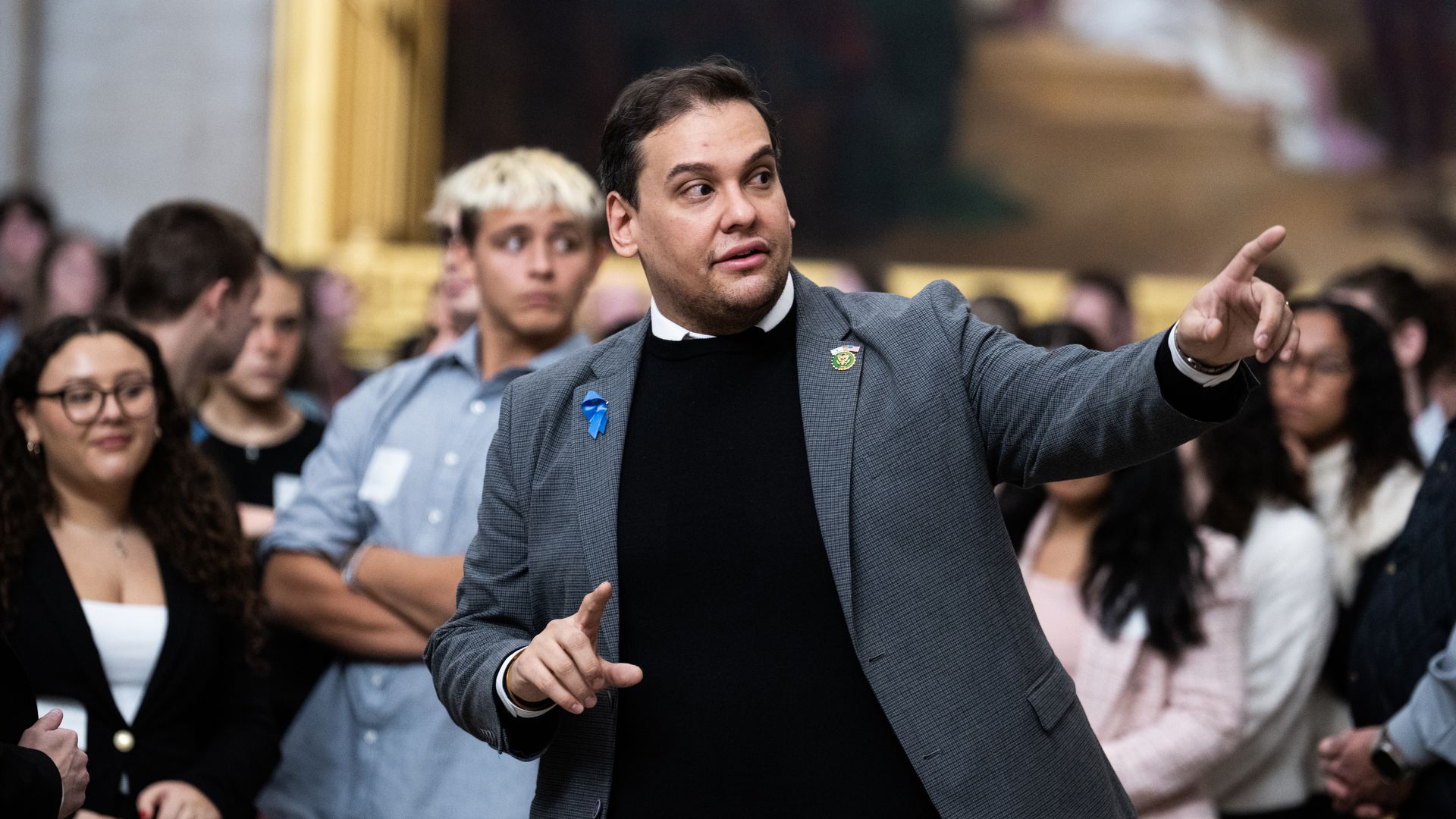 Lawmakers in both parties may introduce measures to expel Rep. George Santos (R-N.Y.) from Congress if an Ethics Committee report that's expected this week finds evidence of wrongdoing, Axios has learned.
Why it matters: Santos' detractors hope the report will solidify the support necessary to make him the first House member expelled in over two decades.
A resolution to expel Santos would require a two-thirds majority to pass, meaning roughly 75 Republicans would have to vote for it, assuming uniform Democratic support.
Driving the news: Rep. Anthony D'Esposito (R-N.Y.) told Axios he plans to see what "the reaction is from the conference and from the whole House," but added "the whole point of having Ethics investigate this was to get to a point where other members felt comfortable in their decision."
D'Esposito forced a vote on a resolution to expel Santos last month, but most Republicans and 31 Democrats voted against it.
"I know where I stand, I know where my colleagues that co-sponsored the resolution stand ... I think it's the others that need to answer" whether they will vote to expel Santos, D'Esposito said.
Zoom in: Republicans aren't the only ones who may try to oust Santos after the release of the report.
Rep. Dan Goldman (D-N.Y.) said he's "definitely looking at" forcing a vote on a resolution to expel Santos, telling Axios he filed one in August but has been "waiting for the right time to bring it to the floor."
"Some of it depends on what's in the Ethics report, but based on my assessment of the publicly available evidence ... I would expect the report to be very damaging and then we will move very quickly to expel him," Goldman said.
The backdrop: Santos has been mired in scandals and legal troubles stemming from his many fabrications on the 2022 campaign trail.
He faces nearly two dozen felony charges from a pair of federal indictments, including wire fraud, money laundering, theft of public funds, lying to Congress, falsification of records and credit card fraud, to which he has pleaded not guilty.
Just on Tuesday, a former Santos campaign fundraiser pleaded guilty to wire fraud for impersonating a Republican leadership staffer while seeking donations and "charging donors' credit cards without their consent."
What we're watching: The Ethics Committee said last month it plans to announce the "next course of action" in its investigation of Santos by Nov. 17.
Former House Speaker Kevin McCarthy (R-Calif.) said in January that Santos would be removed if the panel concludes he broke the law.
It's not clear whether newly elected Speaker Mike Johnson (R-La.), already facing difficulties with his razor thin majority, will stick by McCarthy's pledge.
Go deeper