What meditation can teach us about the economy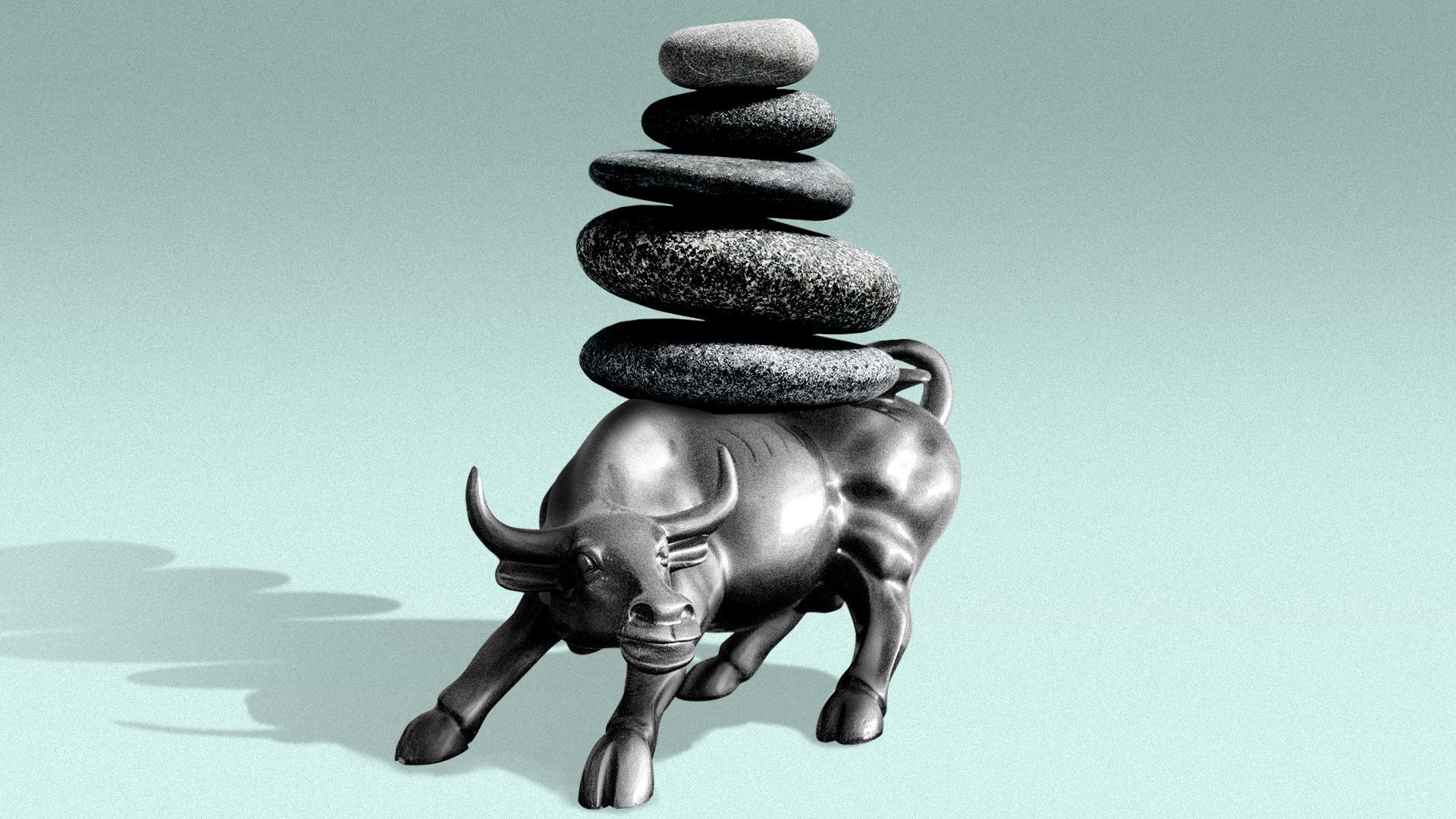 Meditation practice is changing my perspective on the economy and markets.
Why it matters: The perpetual search for the next recession or crash — and the longing for a return to pre-COVID prices, office life, or trade — risk blinding us to the economic realities of the present.
State of play: A great work-from-home perk is that after I get my daughter on the bus, I have about 45 minutes that I don't need to spend rushing to catch a train.
For the last year, I've used that time to meditate, with a focus on mindfulness.
Basically, this means I sit for about half an hour, focusing on sensations — such as the feel of my breath going in and out — to situate myself in what is happening at the moment.
Thoughts come and go. But I try not to judge them, listen to them, or get too fixated on them.
Be smart: It might sound a bit granola, but mindfulness delivers real mental health benefits. It reduces anxiety, improves happiness, and regulates anger.
It's also been helpful for my job, which involves staying up on the wild swings in opinion, never-ending hot takes, and endless hand-wringing over what's next for the economy.
Context: Over the last year and a half, the Federal Reserve's historic shift to fight inflation with sharp interest rate hikes ignited a frenzy among economists — and people like me — about where the economy was going.
The overwhelming consensus? Recession was pretty much inevitable.
And for good reason. In the past, similar interest rate increases were associated with gnarly downturns.
But, but, but: The predictions have been wrong — so far.
The intrigue: Hardly anyone seems to appreciate this. And that's where I see a connection to meditation.
The objective reality is that the U.S. economy is as strong as I've ever seen.
But the fixation on forecasts for recession, which dominated the economic discussion over the last year, has left readings on economic sentiment for consumers and executives alike at levels we usually only see during recessions.
In a nutshell: Psychologically, America is experiencing a recession that doesn't actually exist.
Between the lines: That's not to say the economy is perfect! Housing, cars, and other essentials are much more expensive than they used to be. Restaurants and retail shops are weird and understaffed. Global trade patterns are changing in unpredictable and potentially dangerous ways.
But fixating on such facts alone means you also might miss some really interesting and hopeful things.
For instance: We just had some of the best productivity numbers in decades, something economists say is a key to improving standards of living.
Unions, like those for rail and auto workers, are notching big wins — also a distinct change from recent history — potentially signaling workers might start getting a bigger share of the economic pie.
A massive investment boom is going on right now in domestic manufacturing, something that could create good jobs for generations.
The bottom line: Will it last? From a mindfulness perspective, the answer is of course, no. It will not last. Nothing ever lasts.
The best we can do is notice what's happening right now.
Go deeper