GOP presidential candidates face abortion questions after election losses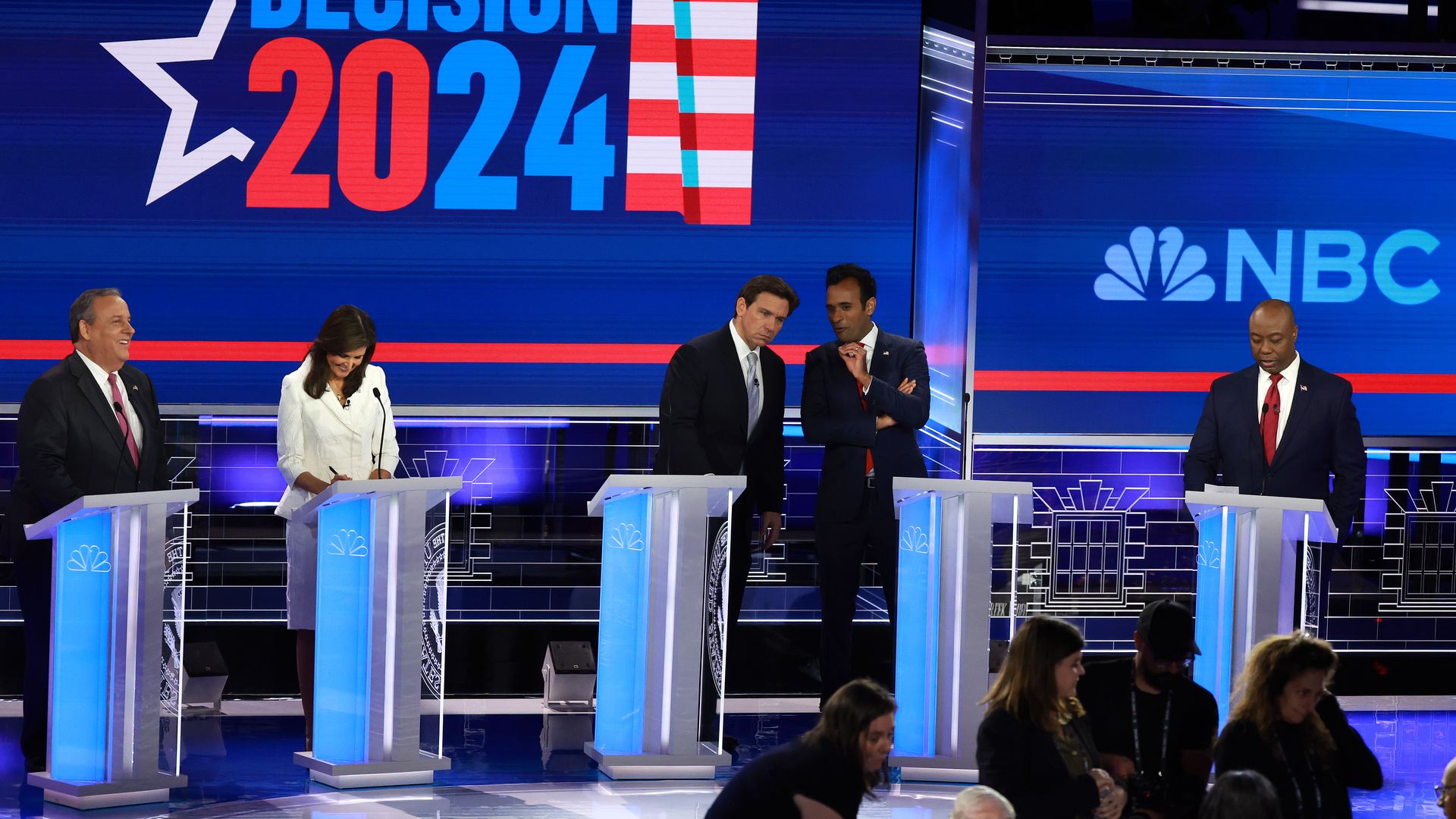 The day after brutal losses in the 2023 off-year elections, Republican presidential candidates kept to a strategy of avoiding any specific abortion policies or proposals during Wednesday's third primary debate.
Zoom in: Candidates provided congressional reality checks, left the choices up to state governments, praised a "culture of life" and even called for more "sexual responsibility for men."
Democrats picked up control of the Virginia legislature, won the Kentucky governor's race and enshrined abortion rights in Ohio's constitution in Tuesday's elections.
One day later, the Republicans on stage showed no consensus on how to address the issue.
What they're saying: When asked about the role of the abortion issue in recent GOP losses, former UN Ambassador Nikki Haley took a similar approach as she did in the first debate — laying out the tough political realities for passing any kind of federal ban of abortion.
"We haven't had 60 Senate votes in over 100 years — we might have 45 pro-life senators. So no Republican president can ban abortions," she said.
Florida Gov. Ron Desantis, who signed a 6-week abortion ban into law in his state this year, touted a "culture of life" and admitted that Republicans need to do a "better job on these referenda" and that the pro-life cause has been "caught flat-footed."
"Here's the missing ingredient of this movement: sexual responsibility for men," entrepreneur Vivek Ramaswamy said when asked about abortion, going on to say, "It's not men's rights versus women's rights. It's about human rights."
Chris Christie said abortion regulations should be left to the states, saying, "the founders were really smart, and this is an issue that should be decided in each state."
Sen. Tim Scott (R-S.C.) was the only candidate to proactively commit to a specific number of weeks at which to ban abortion, saying he would have a 15-week national ban.
The bottom line: Americans have now voted in favor of abortion rights via state ballot initiatives seven times since the Supreme Court overturned Roe v. Wade — and the pro-life movement is still trying to find its political footing.
Go deeper