GOP's anti-abortion crisis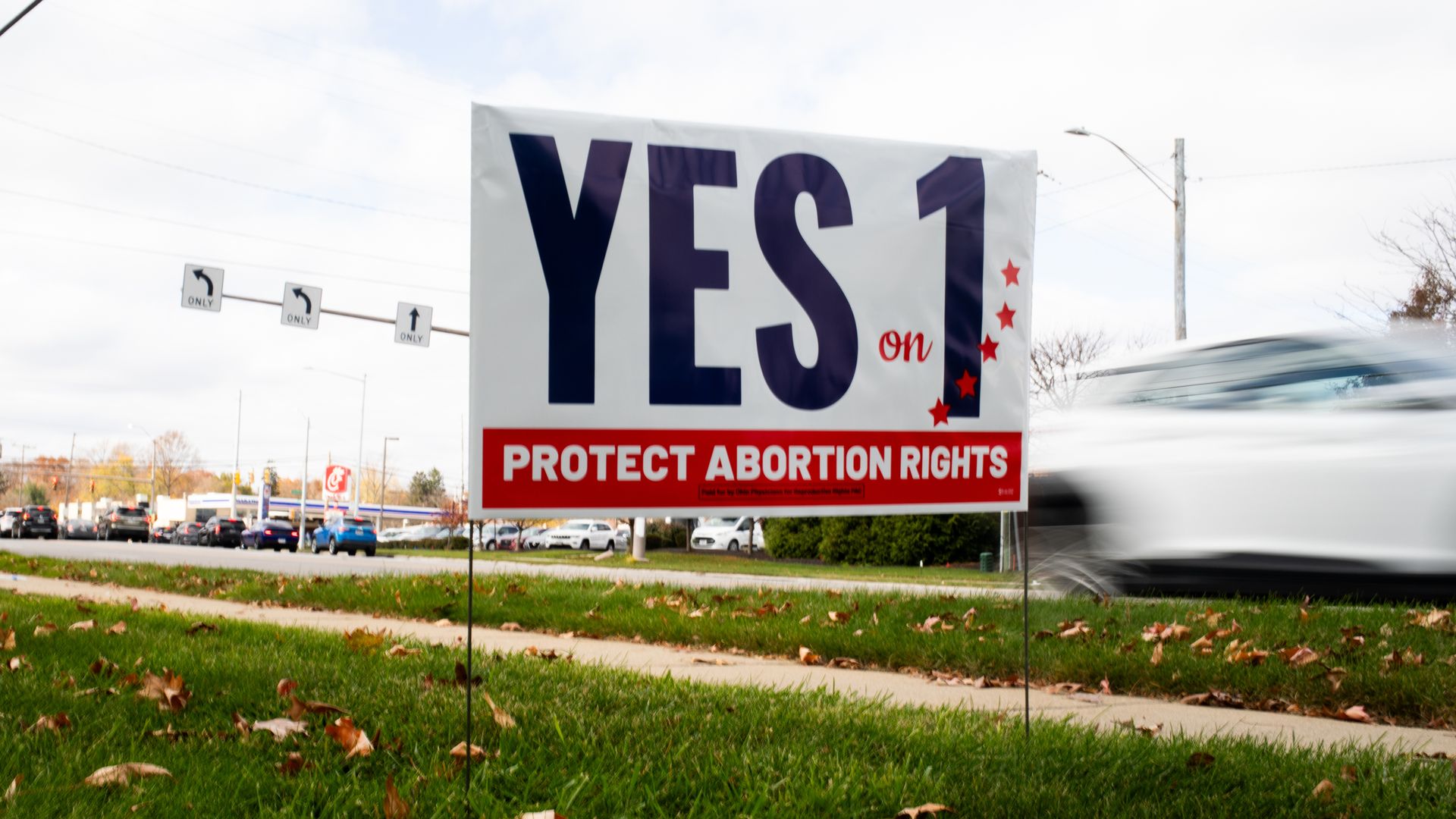 The anti-abortion movement's greatest achievement — the Supreme Court's overturning of Roe v. Wade — has morphed into one of the biggest election liabilities Republicans have encountered in decades.
Why it matters: President Biden's polling weakness ultimately may not matter if Republicans can't find a way to effectively message or — at the very least — sideline abortion as a national issue and driver of turnout.
Virginia Gov. Glenn Youngkin's (R) bet that a "reasonable" ban on abortions after 15 weeks of pregnancy — a strategy backed by major anti-abortion rights groups — was soundly rejected, as Democrats flipped the state House and kept control of the state Senate.
In solid-red Ohio, 56.6% of voters supported enshrining abortion rights in the state constitution — meaning abortion access has gone a stunning 7 for 7 in state ballot initiatives since the end of Roe.
What they're saying: Sen. J.D. Vance (R-Ohio) called the results a "gut punch," outlining five reasons — ranging from campaign finance failures to voter mistrust — that the anti-abortion side was defeated.
"[W]e've spent so much time winning a legal argument on abortion that we've fallen behind on the moral argument," Vance said.
SBA Pro-Life America, one of the nation's top anti-abortion rights groups, warned in a memo today that Democrats are massively outspending Republicans and that abortion "will be an issue in every race in 2024."
That position is being universally echoed by Democrats too:
"Abortion is the No. 1 issue in the 2024 campaign," Illinois Gov. J.B. Pritzker, a top Biden surrogate, told the New York Times. "If you're not talking about protecting women's reproductive rights as a Democrat, you're not doing it right."
House Democrats' primary super PAC declared that abortion is "still top of mind for Americans EVERYWHERE," and predicted that their messaging contrast with Republicans will allow them to take back the House next year.
Between the lines: Anti-abortion politics are deeply ingrained in the Republican Party's power centers, making it exceedingly difficult to change voters' perceptions in time for the 2024 election.
What to watch: Ohio's abortion-rights victory has incentivized advocates to ramp up efforts to get abortion on the ballot in key 2024 states such as Arizona, Nevada and Florida.
The other side: "Advocates of same-sex marriage suffered a string of 32 losses at the ballot box before succeeding for the first time, in the bluest of states, in 2012," the editors of the National Review wrote today in defense of the anti-abortion losing streak.
"We disagreed with their objective, and both sides are more entrenched on the abortion issue, but their success serves as a reminder that a string of defeats at the ballot box is no reason to believe a cause is lost."
Go deeper