Congress' hyper-partisan censure war rages on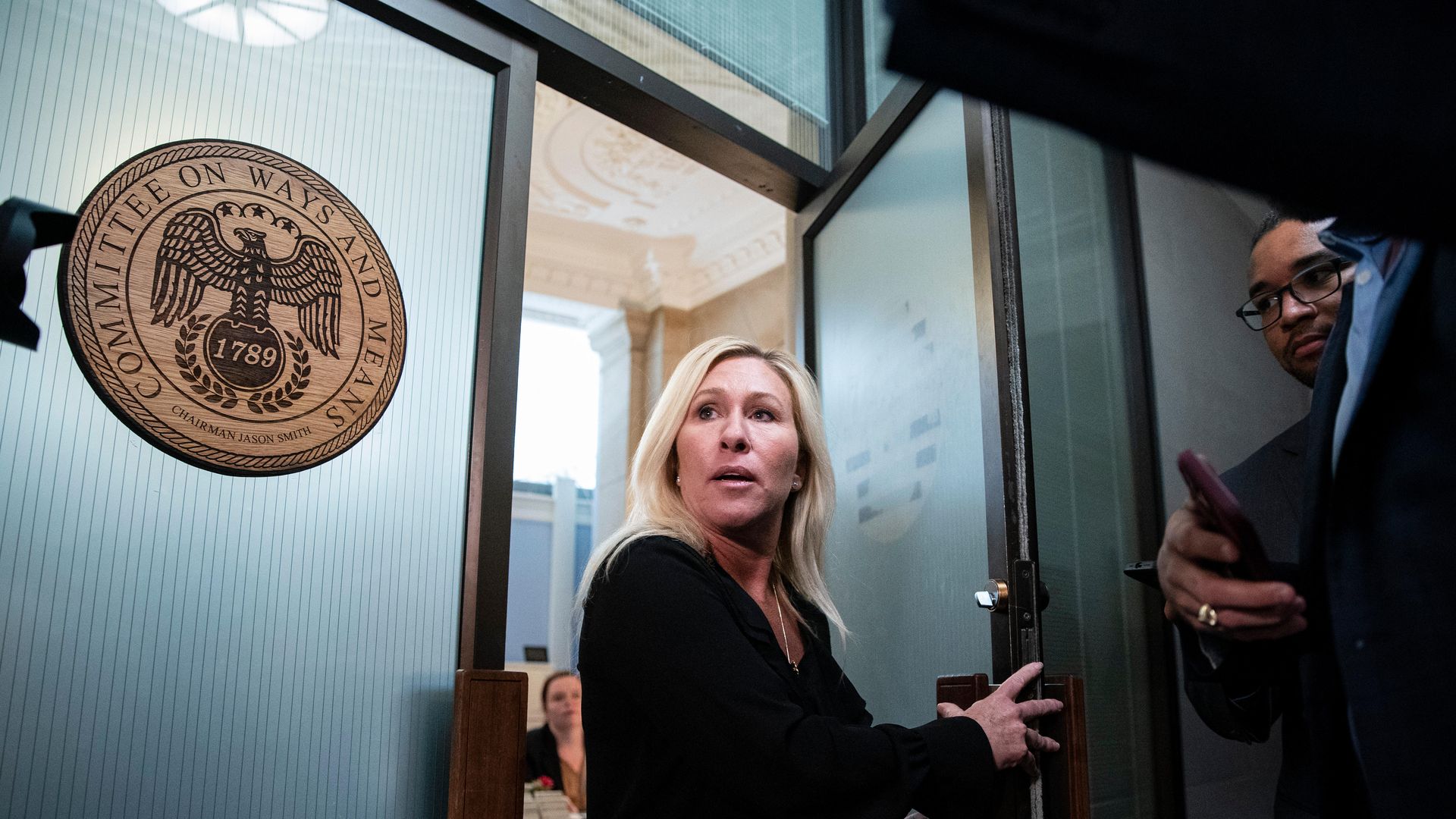 The House is staring down votes on yet another set of dueling censure resolutions this week over provocative comments lawmakers in both parties have made about the Israel-Hamas war.
Why it matters: Many lawmakers are frustrated that floor time is being used to punish each other for controversial remarks at a time of extraordinarily high partisan tension — and as a government shutdown looms next week.
"I don't think they're helpful to anybody on either side, quite frankly," said Rep. Debbie Dingell (D-Mich.).
"So sick of these censures," another House member told Axios. "Also sick of the behavior that leads to them."
Driving the news: Reps. Marjorie Taylor Greene (R-Ga.) and Rich McCormick (R-Ga.) filed resolutions to censure Rep. Rashida Tlaib (D-Mich.) for her anti-Israel rhetoric, including her recent defense of protesters who chanted, "From the river to the sea."
Palestinians and pro-Palestinian activists say the chant, which refers to the land between the Jordan River and the Mediterranean Sea, is a call for Palestinian equality — but many Israel supporters say it advocates the violent destruction of Israel.
The other side: Rep. Sara Jacobs (D-Calif.) filed a retaliatory resolution to censure Rep. Brian Mast (R-Fla.) for his "refusal to distinguish innocent Palestinians from Hamas terrorists."
Among the examples: Mast said said there are "very few innocent Palestinian civilians" in a House floor speech last week.
Mast spokesperson AnnMarie Graham-Barnes told Axios: "Rep. Mast is right, and Rep. Jacobs is in denial; he looks forward to having this debate."
All three resolutions have to be voted on by Thursday.
The backdrop: Greene tried and failed to censure Tlaib last week with a resolution accusing her of "leading an insurrection at the United States Capitol Complex" for speaking to protestors on Capitol Hill who were advocating for a ceasefire in the Israel-Hamas war.
Greene's latest version of the measure accuses Tlaib of inciting an "illegal occupation" at the Capitol — likely a reference to the more than 300 arrests of protesters who gathered inside the Cannon House office building.
McCormick, one of the 23 Republicans who voted with Democrats to kill Greene's bill last week, said in a floor speech his more toned-down resolution censures Tlaib "judiciously" and "holds her accountable while ensuring the First Amendment is protected."
Greene shot back at McCormick by telling reporters, "I think he got his ego bruised by all the callers and his own constituents" angry at his vote against her measure.
What we're hearing: McCormick's more narrow measure may garner the GOP votes to pass, but he appears likely to struggle to get any more bipartisan support than Greene got.
"We have to allow people to have a debate here," said Rep. Brad Schneider (D-Ill.), a staunchly pro-Israel Jewish lawmaker who said he strongly disagrees with Tlaib's defense of the "from the river to the sea" chant.
House Minority Whip Katherine Clark (D-Mass.) told reporters she will whip against both Greene's and McCormick's measures.
The intrigue: Rep. Becca Balint (D-Vt.) is taking a step back from the self-perpetuating censure cycle.
Balint, who introduced a resolution to censure Greene last week but pulled it after Greene's resolution to censure Tlaib failed, will not reintroduce her resolution this week, her office told Axios.
Balint said in a statement it's "time for the Republican conference to take responsibility for the hate their members spread and end this ridiculous show."
Editor's note: This story was updated with a comment from Rep. Mast's spokesperson.
Go deeper