Republicans mount new push to censure Rashida Tlaib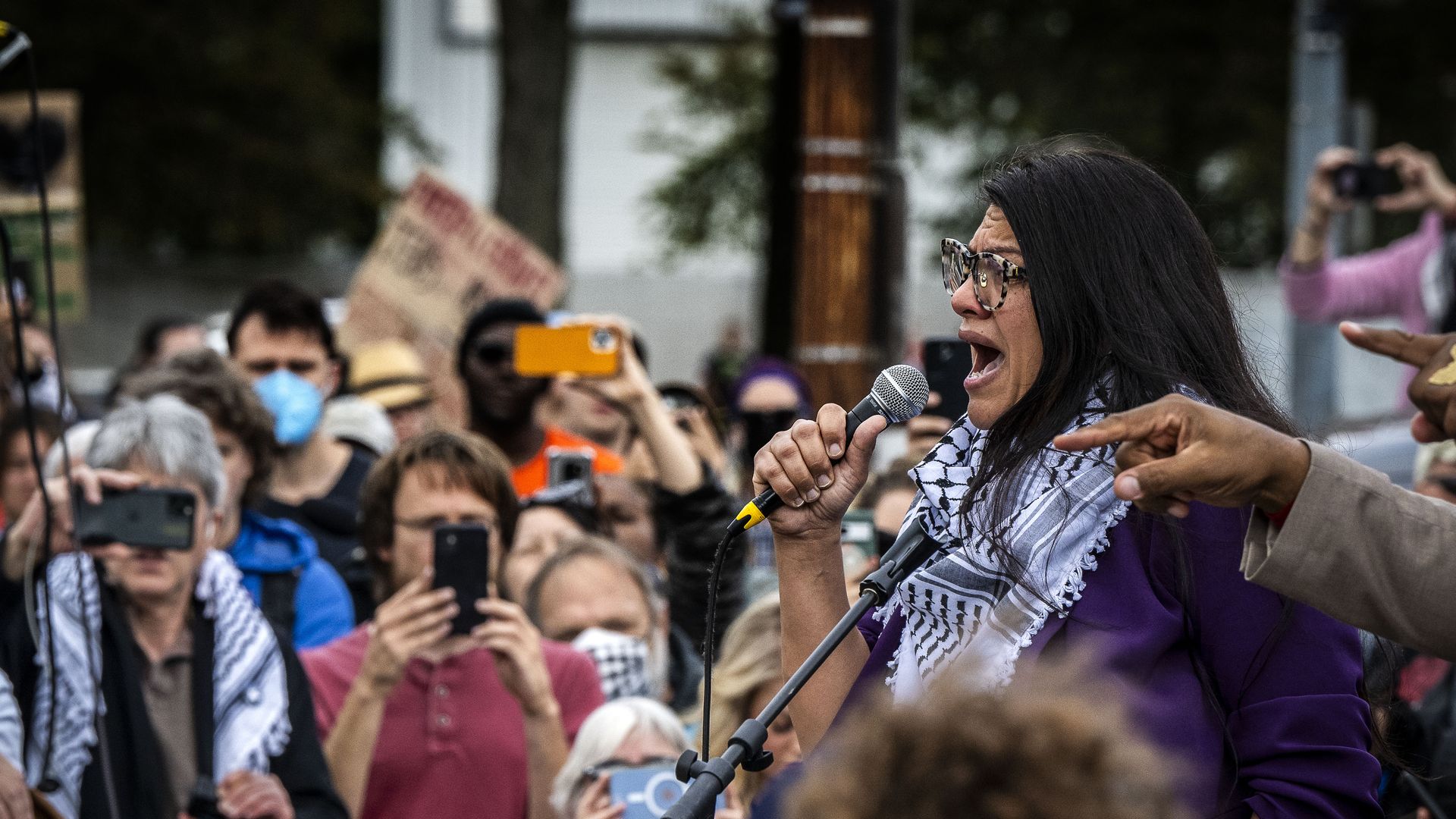 A trio of House Republicans introduced resolutions to censure Palestinian American Rep. Rashida Tlaib (D-Mich.) over her criticism of Israel.
Why it matters: A previous measure to censure Tlaib introduced by Rep. Marjorie Taylor Greene (R-Ga.) failed due to bipartisan opposition to its reference to a protest in Washington, D.C. calling for a ceasefire in the Israel-Hamas war as an "insurrection."
Driving the news: Rep. Rich McCormick (R-Ga.) took to the House floor on Monday to introduce what's known as a "privileged" motion to censure Tlaib — which forces a vote on the measure within two legislative days.
His resolution accuses her of "promoting false narratives" about the Hamas Oct. 7 attack on Israel and "calling for the destruction of the state of Israel" with her defense of the chant "from the river to the sea, Palestine will be free."
Greene also introduced a new version of her original resolution without the "insurrection" language and forced it to a vote.
The privileged motions come after Rep. Max Miller (R-Ohio), one of the House's two Jewish Republicans, introduced his own, non-privileged censure resolution against Tlaib on Thursday.
In response to the latest resolution, Tlaib's office pointed to her statement on Greene's initial resolution, which she said was "deeply Islamophobic and attacks peaceful Jewish anti-war advocates."
"I am proud to stand in solidarity with Jewish peace advocates calling for a ceasefire and an end to the violence. I will not be bullied, I will not be dehumanized, and I will not be silenced."
Between the lines: McCormick and Miller both framed their measures as more restrained than Greene's – and therefore more likely to garner votes from all Republicans and maybe even some staunchly pro-Israel Democrats.
"Any legislation that formally censures a member of Congress should be taken with a deliberate truthful message that bears the full punishment of a formal censure before the House of Representatives," Miller said in a statement.
Neither measure makes any mention of "insurrection," which many Republicans have argued doesn't represent the deadly Jan. 6 attack on the Capitol, let alone a largely non-violent demonstration.
Greene's use of "insurrection" also led to a savage public fight between her and Rep. Chip Roy (R-Texas), who voted against the measure.
The latest: Tlaib has found herself once again on the receiving end of bipartisan backlash for her defense of the "from the river to the sea" chant.
Tlaib and other Palestinian advocates say the slogan, a reference to the Mediterranean Sea and the Jordan river, is a call for freedom and equality for Palestinians.
Others, including many of Tlaib's Democratic and Jewish colleagues, say it is a call for the violent destruction of Israel.
Both McCormick's and Greene's resolutions make reference to her post on X defending the phrase.
Go deeper