Savage fights unravel GOP's newfound unity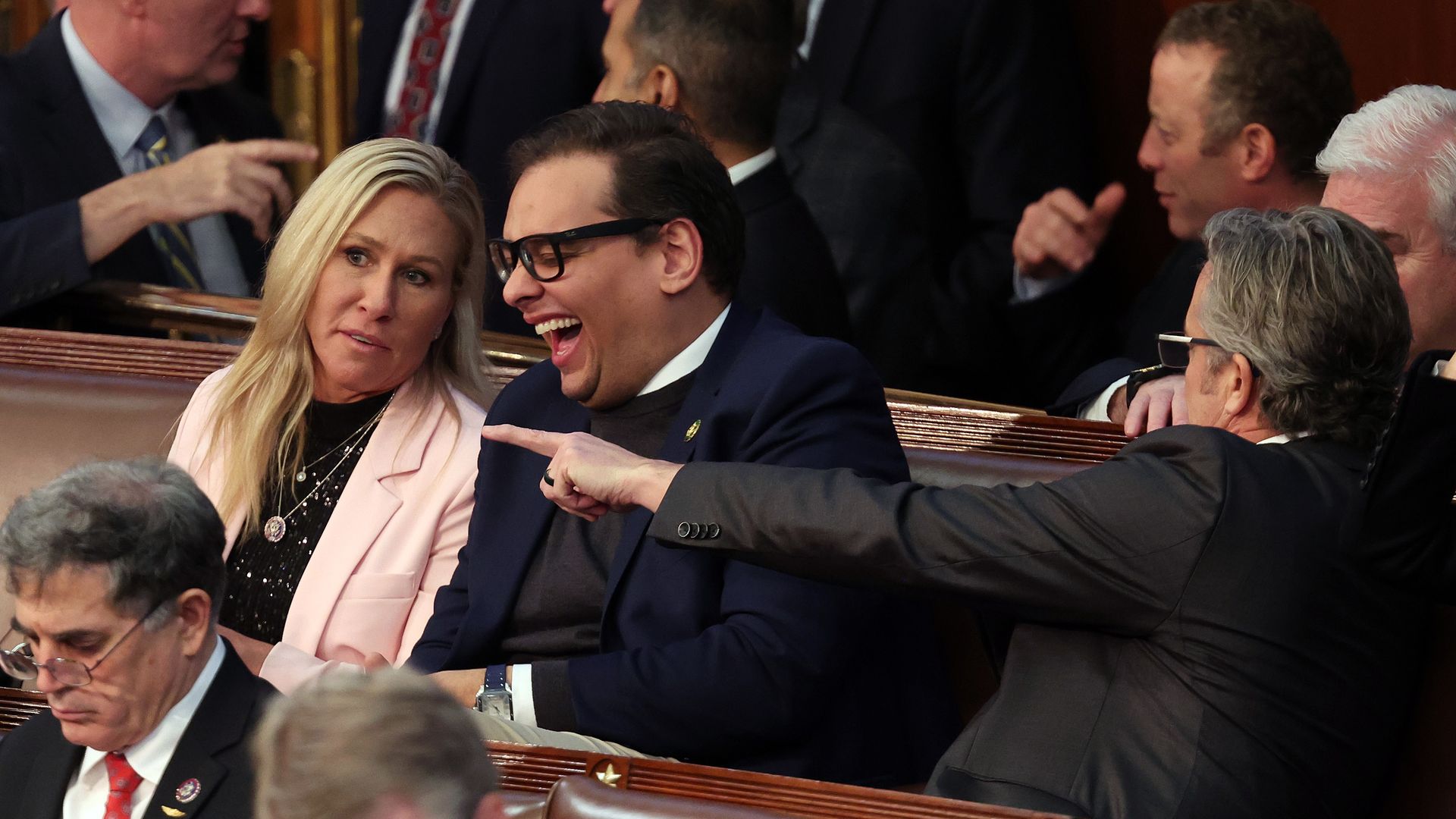 Rogue tactics by Republican lawmakers in both chambers of Congress are prompting a flurry of intra-party attacks on social media and the Senate floor.
Why it matters: The public infighting threatens to cut short new House Speaker Mike Johnson's (R-La.) honeymoon as Congress is consumed by crises at home and abroad.
Driving the news: Reps. Chip Roy (R-Texas) and Marjorie Taylor Greene (R-Ga.) went back and forth on the social media site X after Roy and 22 other Republicans voted against Greene's resolution to censure Rep. Rashida Tlaib (D-Mich.).
In a statement to Axios, Boebert spokesperson Anthony Fakhoury said the lawmaker is "not concerned about unprovoked attacks from MTG."
A spokesperson for Buck did not immediately respond to request for comment.
Zoom in: Greene and Roy weren't the only House Republicans to exchange barbs on Thursday.
Rep. Steve Womack (R-Ark.), after supporting a failed GOP-led vote to expel Rep. George Santos (R-N.Y.) from Congress, said on X: "Last night, the House saw its shadow. Unfortunately, this means there will be two more weeks of Santos."
Santos responded by seizing on a news report about Womack's son pleading guilty to a federal drug charge, posting: "Instead of being home, taking care of your son, you're sitting pretty in the swamp."
"I have been respectful of my colleagues through this process but I'm sick and tired of people with glass houses casting stones at me," Santos said.
In a statement earlier this year, Womack said his family loves their son and "believe in our hearts he will redeem himself. We regret he is at the mercy of the criminal justice system and will respect the judgment."
The big picture: The public fights appear to be tearing at the fragile appearance of unity created by Johnson's election last week.
After three weeks of internal discord in which three successive GOP speaker nominees failed to win over substantial blocs of detractors to secure the gavel, Johnson won it in a single ballot with zero GOP defectors.
But signs of disunity showed almost as soon as soon as Johnson took office, with some Republicans dismissing the GOP solidarity that swept Johnson into office as a one-off, Axios' Juliegrace Brufke reported.
Between the lines: Things are little better for Republicans on the other side of the Capitol, even as the Senate has been noted this year for its relative harmony on issues like government spending compared to the House.
Long-simmering tensions over Sen. Tommy Tuberville's (R-Ala.) months-long blockage of hundreds of military promotions in protest of the Pentagon's abortion reimbursement policy finally exploded into public view on the Senate floor Wednesday night.
A group of Republican defense-hawks tried and failed to get unanimous consent to swiftly pass more than 60 routine military promotions, but Tuberville blocked each one.
"Holding her hostage doesn't help the pro-life cause, it hurts our military," Sen. Lindsey Graham (R-S.C.) said of one military official whose promotion was blocked. "She had nothing to do with this [abortion] policy ... This is doing great damage to our military."
Go deeper