GOP senators try to bust Tuberville's military blockade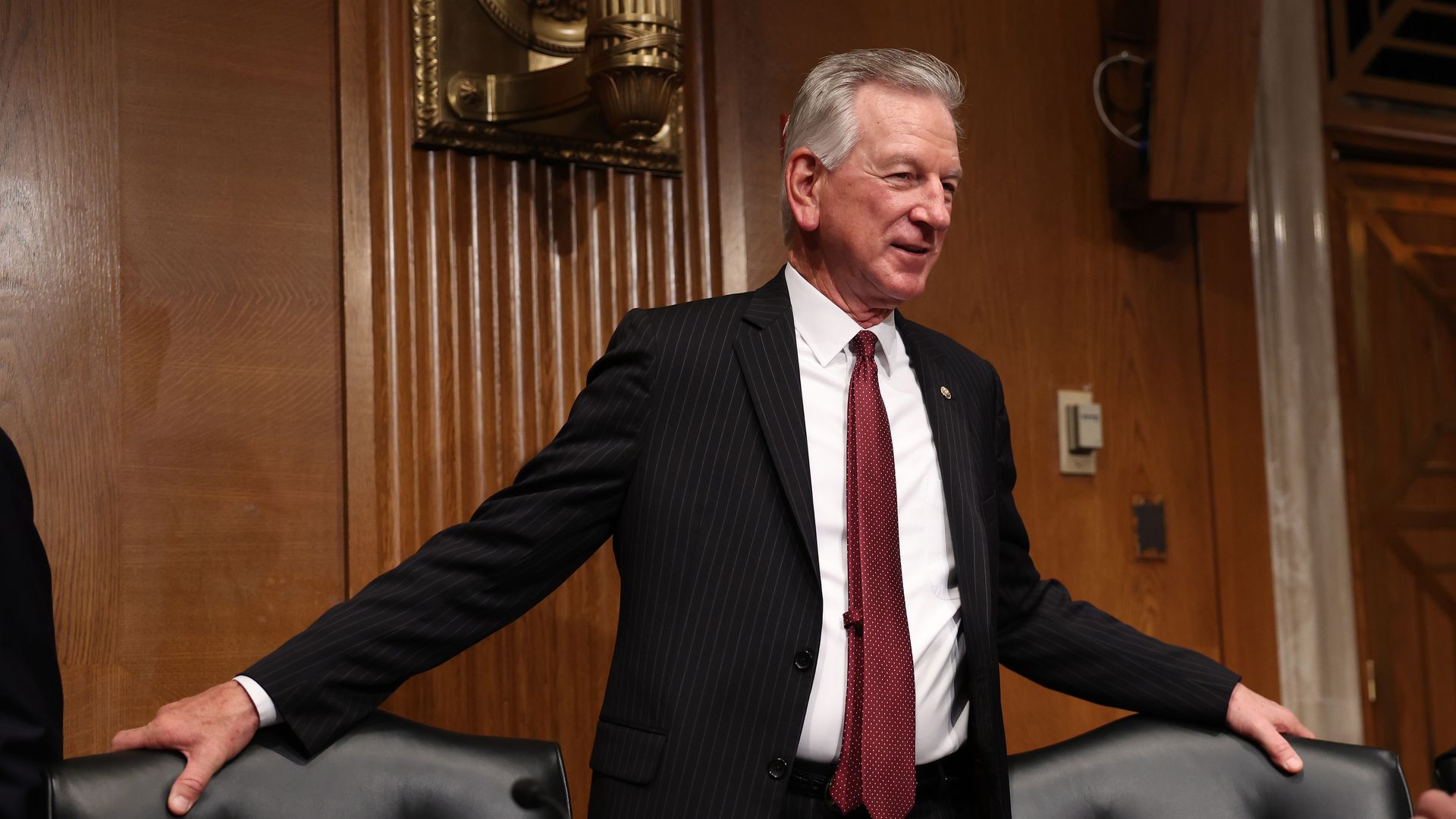 A group of Senate Republicans on Wednesday mounted a long-shot effort to ram through hundreds of military promotions over the objections of Sen. Tommy Tuberville (R-Ala.).
Why it matters: The effort reflects growing frustration among the Senate GOP's defense hawks toward Tuberville's months-long blockade in protest of a Pentagon policy reimbursing service members for abortion-related expenses.
Driving the news: Sens. Dan Sullivan (R-Alaska), Joni Ernst (R-Iowa), Lindsey Graham (R-S.C.), Todd Young (R-Ind.) and others stood up to try to pass promotions through unanimous consent, but Tuberville continually blocked them.
"I'm as pro-life as they come. I strongly disagree with what [Defense] Secretary Austin, President Biden have done," said Sullivan, but "the military has a huge readiness and retention problem. These holds are not helping."
Graham, who's trying to push through a promotion for Maj. Gen. Laura Lenderman, said: "Holding her hostage doesn't help the pro-life cause, it hurts the military."
The other side: "The disagreement we're having today is about tactics," Tuberville said. "I cannot sit idly by while the Biden administration injects politics in our military," he added.
"I'm going to keep my holds in place. If senators want to vote on these nominees one by one, I'm all in. But I will keep my holds in place until the Pentagon follows the law or the Democrats change the law."
Between the lines: Tuberville's hold on the promotions has forced Senate Majority Leader Chuck Schumer (D-N.Y.) to go through the time-consuming process of holding roll call votes to confirm nominees.
The Senate voted in September to confirm nominees for chairman of the joint chiefs of staff, chief of staff of the Army and Marine Corps commandant. It's expected to vote later this week on three more top military officials.
However, Democrats have firmly rejected the Republicans' suggestion they spend precious Senate floor time passing hundreds of lower-level promotions which typically clear the Senate swiftly and unanimously.
Go deeper: Democratic senator expects "frustrated" GOP to stop Tuberville blockade
Go deeper