Democratic senator expects "frustrated" GOP to stop Tuberville blockade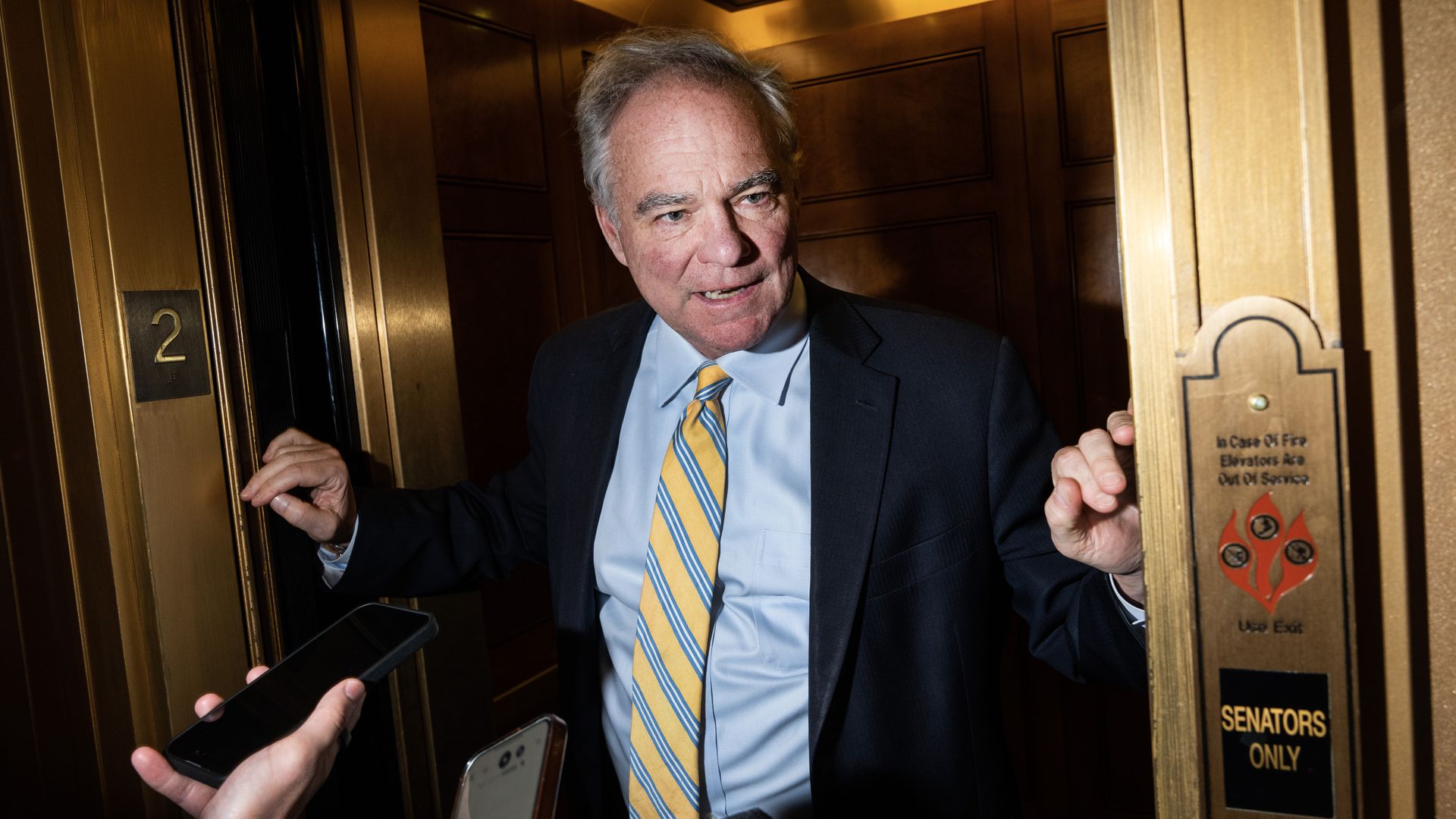 Sen. Tim Kaine (D-Va.), a member of the Senate Armed Services Committee, thinks his Republican colleagues will eventually intervene to get Sen. Tommy Tuberville (R-Ala.) to stop holding up hundreds of military nominations.
Why it matters: The Alabama senator's months-long blockade – in protest of a Pentagon policy reimbursing service members' abortion-related expenses – has created bipartisan concerns about military readiness.
Hawkish Senate Minority Leader Mitch McConnell (R-Ky.) and his No. 2, Sen. John Thune (R-S.D.), have criticized the tactic and tried to talk Tuberville down.
"If we [had] peace worldwide, well, maybe it wouldn't seem so dire," Kaine said. "But we have the first land war in Europe since the 1940s and a very challenging situation in China ... This is doing nobody any good."
Driving the news: "I think there's going to be a point where the Republicans will not enable this destructive behavior," Kaine told reporters on Friday. "They'll eventually see in the mirror that this doesn't look good and they will figure out a way to make this right."
Kaine said the maneuver "would not be tolerated" in the Democratic Caucus. "If I did this, [Senate Majority Leader Chuck Schumer] would threaten to kick me off the Armed Services Committee," he said.
Kaine predicted Tuberville will back down "if there's a cost" to his actions, adding, "Many Republicans are very frustrated with this and that is something that is only going to grow."
Spokespeople for Tuberville and McConnell did not immediately respond to requests for comment.
The intrigue: Kaine's views diverge somewhat from those of Sen. Chris Murphy (D-Conn.), who earlier this month floated a possible Senate rules change to bypass Tuberville.
"I just think we have to start thinking creatively about breaking this logjam," Murphy told reporters.
What we're watching: The Senate has an already-packed schedule that would become further complicated if Schumer opted to hold unexpected military confirmation votes.
But "what we don't want to do is get into the separate votes for people for whom, in the past, the Senate has always approved them" in groupings, Kaine said, because "a mischief maker will insist we do that all the time."
The big picture: Senate floor time is precious, and the chamber has a packed calendar for the rest of the year with judicial and other nominations, as well as must-pass bills on government funding, farm and defense policy, FAA reauthorization and more.
Congress will have just a few weeks to scramble to keep the government funded past Sept. 30 before turning around and passing a dozen appropriations bills.
Kaine, who said he wants votes on his legislation reforming pharmacy benefit managers, predicted any standalone legislation will likely be punted to next year: "There's nothing magic about Dec. 31."
Go deeper