Democrats float end-around on Tuberville's abortion blockade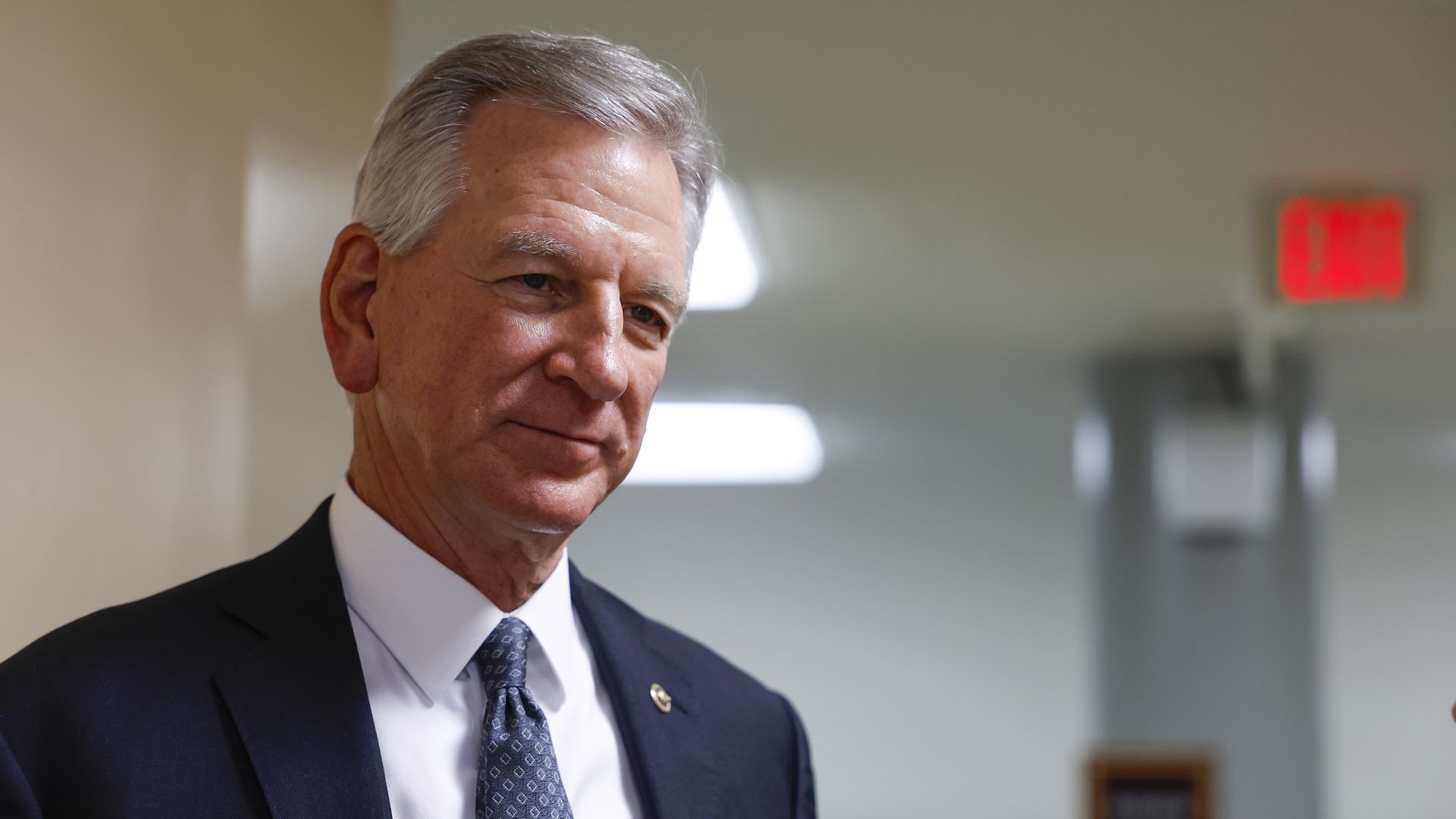 Democrats are ramping up their criticisms of Sen. Tommy Tuberville's (R-Ala.) blockade holding up military appointees in an effort to force changes to the Pentagon's abortion policy.
Driving the news: "I think everybody's been hoping that Sen. Tuberville would back down, and I think we have to come to the conclusion that that is not happening and that he is prepared to burn the military down," Sen. Chris Murphy (D-Conn.) told reporters on Tuesday.
"I understand Republicans are not going to go for a permanent change in the rules, but I just think we have to start thinking creatively about breaking this logjam," Murphy said, per The Hill.
"Tuberville is not going to back down. He thinks he's become a celebrity folk hero in the fringe right."
The big picture: Senate GOP leaders have expressed frustrations about the tactic, with one senior Republican source telling Axios there are strong concerns about it sparking a rules change and damaging the institution.
Senate Minority Leader Mitch McConnell (R-Ky.) and Senate Minority Whip John Thune (R-S.D.) have both spoken out publicly against the blockade.
Thune told reporters last month: "I think all of us are concerned. We want to get these key positions filled, and I'm told that Tuberville and Jack Reed are talking and we can come up with a path forward."
Senate Majority Leader Chuck Schumer (D-N.Y.) — who has expressed he's open to a vote on Tuberville's amendment — said it's GOP leadership's responsibility to get the Alabama Republican to fall in line.
One senior Democratic Hill source told Axios there are "no plans for a rules change at the moment" but said "in a lot of ways Tuberville is writing his own political epitaph, at least that's what Democrats are hoping."
Zoom in: A White House memo last week took aim at Tuberville's previous claims — including that the current policy is illegal, that U.S. has "won plenty of wars" with fewer officers, and that his blockade has no impact on the current state of national security.
The memo also points to 500 active-duty military spouses signing a petition calling for Tuberville to end the protest, and Retired Marine Corps Major General Arnold Punaro sounding the alarm on potential risks of not filling more than 300 senior military positions.
The memo comes in the wake of President Biden's recent announcement that the headquarters of Space Command would not be moving to Alabama as previously planned, intensifying tensions between the senator and the White House.
The other side: Tuberville and those in support of his efforts have dismissed criticisms, arguing that they have received an outpouring of support from servicemembers and feel that Democrats have failed to offer them anything that would prompt them to lift the hold.
"This memo will have about as much effect as the last 10 or so—no effect at all," a Tuberville spokesman told Axios.
"In the minority, this is really the biggest leverage point that he has is in terms of affecting the administration's actions," the spokesperson said, noting that both parties have used the tactic in the past.
What's next: Without a clear resolution to the protest in sight, the Pentagon recently issued new guidance on reorganizing leadership roles as they look to navigate the situation, CNN reports.
Go deeper