Behind the Curtain: Biden's race problem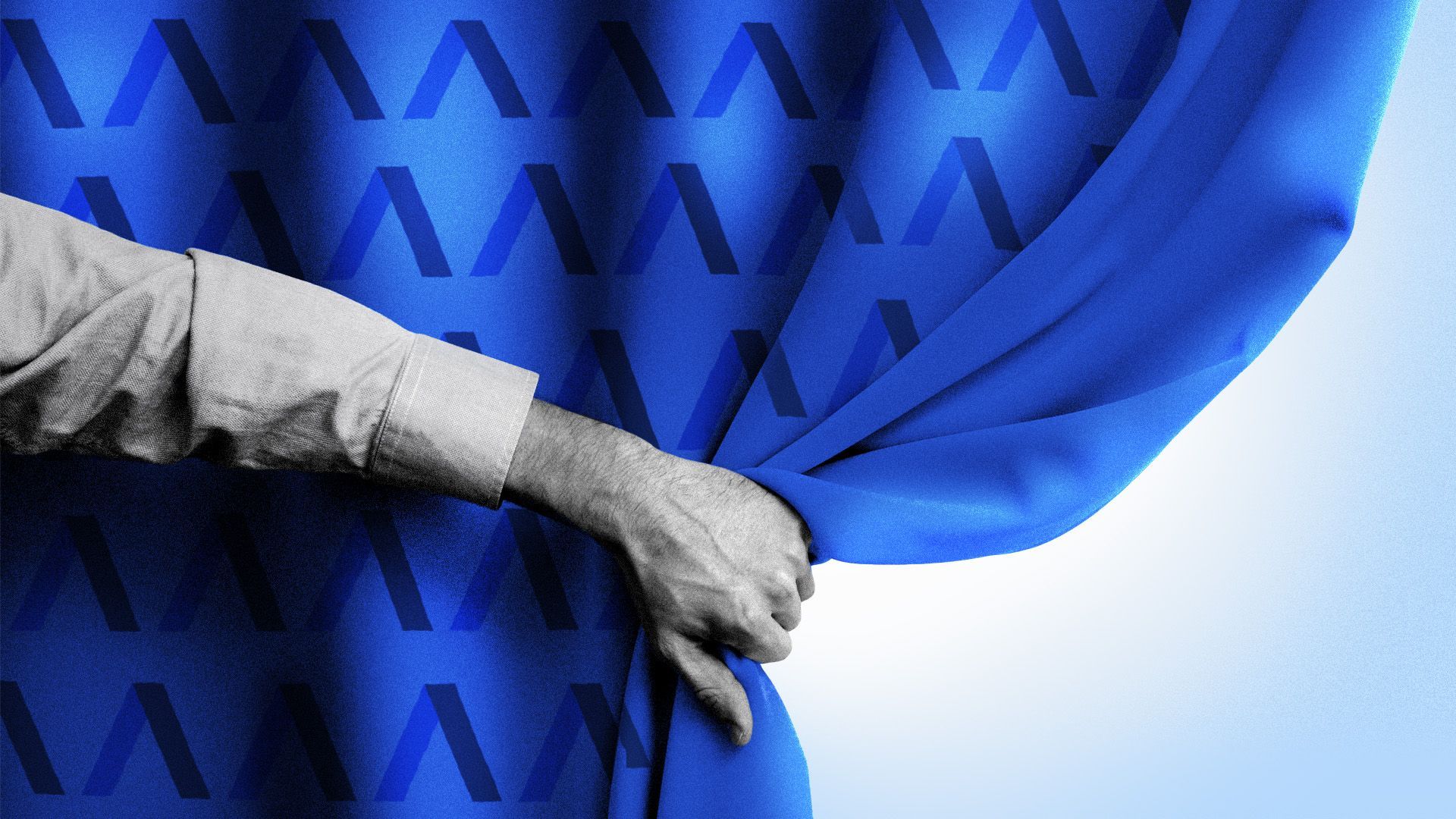 President Biden has a growing race problem.
Why it matters: It emerged quietly in the 2020 election, when Biden won — but lost ground among Hispanics and Black voters. Now this is an alarming, re-election-threatening, full-blown crisis for the White House.
It's clear from consistent trends across multiple polls that Biden is bleeding support among Hispanic voters and Black voters — especially younger ones, and especially in swing states.
The big picture: Biden is losing support after his rival, Donald Trump, was indicted four times on a total of 91 counts — and as the former president continues to court white voters with racially inflammatory rhetoric.
In one fascinating way, Biden is morphing into Trump when it comes to his base: It's old and white voters who seem most solid in their support. "Biden has retained the entirety of his support among older white voters," the N.Y. Times' Nate Cohn writes.
By the numbers: Sunday's New York Times poll of six swing states (all of which Biden won last time) was brutal. While we're skeptical of any one poll, this one is directionally in line with others. Let these once unthinkable findings sink in:
Biden's support among nonwhite voters dropped 33 points compared to 2020 results.
The more diverse a state, the worse Biden does, The Times found.
Trump's support among Black voters popped to 22 points, which The Times called "unseen in presidential politics for a Republican in modern times."
Biden's lead among Hispanics is in single digits in the six swing states polled (Arizona, Georgia, Michigan, Nevada, Pennsylvania and Wisconsin). Democrats typically win among Hispanics by 30+ points.
A CBS News/YouGov poll out Sunday had a similarly worrisome finding for Democrats: "Hispanic voters are much likelier to say their finances would improve under Trump than Mr. Biden. And most Black voters do not expect their finances to change if Mr. Biden wins again."
What's happening: Hispanic ranchers, Mexican American oil workers and non-college-educated Latino voters are shifting measurably from Democrats, with potentially devastating electoral repercussions, reports Axios' Russell Contreras, who has studied the Latino vote back to JFK's victory in 1960.
Reasons include rural issues like opposition to protections for endangered species, plus efforts to move away from fossil fuels with no immediate alternative for well-paying jobs.
Among Black voters, stress from inflation and interest rates — and especially the cost of cars and housing — is hurting Biden.
Biden advisers point out that voters aren't paying attention a year before Election Day. His aides contend that the popularity of the president's record on infrastructure, jobs and climate will bring Democratic voters home.
Biden campaign spokesman Kevin Munoz noted that predictions a year from an election are often wrong, and pointed to a Gallup poll from October 2011 that put President Obama down 8 points among registered voters. A year later, he won re-election by 4 points.
"President Biden's campaign is hard at work reaching and mobilizing our diverse, winning coalition of voters one year out on the choice between our winning, popular agenda and MAGA Republicans' unpopular extremism," Munoz told us.
Reality check: Yes, it's one year out from the election. Yes, polls are fallible.
But Biden's political team sees similar trends in their own data, and hears anecdotally of similar concerns from elected officials.
What we're hearing: Democrats are flummoxed over how to fix this.
Their record-setting spending on infrastructure and jobs did little to move the needle — inflation seems to suck away any joy from new jobs.
On immigration and crime, the party is too divided for Biden to take the harder-line public approach many voters seem to want. Even Biden's administration is divided, top officials tell us.
Then there's the war. As we wrote Sunday, liberal Jews and many minority Democratic leaders are locked in a bitter fight over Israel's response to the Hamas terrorist attack.
Biden officials know that rift could deepen if the war escalates.
The bottom line: Biden is all-in on betting his base voters will return once they see the likely side-by-side choice of Biden vs. Trump in the general election. At this point, there's no other bet to make.
"Behind the Curtain" is a new column by Axios CEO Jim VandeHei and co-founder Mike Allen, based on regular conversations with White House and congressional leaders, CEOs and top technologists.
Read our Sunday column, "Tearing apart Democrats."
Go deeper