Squad under fire in primaries amid deepening divides on Israel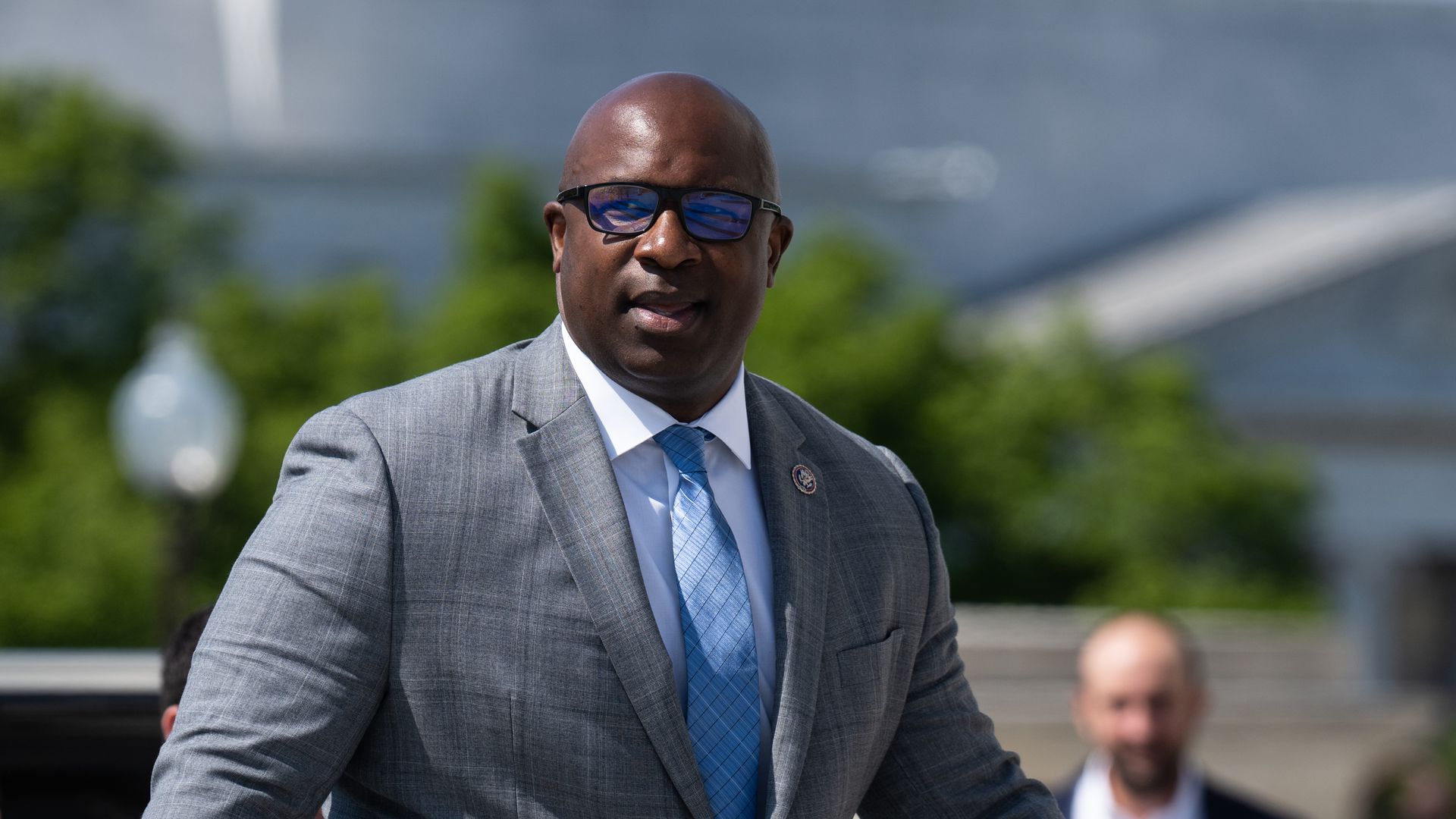 At least four House Democrats affiliated with the left-wing "Squad" faction are facing serious primary threats next year, fueled by their vocal criticism of Israel's war against Hamas in the aftermath of the Oct. 7 terrorist attack.
Why it matters: These primaries, pitting the most progressive lawmakers against more traditional liberals, will offer a clear test of the ideological direction of the Democratic Party.
They're also a barometer of how much space there is within the party for hostility toward Israel in the aftermath of the deadliest attack against Jews since the Holocaust.
Progressives, especially younger ones, have grown increasingly critical of Israel in recent years. But polls in the first few weeks after Oct. 7 indicated a spike in Democratic support for the Jewish state.
Context: The initial Oct. 7 Hamas terrorist attack killed more than 1,400 people inside Israel. According to the Hamas-controlled Ministry of Health, more than 9,700 Palestinians have been killed in Gaza in nearly a month of war.
Biden officials are pushing for "humanitarian pauses" in the fighting to allow more aid to flow. Israel's government hasn't allowed a temporary ceasefire unless Hamas frees the hundreds of hostages it kidnapped.
Driving the news: The four Democratic lawmakers facing competition from the party's center are Reps. Cori Bush (D-Mo.), Jamaal Bowman (D-N.Y.), Summer Lee (D-Pa.) and Ilhan Omar (D-Minn.).
Bush was the latest one to draw a credible challenger this week — St. Louis County prosecuting attorney Wesley Bell. In his campaign announcement this past week, he criticized her anti-Israel stance: "We cannot give aid and comfort to terrorist organizations."
Bush, in a tweet last Sunday, accused Israel of committing "ethnic cleansing" in its ongoing war against Hamas in Gaza.
Her remarks were criticized by House Minority Leader Hakeem Jeffries (D-N.Y.), who said on CNN: "Israel is not conducting an ethnic cleansing campaign. Israel is not engaged in genocide. Israel was brutally attacked in the most horrific way on Oct. 7 that resulted in the largest loss of Jewish life since the Holocaust."
Bush's St. Louis-area district is home to the largest Jewish community in Missouri.
What's next: Pro-Israel groups are signaling that Rep. Rashida Tlaib (D-Mich.), a Palestinian American who has accused President Biden of supporting genocide in Gaza through his backing of Israel, also will face a primary challenge in 2024.
The Democratic Majority for Israel PAC, one of the leading groups helping to elect pro-Israel Democrats, went up with a six-figure ad buy attacking Tlaib.
Go deeper: The Squad-affiliated lawmaker facing the biggest threat is Rep. Jamaal Bowman (D-N.Y.), whose political troubles were compounded after he pleaded guilty to setting off a false fire alarm in a House office building.
Bowman's district, centered in Westchester County, New York, has one of the largest Jewish constituencies in the country — alongside a nonwhite majority electorate. The New York Times reported he spoke at an anti-Zionist rally calling for a ceasefire, but hasn't visited a synagogue in his district since the attack.
Longtime Westchester County executive George Latimer, a more-moderate Democrat, is seriously considering a campaign.
Between the lines: In previous primaries pitting pro-Israel Democrats against critics of Israel, foreign policy wasn't the explicit issue being debated. That's different now.
Bell told the Washington Post that the reason he decided to challenge Bush — after originally running for the Senate — was Bush's stance on Israel.
Borough councilor Bhavini Patel, Lee's Democratic challenger, told the New York Times: "Something that keeps coming up in my conversations is that Congresswoman Lee continues to equivocate. We're responding to something that is evil." Lee has called Israel's response to the Hamas terrorist attack a "genocide of innocent Gazans."
"Normally foreign policy is not an important electoral issue unless American troops are fighting a war," said Democratic pollster Mark Mellman, who founded DMFI.
"But Israel is the number one news story in the world right now and polls demonstrate it is a salient issue for a large majority of Americans."
Zoom in: In 2022, Rep. Omar was the only Squad-affiliated lawmaker to face a serious primary scare. She narrowly won her primary against former Minneapolis city councilman Don Samuels, who is planning to run again.
But this time, Samuels isn't the only prospective challenger against Omar. Attorney Sara Gad, a pro-Israel progressive, is already running and attacking Omar over her Israel record. Omar's re-election chances would be boosted if there's split opposition against her.
By the numbers: Only nine House Democrats voted against a bipartisan pro-Israel resolution last week that condemned Hamas, and another six voted present. The resolution passed 412-10.
The bottom line: In recent years, we've seen a proliferation of more extreme views within both parties, with party leaders largely unable to crack down against the ideologically driven rebels.
If more-moderate Democrats end up ousting several of the most far-left members in the Democratic caucus, it would be an atypical development that shows there's still a political constituency for the mainstream majority.
Go deeper