Bibi after Blinken meeting: No temporary ceasefire in Gaza without hostage release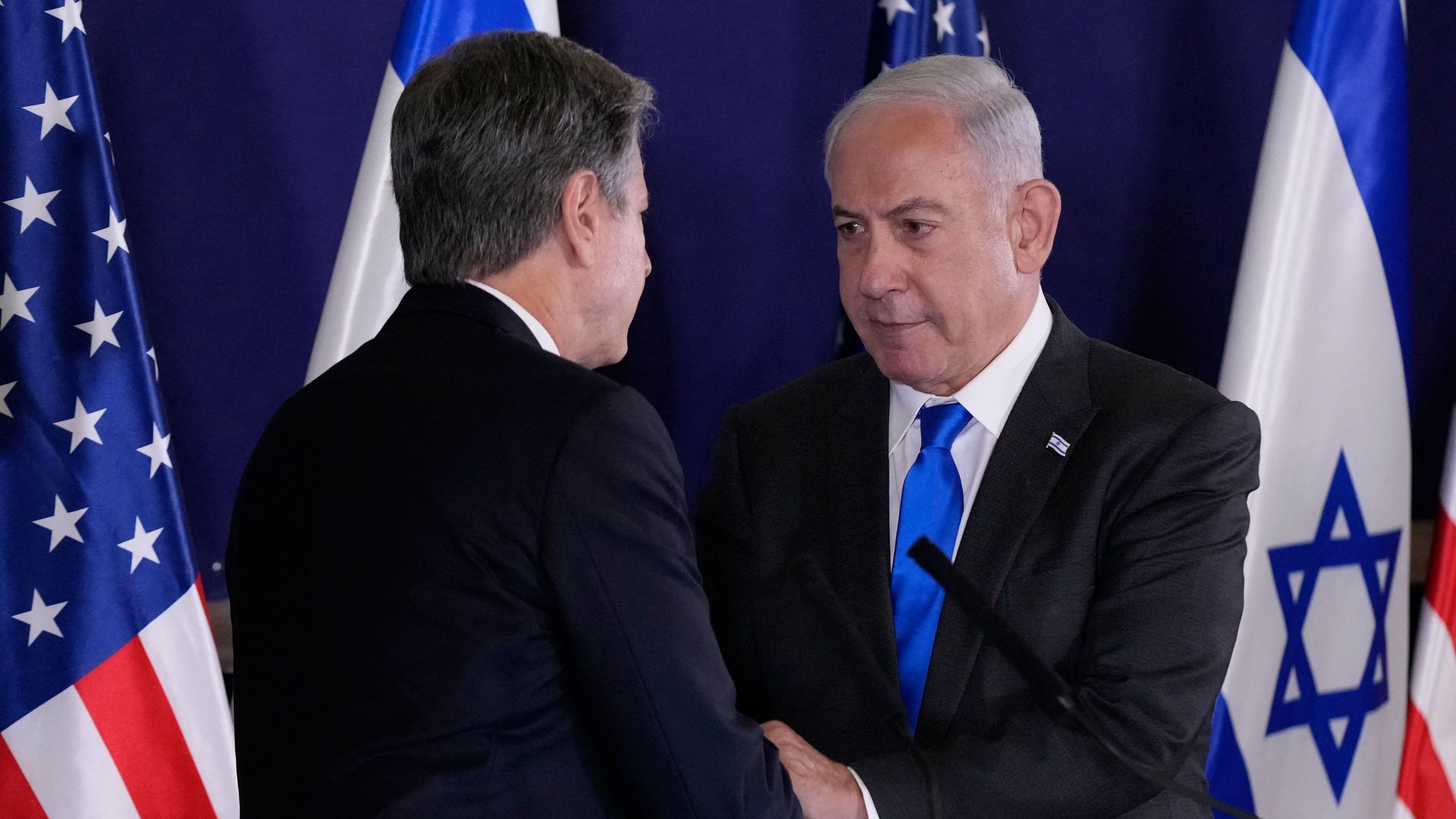 Israeli Prime Minister Benjamin Netanyahu said in a statement on Friday that he made it clear to Secretary of State Tony Blinken that Israel will continue the military operation in Gaza "with full force" and stressed his country won't consider a temporary ceasefire unless the hostages in the Strip are released.
Driving the news: Part of Blinken's trip was focused on convincing the Israeli government to agree to temporary "pauses" that would allow more protection for Palestinian civilians.
Blinken arrived in Israel on Friday morning local time. He met with Netanyahu, President Isaac Herzog and the Israeli war cabinet.
What they're saying: In a press conference after his meetings, Blinken said he discussed with Israeli leaders the possibility of "humanitarian pauses" in the fighting in Gaza that will "increase security for civilians and permit more effective and sustainable delivery of assistance."
Blinken said he discussed with Netanyahu and other Israeli officials "how, when and where" such pauses can be implemented and what understandings must be reached for it to happen.
"A number of legitimate questions were raised by Israel including how to connect the pause to the release of hostages and how to make sure Hamas doesn't use these pauses to its own advantage. These are issues we need to tackle urgently and we believe it can be solved," Blinken said.
Yes, but: Israeli leaders, including Defense Minister Yoav Gallant, stressed to Blinken they won't agree to any pause in fighting that doesn't include a release of hostages, two Israeli officials told Axios.
Blinken said at the press conference: "We are focused on getting hostages back to their families and we believe a humanitarian pause could facilitate it."
More than 230 hostages, including several Americans, are being held by Hamas and other groups in Gaza.
The big picture: Another key issue that Blinken discussed in his talks in Israel was the need to significantly increase the flow of humanitarian assistance to Gaza, including fuel which hasn't entered the Strip since the Hamas attack on Oct. 7. Hospitals say they desperately need fuel to keep generators running.
Israel claims Hamas has half a million litters of fuel in its own emergency stockpiles inside Gaza and that it doesn't give this fuel to hospitals and other humanitarian purposes.
Blinken said he discussed with the Israeli war cabinet how to allow fuel into Gaza while putting in place measures to prevent Hamas from diverting it for its war effort.
"We identified mechanisms to enable fuel to reach hospitals and other needs in southern Gaza strip. Israel raised appropriate concern we share about Hamas hoarding fuel in northern Gaza," Blinken said.
But Netanyahu said in a statement after his meeting with Blinken that "Israel won't allow entry of fuel to Gaza and objects to transfer of money to Gaza."
Go deeper